Lead Verification in OptinMonster allows you to intelligently filter and verify every lead captured through your campaigns. Use it for higher email open rates, increased email deliverability, eliminating low-quality leads, and improved ROI by pre-qualifying leads.
In this article, you'll learn how to use Lead Verification in OptinMonster.
Before You Start
Here are some things to know before you begin:
Lead Verification is a paid add-on for OptinMonster. Pricing for Lead Verification is based on the number of emails your campaigns capture each month.
We now check for "test" or "throw away" emails like bob@test.com or test123@gmail.com. This is done by default and doesn't need to be enabled.
Enable Lead Verification
You can improve ROI, protect deliverability and increase engagement with Lead Verification.
To enable Lead Verification in OptinMonster, follow these steps:
Navigate to the Leads > Verification page.

Select the Click Here to Enroll button.

A popup will appear with details about the cost of adding Lead Verification to your account. Select the Enable Lead Verification button to proceed.

Create Lead Verification Filter
Once you're enrolled in Lead Verification you'll want to create one or more Filters.
To create a Lead Verification Filter, follow these steps:
From the Lead Verification page select the Create New Filter button.

On the next screen give your filter an easily identifiable name. You can then configure the rules you would like to use for your filter.

The options available for your Filter include:

Status (allows you to enable/disable a Filter)
TruLead™ Algorithm
Domains (to apply the Filter to)
Block IP Addresses
Block Strings & Characters
Autocorrect Emails?
Block Temporary Emails?
Block Role-Based Emails?
Block Free Emails?
Block Non-Alphanumeric Characters?
Run MX Records and SMTP Checks?
Block Patterns

When you're finished configuring your Filter, select the Create Filter button to save.
Autocorrect Emails?
If the Autocorrect Emails? setting is enabled for your Filter visitors now have the ability to confirm or deny the autocorrect suggestions within the campaign itself.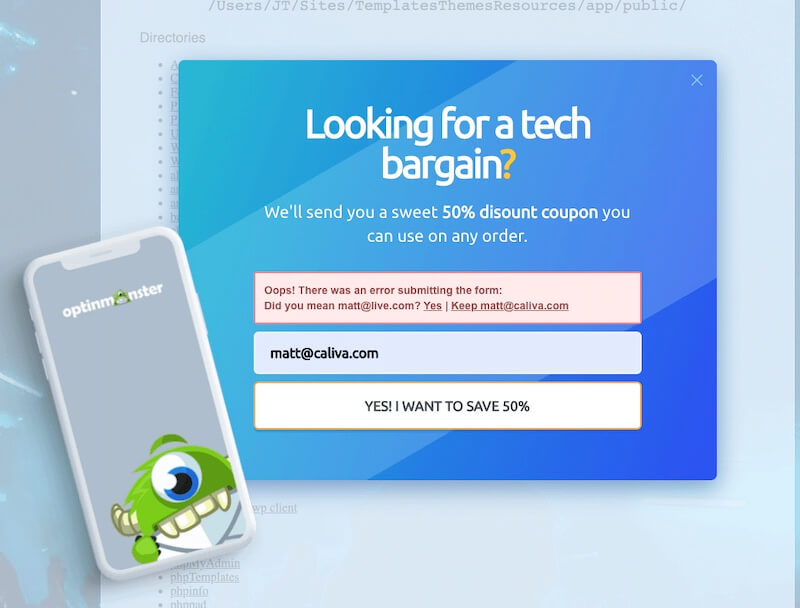 Rejected Leads
Leads that have been rejected according to the Filter(s) you have created will appear on the Lead Verification page under the Rejected Leads section.
Rejected leads are automatically deleted after 30 days. Once deleted they cannot be recovered under any circumstances.
You'll be able to manually Approve or Delete filtered leads from this screen.


Disable Lead Verification
If you no longer wish to subscribe to Lead Verification you can disable the feature from your account.
To disable Lead Verification, follow these steps:
Navigate to the Account > Billing page in your OptinMonster account.
Under the Additional Upgrades section locate the Lead Verification option.
Select the Remove button to disable Lead Verification.