Has your credit card information changed? It's easy to update your billing information on your account. This doc will guide you through updating your credit card information on file quickly and easily.
---
Step 1 – Log Into Your OptinMonster Account
First thing you need to do is login, click on your name at the top right, and then click on My Account.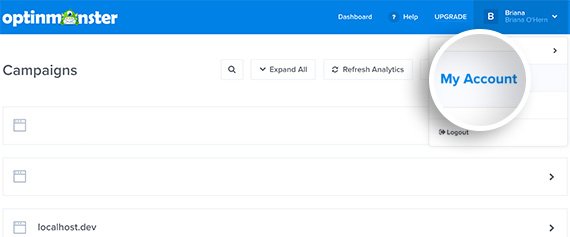 Then click on Billing at the top.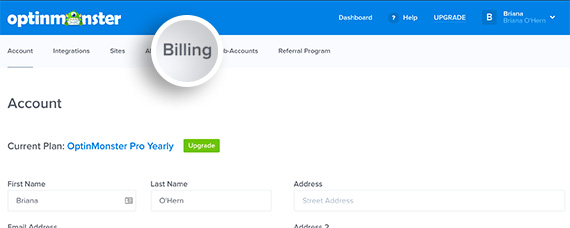 This will take you to the billing overview screen. Then click the green Update Credit Card button.

Step 2 – Update Credit Card Information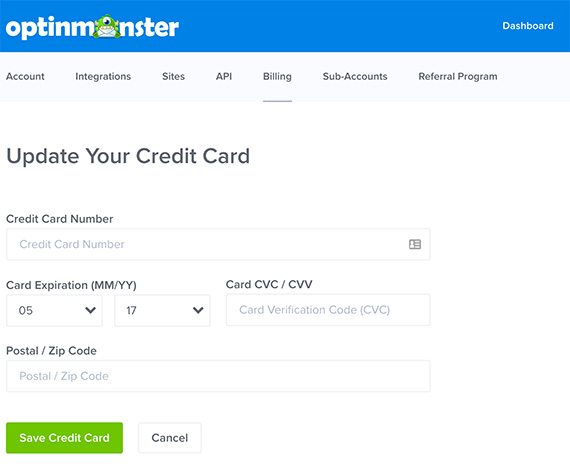 Update all of your Credit Card Information then click Save Credit Card. After you attempt to update, if there are any errors they will be output on the page. Otherwise a green success message will tell you that it has been updated successfully.
Are you interested in adding additional features to your account? See our guide for instructions on how to upgrade your account.
---
FAQs
Q: This option isn't available in my account, why not?
A: If your account does not provide the option to update the credit card billing information, this indicates you purchased your subscription with PayPal. In this event you will need to update the credit card information within your PayPal account.