Double optin is an effective tool in email marketing. You have probably seen an email like the one below after you have signed up for an email list.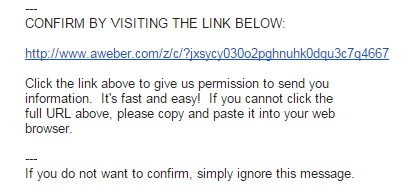 Even if you're only just getting started with email marketing, there's a good chance you've heard the phrase "double optin".
Perhaps you know what it means, but you don't see why it matters – or perhaps you're not too sure what it even is.
Before we dig into the "how" of making double optin work, let's take a quick look at the "what" and the "why".
Double optin (also known as "confirmed optin") means that subscribers to your email list have to (a) make an initial decision to join and (b) confirm that decision.
This is done, by every major email service provider, as follows:
A new subscriber fills in their email address (and possibly other details) through a form on your site, or they get added to your email list when they make a purchase, sign up for a free account, or similar.
The subscriber then receives an email containing a confirmation link. They must click this link in order to fully join your email list and receive emails. You cannot confirm their subscription for them.
MailChimp explains here how the process works if you're using their email service. (Other email service providers, such as AWeber, have a very similar system.)
So why is double optin so important?
Primarily, because it protects you. Anyone can enter an email address on a form – potentially signing up people who don't want to hear from you. If enough of those unwilling subscribers complain, you could face legal action.
Double optin also means:
You'll have a high-quality email list made up of people who actually want to hear from you (meaning higher open rates, higher conversion rates, and less money spent on storing useless leads).
You will be seen as following best practices within email marketing – important if you serve a fairly tech-savvy customer base.
If someone enters their email address incorrectly, they won't be added to your list (as they'll never see the confirmation email). This prevents you sending out emails that bounce – something that your email service provider will frown on.
So double optin is vital – in fact, you really shouldn't see this as a matter of choice. If you're running an email list, you need it to use double optin.
Of course, you don't want to end up losing potential customers who simply didn't realize they had to click the confirmation link. Here's how to make double optin work:
Helping Your Subscribers to Complete the Double Optin Process
Some of your subscribers may have signed up for dozens of email lists in the past, and may be highly familiar with the process; others may be feeling a little lost and confused.
It's your job to guide subscribers through the sign up process, making everything as straightforward and seamless as possible. Otherwise, they may not understand why they need to click the link (and might delete the confirmation email).
In some cases, your confirmation email might end up in their spam folder, and if they're not expecting the email, they'll never look for and see it.
You can help your subscribers – and increase your confirmation rates – by holding their hand through the process.
Customizing "Thank You" Pages
Your email service provider will normally redirect subscribers to a default "thank you" page:
After they first enter their email address
After they click the confirmation link
Instead, you can create pages on your own site to use. As well as looking more professional (as they'll fit with your usual branding), you can include whatever you think your subscribers will need here.
For instance, when a subscriber first enters their email address and sees the "thank you" page, you could include screenshots or even a video showing them what the confirmation email looks like.
You can set up these custom pages through your email service provider, or you can use OptinMonster to create either a success message (you can see the default one below) or to redirect to a success page when someone fills in the initial form: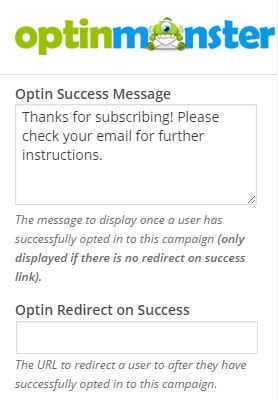 Pro Tip: If you're offering a special incentive to encourage sign-ups, don't give it away from this page! Make sure subscribers know they need to click the confirmation link before they can receive it, otherwise they might never bother to confirm.
Customizing Confirmation Emails
Your email service provider will have a default "confirmation" email that sounds rather bland and generic. By customizing this, you can encourage subscribers to confirm.
For instance, you might want to:
Remind them about the benefits they'll receive once they're a full member of the list (e.g. any special incentive, regular useful newsletters).
Let them know how to contact you if they have any difficulties confirming.
Pro Tip: Your email service provider should have instructions on how to customize this message. For instance:
Pro Tip: Make sure you test the sign-up process yourself, and get other members of your team to test it too. Does the sequence of messages and instructions that a new subscriber receives make sense? Is there any point at which you could make things clearer?
And remember, double optin really isn't an option that much in today's world; it's essentially a requirement. Make sure you're clear about the benefits, and that your team understands how important it is too. If you've got any questions, or aren't clear about any aspect of double optin, just leave a comment below.