Are you skeptical that optins can work for your business? Don't have time to make and test multiple optins and offers on your site? In this case study, we'll show you how just one simple optin can radically increase conversions.
Meet ActiveCampaign
ActiveCampaign is a powerful and easy-to-use marketing and sales automation platform. ActiveCampaign gives marketers the tools they need to increase engagement, convert more customers, and grow business faster with smart email marketing, intelligent marketing automation, and automated sales pipelines.
We are proud to have ActiveCampaign as one of our many native email marketing integrations. See our guide to find out how to connect OptinMonster to ActiveCampaign in just a few clicks.
How ActiveCampaign Uses OptinMonster
ActiveCampaign is not just one of our integrations, they're proud users of OptinMonster themselves!
They were looking for an engaging way to motivate visitors to sign up for free trials. More specifically, they wanted to make use of pages that are receiving organic traffic but aren't oriented toward a specific conversion event.
ActiveCampaign uses a simple strategy to increase conversions: one single floating footer bar optin that is displayed on exit intent.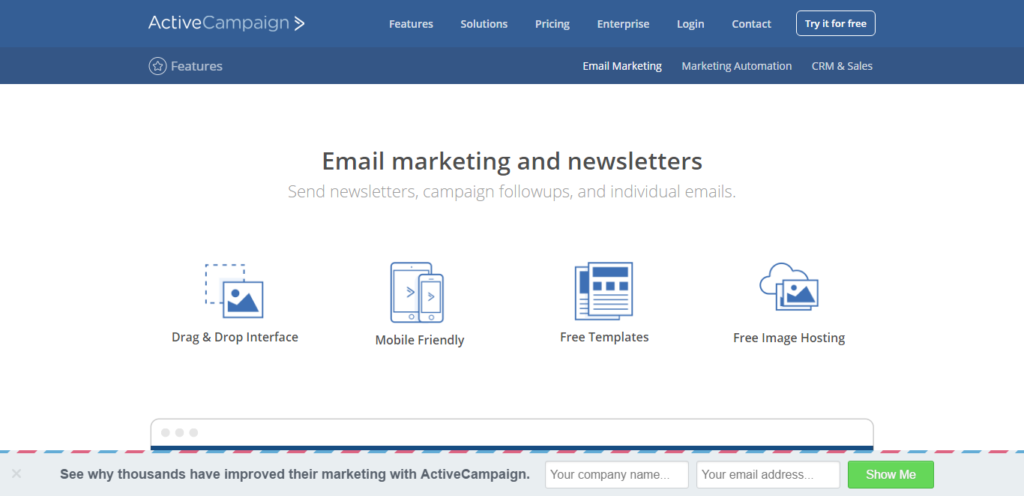 They used a default OptinMonster template called Postal. This template was chosen because it stands out from their branding. They wanted a form that would catch a visitor's eye rather than blending in. They made no changes to the optin except the text itself.
Why This Floating Bar Optin Increases Conversions
Both the design and copy of this optin are simple, yet it converts well. Here's why:
Social Proof
Social proof is a psychological phenomenon where people conform to the actions of others because they assume that those actions reflect the right behavior. In other words, they're following the crowd.
The optin above uses social proof when it says "thousands have improved their marketing." If thousands of others use ActiveCampaign, there must be something valuable about its product and service, right? The sheer number of customers mentioned in the optin provide the brand authority.
Learn more about how to use this phenomenon to your advantage in our list of proven ways to use social proof to increase your conversions.
Curiosity
The optin offer doesn't actually reveal the secret to improving marketing with ActiveCampaign. It provides very little detail about what the user will receive after subscribing, except that they will learn how thousands of others have improved their marketing using ActiveCampaign. It might be a PDF, a checklist, a video course, a tutorial, a free consultation, or something else entirely.
The offer draws on the reader's simple sense of curiosity to drive conversions.
Want to induce curiosity in your visitors when you're limited on space? Check out our list of 700+ power words that'll boost your conversions. You'd be surprised what a difference a single word can make.
Anticipation
While the offer itself may be vague, it does build anticipation in the reader's mind. The reader is promised to learn something that will actually improve their marketing. For the reader unsure of how to improve their marketing, or who is actively searching for ways to improve, the promise of improvement is often enough to drive the conversion.
To do the same in your own optins, see our guide on creating a value proposition that's impossible to resist. A value proposition stresses the unique benefits that your company provides. When your visitors clearly understand the outcome you're promising, it creates anticipation.
Results
Using a floating bar optin, ActiveCampaign gains an additional 800 new free trial sign-ups every 30 days.
Summary
Even a simple optin like the one ActiveCampaign uses can dramatically increase your conversions when combined with social proof and urgency.
If you enjoyed this article, you may also want to check out how to create an ActiveCampaign popup to grow your email list faster!