Do you have a great campaign that you want to use as a template? It's easy to make copies of your OptinMonster campaigns! This doc will show you how to create a duplicate campaign to refresh your Google Analytics stats or run a different referral campaign.
---
Step 1 – Duplicate the Campaign
After you log into your account, then you should be on your dashboard of campaigns. Click the three dots beside the campaign you want to duplicate and you should get a box of options showing up.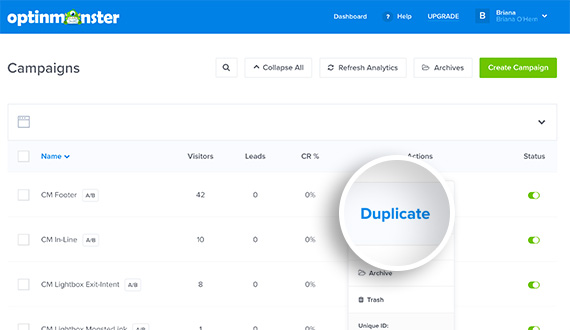 Click the Duplicate button to duplicate your campaign.
If you did this correctly, your next screen should show your duplicate campaign.
Now, you are all done. Your campaign has been duplicated. But you likely want to rename your campaign. Let's see how you can do that.
Step 2 – Rename the Campaign (Optional)
From the OptinMonster Dashboard, select the Pencil button beside your duplicated campaign.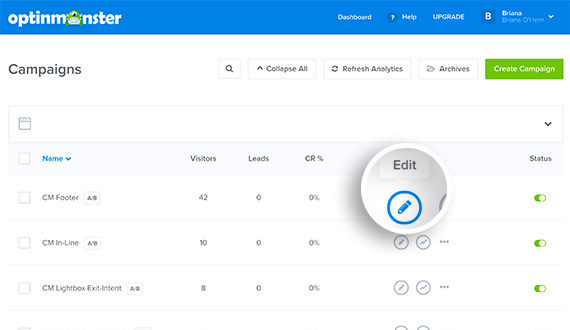 This will open the campaign Builder for that campaign. Within the Setup panel you can edit the name of the newly duplicated campaign in the Optin Campaign Title field.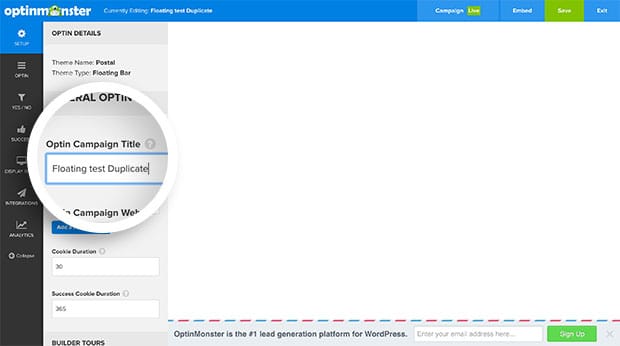 Save the changes to your campaign, and that's it, you've successfully duplicated a campaign and renamed it!
Did you know you can easily split-test campaigns with OptinMonster to help you increase conversions? Check out our documentation to learn how to split test your campaigns.