Are you struggling to understand how to build your email list for your eCommerce store? Do you offer a wide variety of products for very different types of customers, with solutions specific to their needs? In this case study, we'll discover how Kinobody uses OptinMonster to segment and convert up to 73% of visitors.
Meet Kinobody
The Kinobody approach is to blend fitness into your everyday lifestyle. Kinobody promises to help you become leaner, stronger and better developed each week, but not at the cost of your ability to enjoy life.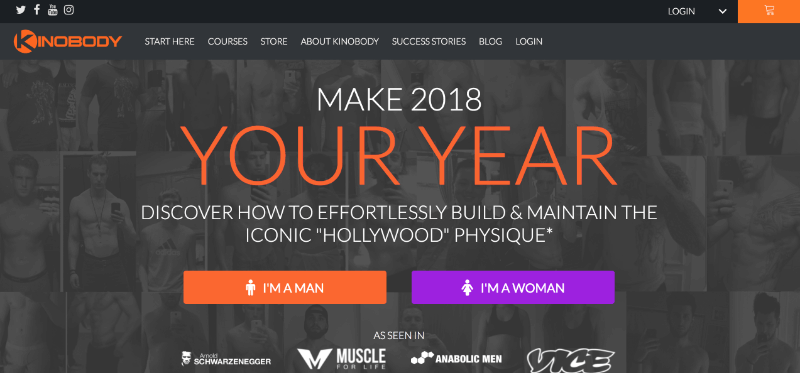 How Kinobody Uses OptinMonster
Kinobody began using OptinMonster because they needed a better way to offer incentives to visitors who were browsing the site, but not taking any action.
Here are three unique ways Kinobody offers incentives using OptinMonster that you can easily replicate in your business.
Building Waiting Lists
Kinobody builds their brand beyond simple fitness training programs with products like supplements, equipment, apparel and even coffee.
For every new product launch, they build excitement by writing blog posts about it weeks in advance. Within each article, subscribers can click a text link to join a waiting list.
When the product is finally available for sale, Kinobody emails the entire waiting with a link to the cart. This helps build excitement before the product is launched, and urgency once it is.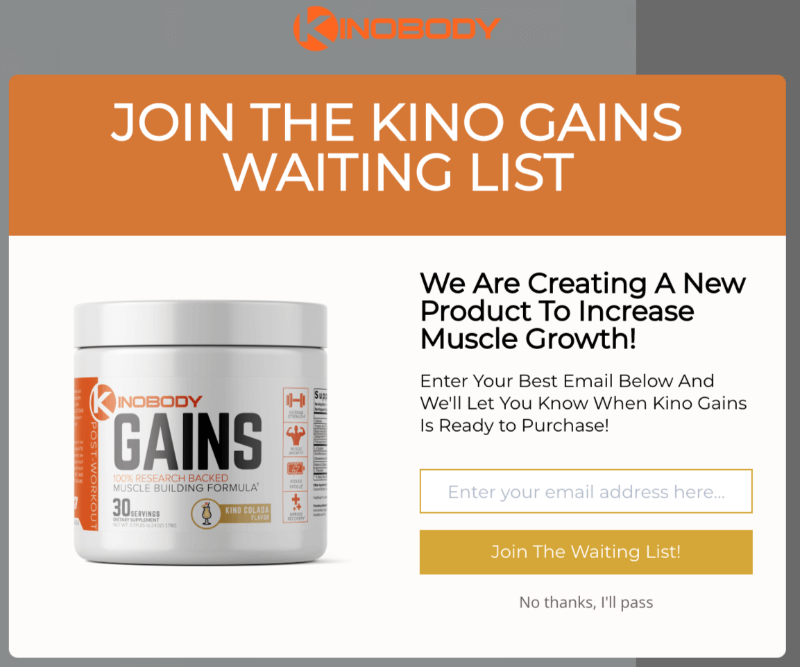 Kinobody uses our MonsterLinks feature to build each waiting list.
MonsterLinks can turn any text, image or button into a trigger which launches a lightbox optin. They are great for blog articles because you can make the same offer in different ways throughout the article without annoying your readers. For example, the top of the article might include a text link for the optin, while the middle includes a graphic call-to-action, and the bottom displays a button.
The optin above was triggered by a text MonsterLink within an article about the soon-to-be-released Kinobody Gains product.
It converted 39.87% of visitors who clicked the MonsterLink.
Capturing Abandoning Visitors
The core of Kinobody's brand are seven fitness courses. Each of the seven programs, like Goddess Toning or Bodyweight Mastery, focus on a different result and have their own sales page.
Did you know that nearly 70% of visitors to a sales page like this leave without taking any action at all? It's a huge problem for site owners who work hard getting interested visitors to their sites, only to see those people leave without a trace.
Kinobody recognized this problem and took action to capture some of those abandoning visitors.
Using our Exit-Intent technology, they wait to trigger an optin until the visitor's mouse motions towards the browser bar. That motion is a great indicator that a guest is about to leave the site, either by clicking the back arrow or entering another URL in the browser bar.
Kinobody makes an attempt to retain those visitors with a discount offer specific to the sales page: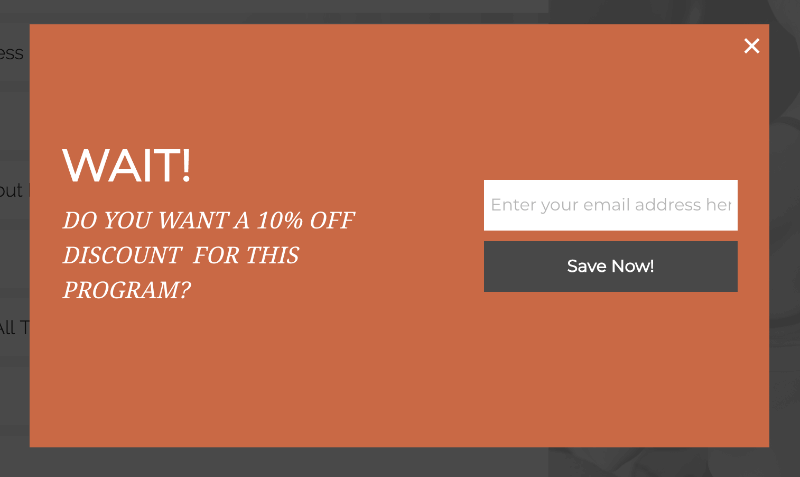 After entering an email address, the visitor is immediately shown a coupon code, This optin is super simple, but converts about 7.01% of abandoning visitors.
Segmenting Visitors
This is perhaps the most innovative way Kinobody uses OptinMonster. Kinobody uses a survey to help visitors discover the best program for themselves. Each step of the survey gathers more information about the visitor, like their gender, age, condition and goals. Once the visitor selects their condition, a lightbox opens asking, "Where would you like me to send your results?"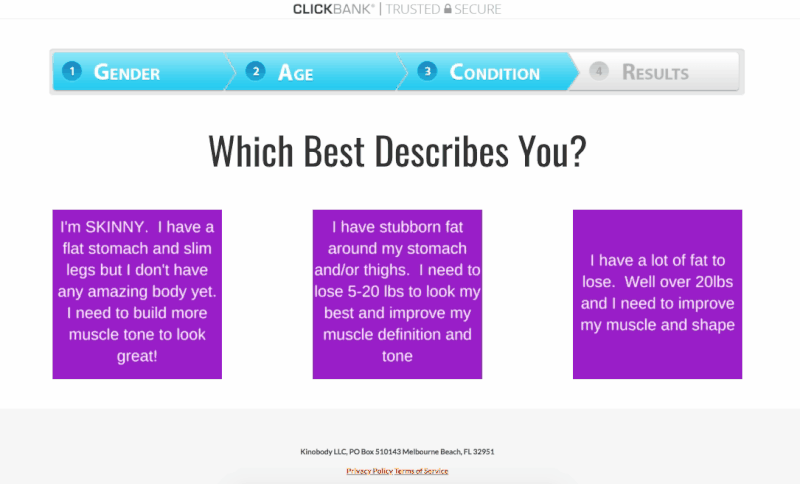 They do this using our MonsterLinks feature. Each condition is a MonsterLink that opens a unique lightbox optin, specific to that condition and gender. When someone registers to receive their results, they are added to an autoresponder that delivers an email filled with information about how they can improve that condition using one of the Kinobody programs.
These three MonsterLinks convert at 47%, 65% and 73%.
Using MonsterLinks this way segments visitors by their gender, and also their desired goals. A female visitor who is already fit should not receive marketing emails about how to lose 20+ pounds. And alternatively, a person who is very overweight might not benefit from programs designed for the already fit person.
Surveys like this are a great way to allow your visitors to segment themselves, which in turn helps you to build a better quality list.
Kinobody is not the only store using OptinMonster to segment leads. Discover how SnackNation adds 1200 segmented leads a week!
Results
Kinobody integrates OptinMonster into nearly every aspect of their business.
Kinobody converted 39% of visitors to a pre-launch waiting list using MonsterLinks.
Kinobody converted 7.01% of abandoning visitors.
Kinobody used surveys to convert between 47% and 73% of visitors into segmented leads.
Summary
There is more than one way to increase your email list using OptinMonster. From sales pages, to waiting lists, sales banners and surveys, Kinobody wins big using OptinMonster.
OptinMonster is an overall amazing platform. We do not use any other email optin service and we do not plan on doing so either! With OptinMonster, we now capture more non-buyers, make more during our sales, and have a place to make simple and convenient waiting lists.
Christian Forbes, Ecommerce Manager