Not all optin designs—or even programs!—are created equal. You could toil away at perfecting your color scheme and marketing strategy, but it takes pairing those with the right tools for your optins to truly shine. See how Brendan Hufford uses OptinMonster to double his conversions on his websites.
Meet Brendan Hufford
Brendan Hufford runs PhotoMBA.net, 100DaysofSEO.com, and BrendanHufford.com, all while leading the SEO team at Chicago web design agency, Clique Studios.
Needless to say, Brendan has no time to mess around! He needed a reliable optin solution that looked good and that he could use on multiple websites with ease.

Before OptinMonster
Brendan was getting a 1-2% conversion rate on average using Sumo (formerly called SumoMe), an OptinMonster competitor. Even after strategy calls and adjusted campaigns, nothing was working to increase the rates. He told us, "I knew that the ideas were good, but just felt like the actual designs weren't as strong and clean as what I saw at OptinMonster."
So, Brendan came over to the OptinMonster side and got to work. He took a page out of his friend Dave Chesson's book, or rather, his case study!
Case Study"How Kindlepreneur Increased Customer Retention 72% Using Content Upgrades"
How Brendan Hufford Uses OptinMonster
Brendan started with the same design templates his friend Dave used, but his success wasn't just due to tried and true designs (though they do help). Brendan knew the key was that he needed to offer something valuable to his visitors, in the most irresistible way possible.
He accomplished this by offering a content upgrade, or "lead magnet," just as a visitor moves to leave the site.
The brightly-colored, fullscreen campaign uses OptinMonster's Exit-Intent® technology and is impossible to ignore. It pulls an exiting visitor's attention right back in with an enticing headline!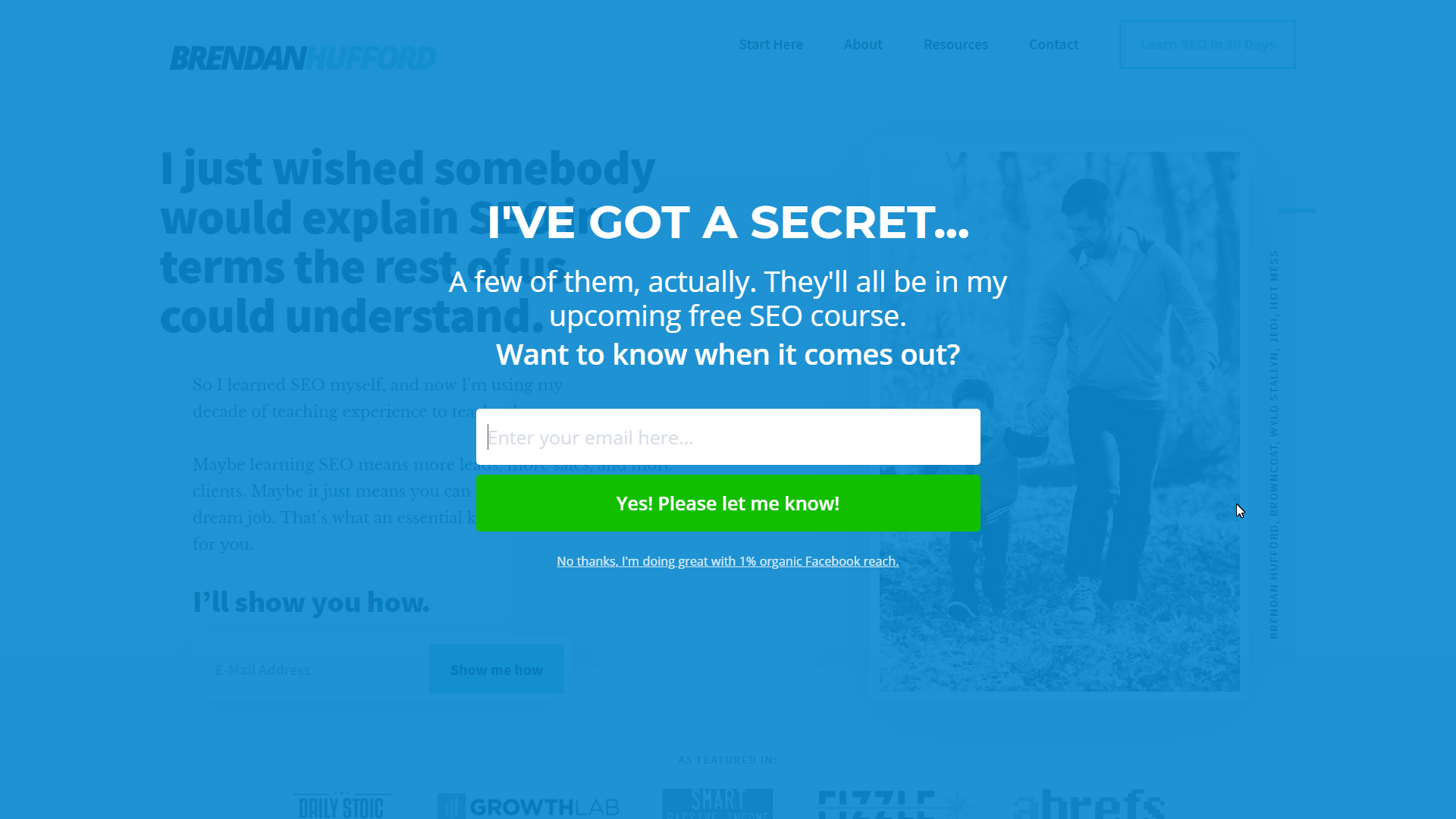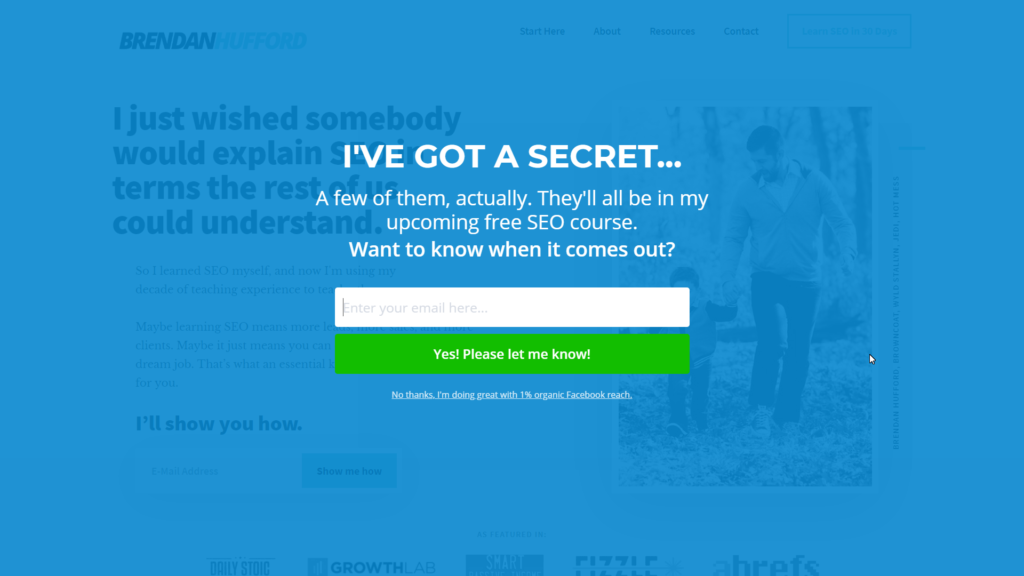 This message isn't just for abandoning visitors, though! Brendan sprinkled the same offer throughout the website in different formats like lightbox popups, inline, and slide-in campaigns.
It can take a visitor seeing an offer as many as 7 times before they take action, so he wasn't afraid of showing off his offer to his visitors as many times as it took, as long as he did it right.
Case Study See how Lilach Bullock used repetition in their optins.
"Now, by combining inline and slide-in content upgrades, some of my posts are converting at 4%, and that's not counting the number of people that opt in with the exit intent popup. That number may not be striking, but all of my traffic is cold traffic from Google, so the percentages are quite significant."
Results
The effects of a good optin can show in other measurable outcomes on your website. Brendan saw these great results after starting with OptinMonster:
Bounce rate decreased by 3%
Pages per session increased by 4%
Session duration increased by 20%
Brendan also told us that even when organic traffic dropped by 50% due to Google's "Medic" update in 2018, the increased conversion rate he had gained from using OptinMonster helped make up the difference!
Brendan's Advice
Remember that "I've got a secret" headline from earlier? That's some pretty strong copy! But could it be even stronger? ?
You never know what element could make or break your optin and that's why Brendan uses Split Testing.
"I would recommend split testing just one item at a time. For example, I'm testing the exact same design with 2 different headlines (everything else exactly the same) and not picking a winner until I have a solid sample size.

Even though one of them is currently 3% higher than the other, I always recommend waiting until at least 1,000 visitors have seen each version."

We do, too, Brendan! Split Testing is available with OptinMonster Plus level and higher, along with unlimited campaigns, so you can test, test, test to your heart's (and conversion rate's) content!
Summary
It can be hard to balance good design, content, and strategy, but Brendan managed to ace all three. To boost your conversion rate, keep things simple, deliver something valuable, and write something snappy (and use OptinMonster ?).
Testimonial
"As a professional marketer with numerous clients, I have exactly .02 seconds per day to work on my own projects. The ability to set up OptinMonster quickly and see its effectiveness the same day is powerful. As an SEO expert, I'm great at getting traffic but converting it was always harder. But NOT ANY MORE!"
Brendan Hufford, Owner, BrendanHufford.com