As a business owner, your website has a clear purpose: to convert visitors into customers. That's the only way for you to generate revenue. In this article, we will cover 4 UX optimization design tips for improving website conversion.
Before we start, let's cover the basics:
What is User Experience (UX)?
The definition of user experience varies from industry to industry. As a result, different experts have different definitions of user experience based on their respective fields of study and industries.
However, in this article, we'll be focusing on website user experience.
Website UX is the overall experience of a user when using a website such as ease of use and functionality.
If you want your website visitors to stay on your website, share your articles, join your email list, and even purchase your product, then you must focus on improving your website's UX.
User Experience Design
Sometimes, you may be tempted to think of design as just the colors of a website, but it's far more than that.
Design comprises of everything you see on a website — the structure, the text, the images, the pages, the sidebars and even where the contact forms are placed.
Now, user experience design (usually abbreviated as UXD or UED) is a way of taking all these website elements and making them work together in a manner that'll make your website useful, easy to use and attractive to users.
Having said that, let's now look at some UX design tips for improving website conversion.
1. Minimize the Errors
The first step to creating a great user experience is to getting rid of all website errors.
Think broken links and broken images. These errors are extremely frustrating and result in poor conversion rate.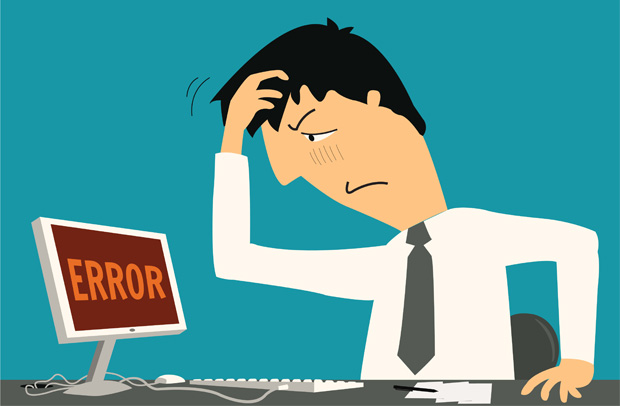 To fix this, here is an easy way to find and fix broken links in WordPress. This free plugin also find broken images as well.
Other effective ways to minimize errors:
Suggesting specific links when they reach a dead page
Using a tool like All 404 Redirect, a WordPress plugin that automatically redirects visitors to another page on your website if the page they were looking for is dead.
Including a search feature to enable them search for what they want after reaching an error page.
2. Show that You're Human
For obvious reasons, people are usually drawn toward things that resemble them, or toward things they can relate to. In the case of websites, people are likely to trust things that seem less robotic and more human.
For instance, one A/B testing case study found that after including a picture of a person, Basecamp (formerly 37Signals) got 102.5% increase in sign-ups for their product called Highrise.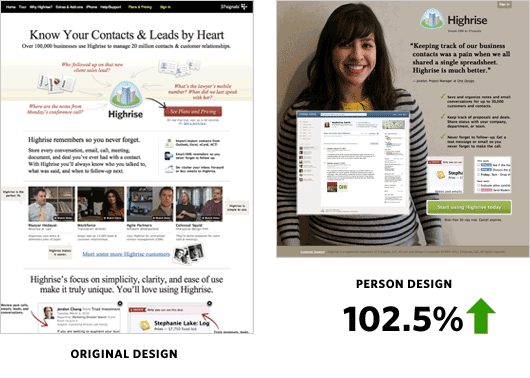 You too can do this by adding images and videos of your customers.
This will help you:
Show customers how others feel about using your products or services
Put a face to your brand
Make your offering more credible
Drive emotions for your offering with your website visitors.
You can do this by adding an about page or even a testimonials page.
3. Simplify the Process
For every action you want a user to take, there should be a process, and the simpler the process, the better it will be for your conversions.
For example: there is a checkout process for buying, an educational process for learning about your product, and so on.
As the website owner, it's important that you not only simplify these processes but also make it as smooth, easy and fast as possible for users to go through and complete each of the processes.
To simplify the processes and create a great UX for your website users, you might want to:
4. Trust is Vital
Trust, conversion, and design are directly connected to each other.
Did you know that 63% of customers are more likely to make a purchase from a site which has user reviews? Or a simple security seal can increase your sales by 42%?
Check out this article on 11 ways to use social proof on your website which includes:
Show real images of people (just as we've discussed above)
Use social proof and customer testimonial
Show images of your product in use. Users want to see the benefits of the product in action
Endorsement from a popular and trusted brand can also work wonders
Add trust badges such as Norton, Symantec, Comodo, TRUSTe, Better Business Bureau etc.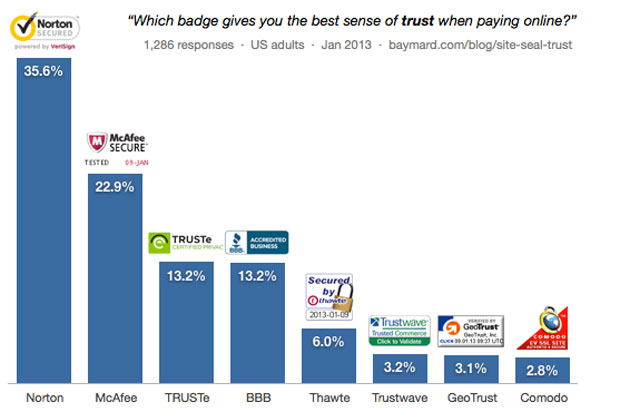 Conclusion
A poor user experience design can sabotage your conversion. Implement these 4 tips, and you will surely see an increase in your conversions.
You may also want to see our guide on how to use urgency to hack your conversion rates.
If you liked this article, then please consider following us on Twitter and Facebook.