Are you looking for a simple way to increase subscribers, but don't have time to create lots of new content and offers? In this case study, we'll show you how AnglaisCours used existing content to create content upgrades, increasing subscribers 150%.
Meet AnglaisCours
AnglaisCours Club provides video-based English learning programs for native French speakers. They also offer a paid membership club with more advanced lessons.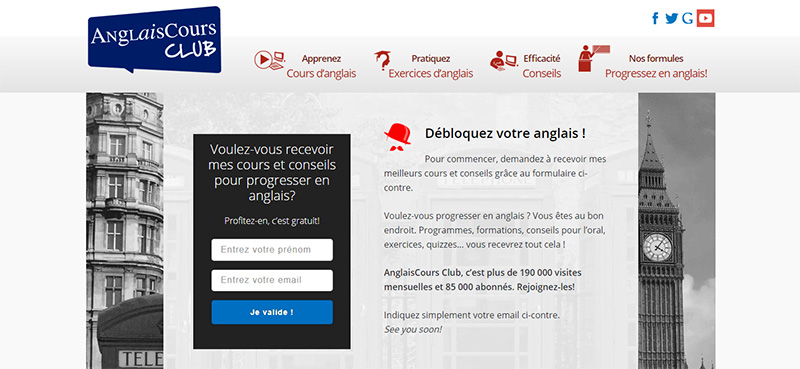 Their main goal was first to replace an intrusive popup optin that they were using with an exit-intent optin. Exit-intent optins appear when the user attempts to exit the website, rather than appearing while they're actively reading an article.
Alban thought that switching to an exit-intent optin would make the website more welcoming to visitors, while still giving him an opportunity to collect leads.
Alban said he chose OptinMonster over other optin software because "OptinMonster has the fastest, most precise exit-intent popups. Your technology just seems to work better for exit-intent popups."
AnglaisCours collects leads using a French autoresponder service called SG Autorépondeur. OptinMonster offers direct integrations with all of the major email marketing services, but SG Autorepondeur is not one of them.
Despite this, Alban is able to use SG Autorepondeur with OptinMonster using our Custom HTML integration. Our Custom HTML integration allows you to use any HTML in our optins.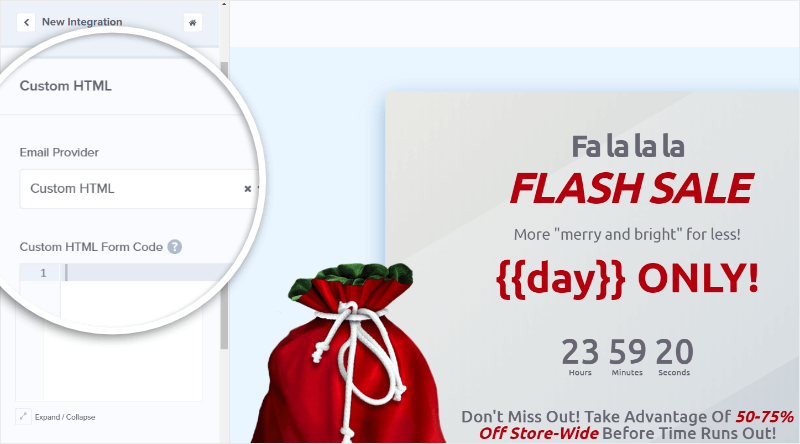 Simply copy and paste the form's HTML embed code into any OptinMonster optin and you're ready to go!
Increasing Conversions with MonsterLinks and Content Upgrades
The first optin added was this exit-intent lightbox using the Chalkboard theme. Alban only had to change the copy of the optin to get started.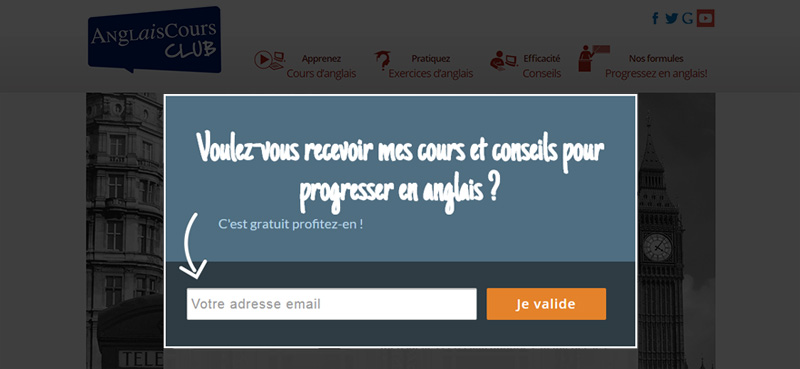 He immediately saw an increase in subscribers, from about 100/day to 250/day. This optin converts around 6.78% of abandoning readers.
What AnglaisCours did next is one of the best ways to dramatically increase conversions without annoying your readers.
AnglaisCours added content upgrades throughout the content of its most popular articles using OptinMonster's MonsterLinks feature. Content upgrades are lead magnets created specifically for readers of that particular blog post or article. The offer in the optin is specific to the content of the page.
Learn how to how to use your popular blog posts as tantalizing content upgrades.
Once you've identified your most popular pages and a content upgrade to offer on those pages, use a MonsterLink in the content to make your offer.
MonsterLinks can turn any link or image into a 2-step opt-in process. When a user clicks on the link or an image, a popup opens up asking them to subscribe in order to receive the content upgrade.
Here's an example of a content upgrade using a text MonsterLink directly in the content of an article: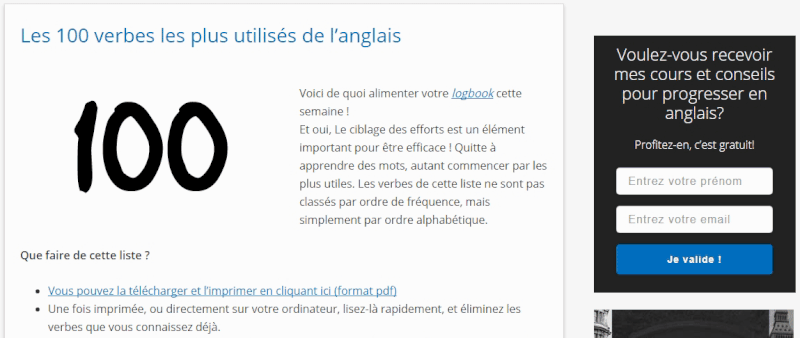 This MonsterLink converts around 6% of readers, adding 30-50 new subscribers per day to the AnglaisCours email list.
Many of the content upgrades at AnglaisCours are offers to download the text of the article as a PDF. You, too, can do this using a plugin like PDF & Print.
Alban says that these page-specific content upgrades bring him the most qualified subscribers. He also said that the simpler the MonsterLink, the better it performs. Plain text links along with a clear offer like "Download this English lesson so you can read it later by clicking here" convert best.
Results
AnglaisCours was able to achieve its goal of increasing the number of leads captured from their website without negatively impacting the user experience.
AnglaisCours now converts 6.78% of abandoning website visitors into subscribers
AnglaisCours increased new subscribers from about 100/day to 250/day
When asked if he would recommend others to use OptinMonster, Alban said,
"It is just a great tool and it has an important role in my business. I have more than doubled my daily new subscribers thanks to OptinMonster. I highly recommend this service."
Are you ready to increase conversions easily using MonsterLinks and Content Upgrades? Get started using OptinMonster today!