A lot of you have asked if it is possible to create a "Welcome Mat" effect with OptinMonster fullscreen campaigns? Today, we're excited to announce that our new Page Slide effect is here!
Before now, fullscreen welcome gate campaigns were overlays and would appear on top of your content.
But with our new Page Slide effect, your fullscreen campaign will now slide in from the top of the page, instead of covering your content. This way your users can just scroll down to reach your content.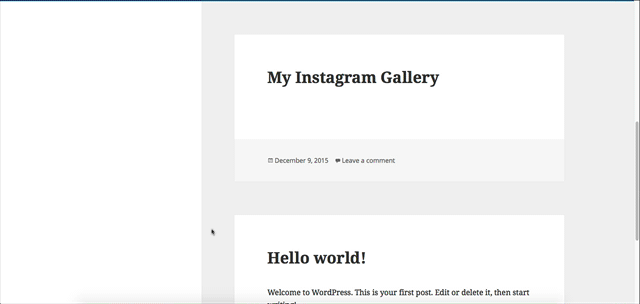 This Page Slide feature has been an extremely popular request, so we're happy to roll it out for our users.
How to Add a Page Slide Effect to Fullscreen Optins
The first thing you will need to do is either create or edit a fullscreen optin. Here are step-by-step instructions on how to create a fullscreen optin.
By default, many of the fullscreen overlay designs are transparent. If you wish, you can turn the transparency off in the Optin menu. Just move the transparency slider in the Overlay Background Color field up to the top to remove any transparency.
Then, also within in the Optin panel, you'll see the new Enable Page Slide setting. Just turn that option On to enable Page Slide for your fullscreen optin.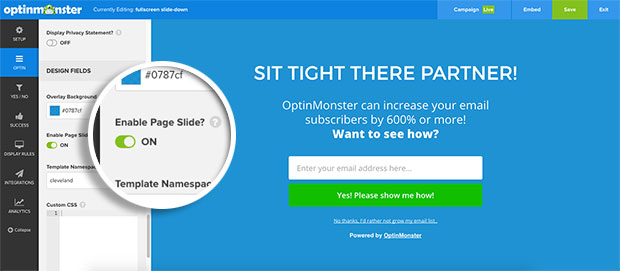 For more details, you can see our step-by-step guide on how to create a welcome mat fullscreen optin form.
Fullscreen optins with the Page Slide effect are available for all Pro level customers. If you're not on our Pro plan, then now's the perfect time to upgrade your account.
We have so many more exciting new features in the works that we can't wait to share. Until next time, give the Page Slide feature a try!
Syed and the OptinMonster Team
P.S. What are you waiting for? Turn any page on your website into your highest converting page with OptinMonster's fullscreen optins. Get started with OptinMonster today!