Have you ever used a text block in your OptinMonster campaigns? Then tell me if this sounds familiar…
You want to create an OptinMonster campaign, so you added a text block to your campaign in the app. You then tried editing the text block right away by clicking on it on the live preview… only to notice that the editing panel is actually on the left-hand side of your builder.
If this happened to you, then I've got some good news for you.
Over the last few weeks, we've been making a huge improvement to our drag and drop builder so you can edit a text block right from the preview.
Today, we're excited to announce that inline editing for text block is now available to all users.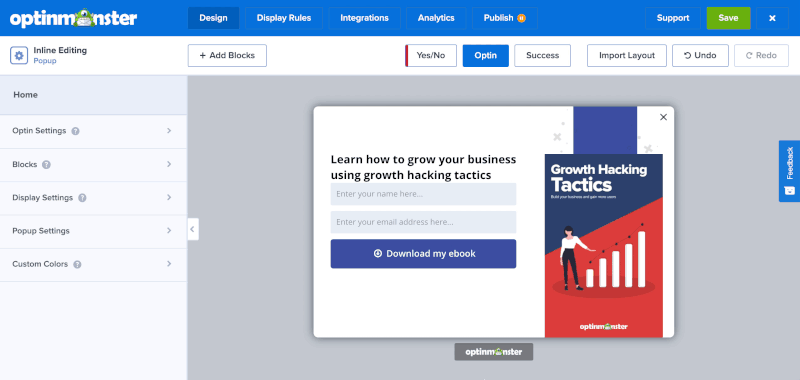 Simply click on a text block in the builder to edit the text itself, or highlight the text to apply new styles or even add a Smart Tag.
Improvements to Our Webhooks Integration
We've also made some significant improvements to our Webhooks integration.
With OptinMonster's Webhooks integration, you can send information from your OptinMonster campaigns to another app directly and immediately.
Prior to this update, our webhook only sent lead data like name, email, and phone by default.
With this update, we introduced a new lead_options parameter where you can send additional fields or information that you want to associate with your lead, such as the list name, tags, and additional custom data. In addition, you can also pass along any OptinMonster smart tags present in the campaign.
This comes in handy especially when you're running a gamified campaign with coupon wheel optins. With our Webhooks integration, you can pass the "coupon wheel" coupon code to your email platform. That way the coupon code will be available to use in emails to the customer.
We are continuing to improve OptinMonster, so you can convert more website visitors into subscribers and customers.
Not using OptinMonster yet? Click here to get started today!
As always, thank you for continued support in helping us make OptinMonster the world's best conversion optimization toolkit!