Over the last year, we have made a lot of improvements to the OptinMonster app, but not much changed in our WordPress API plugin.
It required you (the user) to do more work than really needed. With this update, we have made several things a lot easier.
Why use the OptinMonster WordPress Plugin?
A lot of you ask us what's the advantage of using the OptinMonster WordPress plugin vs. just adding the script code in the footer?
There are few key benefits that WordPress users enjoy when using OptinMonster in combination with our API plugin.
The first and most important is that you can add shortcodes inside OptinMonster to display related posts, related products, WordPress contact forms and other unique popups.
The other reason why users love OptinMonster WordPress plugin is because you have site specific controls (i.e show popup on category X or show only on specific post type).
What's New in OptinMonster WordPress API Plugin
We improved a lot of things to make it easier and faster.
New Welcome Screen
We realized that our new user experience wasn't as exciting on the API plugin, specially for those who download the plugin before purchasing OptinMonster.
This is fixed with the new Welcome screen that explains what OptinMonster does and how it can help.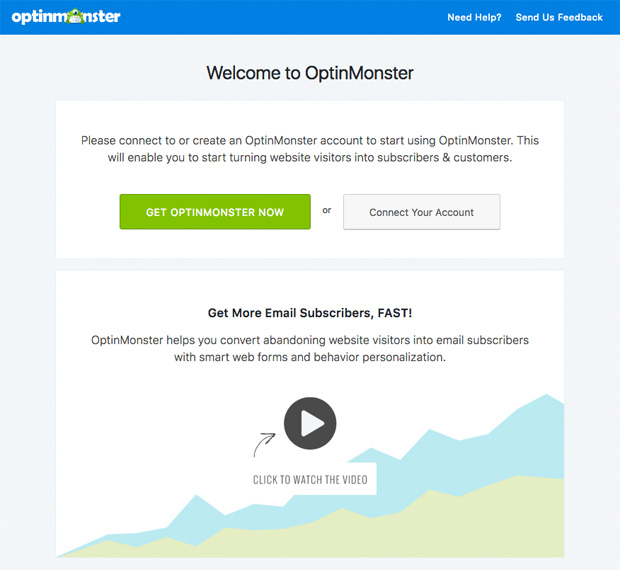 New Support Tab
There's a new Support tab to help you get started with OptinMonster and WordPress.
It contains a video walk-through of the plugin, helpful links to the documentation, a link to submit a support ticket, and a button to download server information to submit for support when requested.
Simplified User Experience
Our previous output settings screen was helpful when we didn't have the display rules.
In the new version, we have moved majority of the page level targeting options into an advanced settings panel to encourage users to rely on the Display rules inside the builder unless WordPress-specific configuration is needed.
This makes getting started with OptinMonster a lot easier for new users because it provides a consistent user experience.
You can easily make your optins live with a single click, and this can be managed directly from the optins tab (no need to visit the output settings at all).
Shortcode parsing is now automated. This means that you no longer need to tell OptinMonster that a shortcode exist in this optin. We automated this, so you have one less box to check. Simply select the 'Refresh Optins' button after adding/editing a shortcode to any optin and OptinMonster takes care of the rest.
If you use the page targeting for categories, it will now output the embed code on the category's archive page as well. This was a popular request, so we made it happen.
We also removed the Test Mode and Delete option from the Optins tab view because they're no longer useful. To provide a consistent workflow, you need to delete optins from your OptinMonster dashboard.
We'll be working to make the user experience even better in the coming months as we launch our other native platform integrations.
Thanks for all your feedback and support. We look forward to helping you improve your conversions.
Syed and the OptinMonster Team