The days of offering a generic popup to every visitor, on every page, are long gone. Today's marketers understand that the more personal an offer, the higher the conversion. When performance marketing agency CPC Strategy needed to take control of their campaigns to personalize their lead generation, they turned to OptinMonster.
Leanna Kelly, Content Specialist at CPC Strategy, talked with us about how they've been able to dramatically increase the number of targeted offers they make using OptinMonster.
Meet CPC Strategy
CPC Strategy is a performance marketing agency that specializes in growing revenue for brands and retailers via Facebook, Amazon, and AdWords advertising.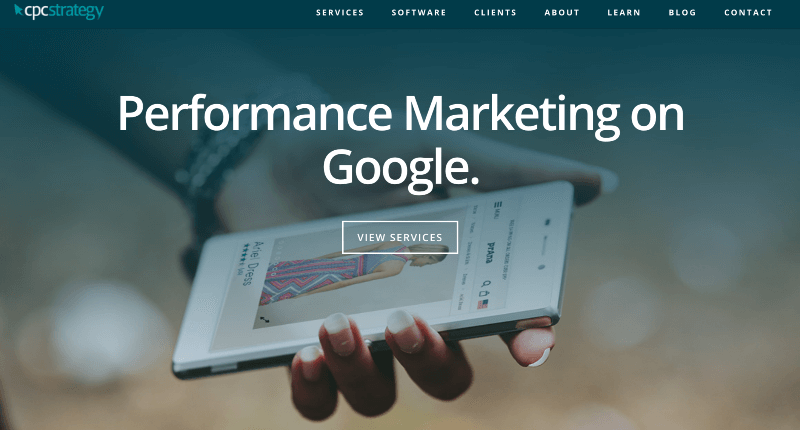 Before using OptinMonster, CPC Strategy used a clunky, manual process for their lead generation. Optins would take hours to setup and update, and had to be customized by someone who knew how to use HTML/CSS well. They needed more flexibility to create and target campaigns themselves.
They also wanted direct access to the number of impressions and conversions each campaign received, so they could make informed business decisions about what was working and not working. Without easy access to that information, improving campaigns using split testing was impossible.
How CPC Strategy Uses OptinMonster
Leanna knew OptinMonster could solve these problems. Our easy-to-use drag and drop editor makes it simple for anyone to build great looking campaigns. And, our analytics dashboard shows you at a glance how your campaigns are performing.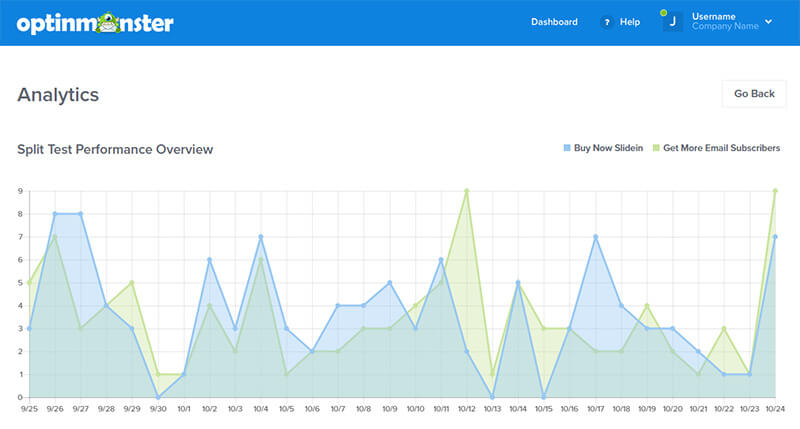 Leanna said,
Before using OptinMonster, we were collecting a similar number of leads as we do now. Our current offers using OptinMonster LOOK exactly like our old ones, we just recreated them using OptinMonster. However, our goal wasn't necessarily to improve our conversion rates right off the bat. We wanted to make sure those numbers stayed stable during the migration.
Leanna was able to successfully recreate in OptinMonster every campaign they had been using and did not see any change in conversions as a result.
So if CPC Strategy didn't dramatically increase their conversions using OptinMonster, why are we featuring them as a success story? We thought you might ask that question.
Here at OptinMonster, we want you to WIN, and win more often.
Wins don't always come in the form of a larger email list. Sometimes, the win is in the increased QUALITY of a list built using OptinMonster.
CPC Strategy has been able to scale the production of their offers from 30 generic campaigns before using OptinMonster to 110 tailored campaigns after.
They've been able to do this because they no longer need a developer or designer to create or launch new offers. And, our easy-to-understand conversion analytics gives them all the information they need to make decisions about what's working and what's not.
Better targeted campaigns result in a better segmented email list. According to MailChimp, segmented email campaigns outperformed unsegmented campaigns on every metric: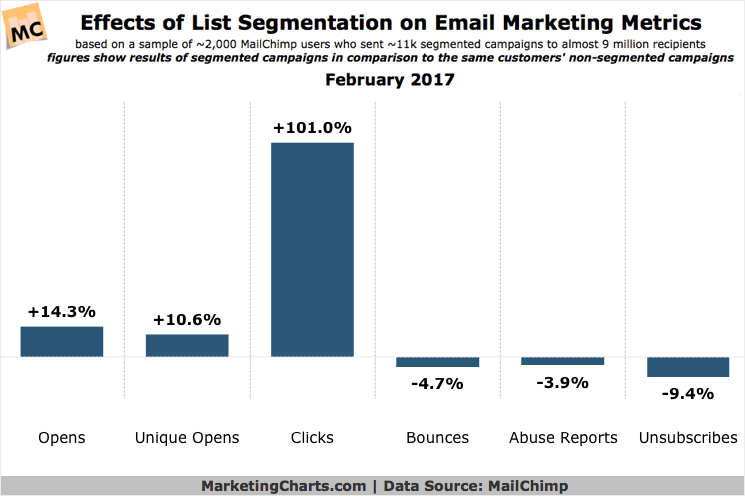 That means getting better results from the subscribers you already have.
Let's take a look at some of the targeted campaigns CPC Strategy created using OptinMonster.
CPC Strategy's blog has several categories of content. These categories include articles about selling on Amazon, Google, Social Media, and eCommerce. Categories like these help readers quickly find the content they're looking for. They also provide a great structure for you to create offers specific to those categories.
For example, on articles about Amazon's Enhanced Brand Content, CPC Strategy displays this offer at the top of the blog post. Readers who subscribe through this optin are added to the EBC interest segment of the CPC Strategy email list.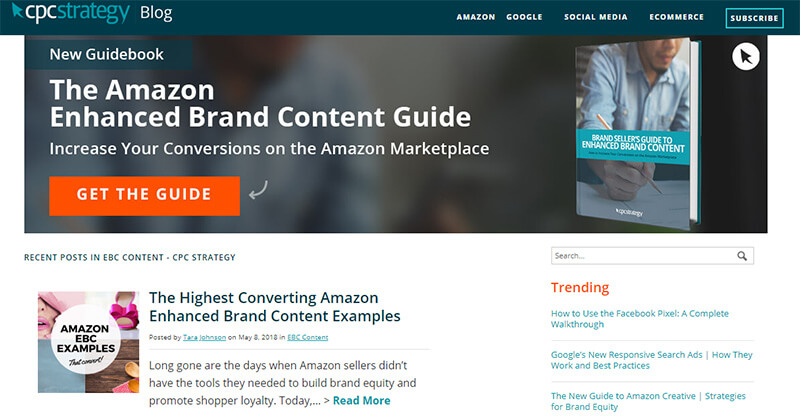 The optin appears when the reader clicks the banner or button using a feature we call a MonsterLink. MonsterLinks trigger the appearance of an optin with the click of an image, button or simple text link.
It makes sense that someone reading an article about Amazon's Enhanced Brand Content might be willing to exchange their email address for a guide on the same topic. The numbers agree: this optin converts 76% of visitors who see it.
They also showed the same optin to visitors about to leave the website, using our Exit-Intent technology. Exit-Intent detects visitor behavior and triggers a targeted optin at the precise moment a visitor is about to abandon your website. This exit-intent lightbox captured 3.12% of abandoning visitors.
CPC Strategy made the same offer at the end of the article using an inline optin.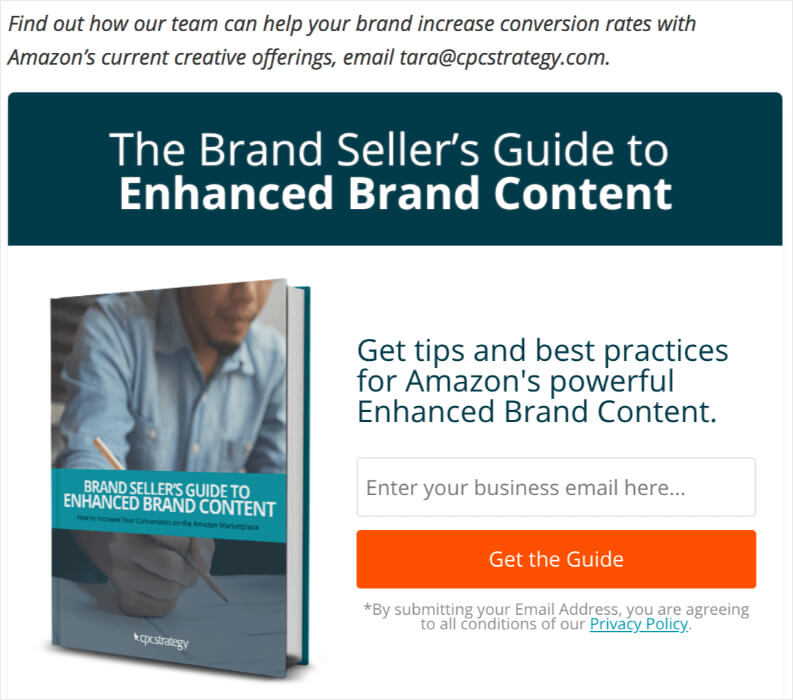 This optin converted 1.46% of readers who reached the end of the article.
Once CPC Strategy found success with this strategy of making the same targeted offer multiple times per page, they replicated it throughout the website. Every category received a personalized lead magnet, offered with a MonsterLink, inline optin and exit-intent optin.
CPC Strategy now adds over a thousand subscribers to their list every month, using 110 unique, targeted optins.
Leanna had this piece of advice for companies managing dozens of offers in OptinMonster:
My biggest piece of advice would go out to those who are using OM for more than 50 offers, or those they need to change out frequently–don't rely on your memory to tell which offers are which, especially if you're working with a CRM such as Marketo. Create a naming convention for your offers that will hold up across both your CRM and email (if applicable) so it's easy to find exactly what offers are working and which ones aren't.
In the coming months, Leanna plans to work on increasing the actual number of conversions using split-testing. We're excited to see how the continue to improve.
Results
CPC Strategy migrated to OptinMonster from hard-coded HTML popups without any decrease in conversions. The ease with which they can create new campaigns has been a huge win for them.
CPC Strategy scaled their offers from just 30 to over 110 using OptinMonster.
CPC Strategy converted 76% of targeted visitors using MonsterLinks.
CPC Strategy recovered 3.12% of abandoning visitors.
Summary
OptinMonster gives you the control you need to quickly scale your lead generation efforts. As you do that, remember to segment your subscribers as soon as possible. A segmented email list will produce better results than one filled with generic subscribers.
Using OptinMonster we've been able to scale the production of our offers from 30 generic offers to about 110 tailored offers. This has given us greater flexibility and control over the offers onsite.
Leanna Kelly, CPC Strategy