Do you want to double your email conversion rate without hurting your SEO? Today, I'm excited to announce our newest optin type, Full Screen, the next generation of welcome gates, exit gates, and interstitial ads.
https://www.youtube.com/watch?v=Ep1sDGDJZ0M
It's a known fact that full screen welcome gates can instantly double or tripe your email conversion rates. However traditional welcome gates are terrible for SEO.
Why?
Because the traditional welcome gate tools and plugins redirect your user to an entirely new page. Since the user doesn't see anything else on the screen except for a call to action, it leads to a significant boost in conversion. While all that sounds good, there is a catch.
Redirecting users to a new page that they didn't request is bad for your site's SEO and user experience. Google is actively penalizing websites that redirect users instead of showing them the content they requested.
But what if you could maximize your conversions with Welcome Gates without affecting your site's SEO?
Now you can with OptinMonster's Fullscreen, the next generation of Welcome Gates.
Unlike the old welcome gates, OptinMonster Full Screen DOES NOT redirect your users to another page.
Instead our smart script overlays on your existing page which ensures maximum conversion and SEO benefits.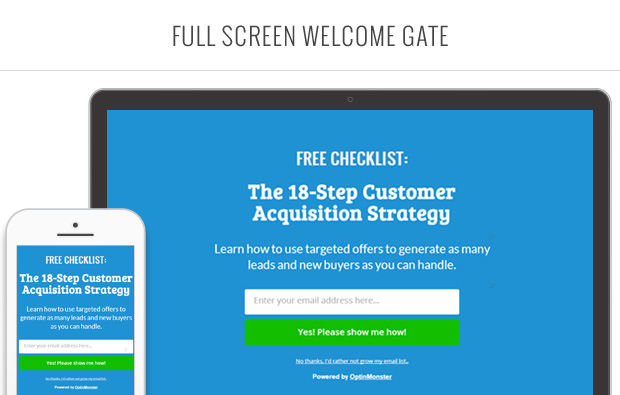 OptinMonster's Full Screen is completely customizable and 100% mobile optimized.
It's also multi-dimensional.
You can use OptinMonster Full Screen as a Welcome Gate, Exit Gate, or an Interstitial.
Simply use our delay setting to show the optin as soon as the user enters, Welcome Gate, or delay it by a few seconds to make it an interstitial ad.
Alternatively, you can use our signature Exit-Intent® technology to display it at the precise moment the user is about to leave, thus an Exit Gate.
On top of that, you get all of our advanced behavior personalization features that allow you to customize your offers based on your visitor's location on the website, manual clicks on images and links, as well as referrer sources such as facebook, google, or other websites of your choice.
The Full Screen optins are immediately available for all Pro level customers. If you are not on our Pro plan, then now is the perfect time to upgrade your account!
We have a lot of exciting new features in the works. But until that time, please try out Full Screen and don't forget to share your success stories with our support team.
Syed and the OptinMonster Team
P.S. What are you waiting for? Turn any page on your website into your highest converting page with OptinMonster's Full Screen. Get Started with OptinMonster Today.