As we've grown and evolved over the last 5 years, we've seen people like you achieve amazing business growth with OptinMonster. It's become more and more clear that your success is what ultimately drives us.
That's why starting today, we're pushing the envelope again on what you can achieve with OptinMonster, with a brand new drag and drop campaign builder and more. This is the next generation of results-driven campaign design that will help you to take your business to the next level.
We're incredibly excited to share this with you today.
Ready? Let's take a look at what's new…
Brand New Drag and Drop Campaign Builder
For the last several months, our dev team has been working hard on creating a brand new drag and drop campaign creation tool, designed and built completely from the ground up.
The team has done an amazing job at making the new builder super-easy to use. Now anyone can create beautiful, completely customized campaigns from scratch – no code needed.
With the new builder, there are no limits. You can add any element, anywhere:
countdown timers
images
custom buttons
icons
videos
and so much more…
Check it out:
You can choose one of our high-converting templates and customize it, or start with a completely blank Canvas campaign and design your own campaign from scratch.
That's not all…
Improved Yes/No and Success Views
Now it's easy to edit all views of your campaign, including your Yes/No view, Optin, and Success view.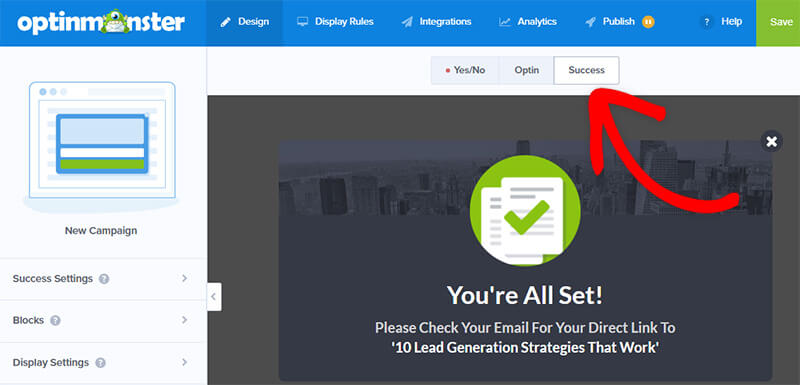 Want to redirect your leads instead of showing them a success view? You can now easily choose a success action from any optin form or button.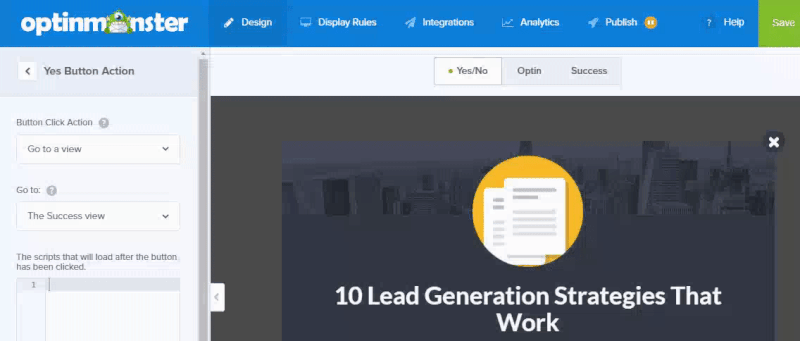 Yes/No views and Success views can also be edited with the drag and drop builder, so you can add whatever elements you want to them (icons, images, videos, and more).
This opens up SO many new possibilities for your campaigns.
Display Rules Are Easier Than Ever
In OptinMonster 5.0, it's easier than ever to decide exactly when and where your campaigns will appear.
Both AND and OR Conditions can be within a ruleset now, as well as the option to create different rulesets.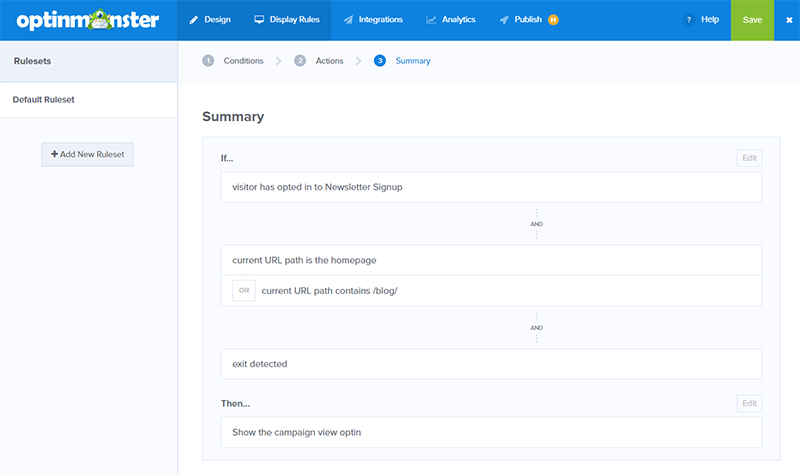 We also added a REALLY neat new feature where you can choose which campaign view you want to display when your conditions are met. Now you can choose to…
Show a success view to people who already opted in
Show a Yes/No on exit intent, but skip to the optin when it's triggered by MonsterLink
and lots more… the possibilities are endless.
You can also add MonsterEffects when choosing your campaign actions.
This is a really neat feature, because it means that you can now add different effects for each trigger. For example, you could choose to play a sound effect ONLY for users who are inactive on mobile devices. This is super-effective for boosting your mobile lead generation, without annoying desktop users.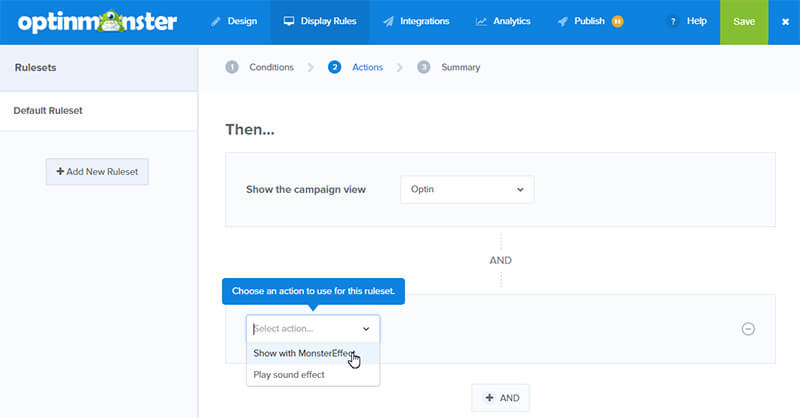 For more details on all the improvements made in OptinMonster 5.0, see our OptinMonster Builder Overview.
What Happens to My Current Campaigns?
Don't worry – all of your campaigns created with the Legacy builder will continue to work, and you don't need to change a single thing. You can still edit those campaigns using the Legacy builder as well.
Now that OptinMonster 5.0 has officially launched, all new campaigns will be created with the new drag and drop builder. All the templates you know and love are available to use in the new builder, but now they're totally customizable. Or, you can create your own campaigns from scratch with the Canvas template (no coding necessary).
We want to make this transition to the new builder as smooth as possible for you. Despite all the beta testing, we realize that we are imperfect. If you encounter an issue, then please send us a support request. Our team would be happy to help you get started with this new powerful builder.
What's Next?
This was a HUGE project, but we're not resting. The new drag and drop builder and other changes in 5.0 have laid the groundwork for our next big features, including…
Landing Pages
Gamified Campaigns
FOMO campaigns
Push Notifications
I'd like to personally thank every single one of our valued customers for helping us get to where we are today. We couldn't have made this giant leap forward without your support, feedback, and suggestions. I along with the entire OptinMonster team look forward to helping you take your conversions to the next level.
Haven't gotten started with OptinMonster yet? Try OptinMonster today and start making more money from the traffic you already have.
Cheers,


Thomas Griffin
Co-founder and President, OptinMonster