In January, you made a resolution to increase sales from your online store and focus on growing your business.
You took steps to drive more traffic to your site, and you committed to finding new opportunities to convert those visitors into paying customers.
Valentine's Day rolled around, and you swore you'd use the holiday to run a special sale.
But things came up. You got busy, and the day passed.
Then St. Patrick's Day came and went… after that it was Easter… and then Mother's Day…
Most recently, you missed Memorial Day.
The worst part is that you KNOW you're losing these opportunities.
We want to make sure you don't miss the next one with our latest template collection.
With OptinMonster's new Father's Day template, you have a pre-built campaign that's ready to grow your sales: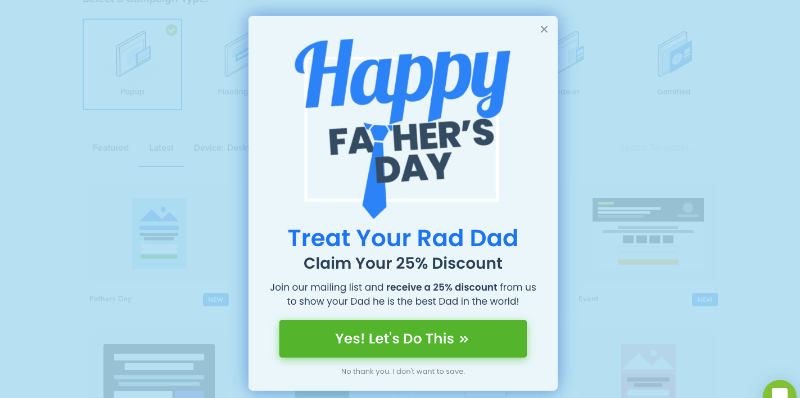 And with OptinMonster's codeless drag and drop builder, you can easily adjust the copy to match your own offer and branding in just a few seconds.
Now, you might not think a simple holiday sale will have a big impact. But check out how Cloudways, a managed hosting platform, used a holiday promotion to:
Grow their list by 229%
Increase free trial signups by 120%
Improve conversions by 1700%
And the best part? They simply re-used existing promotions to increase conversions for their holiday sale.
You can check out exactly how they did it by clicking here.
But as you know, one of the largest American holidays of the year will creep up on you right as Father's Day wraps up. I'm talking, of course, about the 4th of July.
That's why we're excited to share our new 4th of July template with you today, too: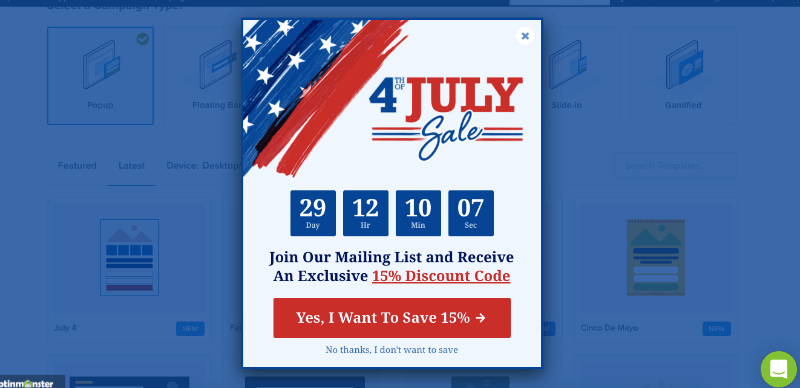 Again, with OptinMonster's visual campaign builder, you can modify this template to have a 4th of July sale up and running in minutes.
This is the same type of pre-built template that the company Christmas Lite Show used to convert 30% of their site's visitors and added 7,000+ email subscribers to their list.
But the best part is that you won't have to wait until December to create a popular sale that your audience LOVES.
Using either of these 2 new OptinMonster templates will grow your store's profits by:
Filling your email list with new and qualified leads.
Reducing cart abandonment with an exit-intent popup.
Increasing revenue by motivating users to make a purchase.
Improving user experience (UX) with free shipping.
Don't let another opportunity for sales pass you by. There's still plenty of time to make 2021 your most profitable year ever!
All you need to do is set aside a few minutes to sign up for a risk-free OptinMonster account, and you'll have profitable Father's Day and 4th of July campaigns ready in no time.
And since all of OptinMonster's plans are backed by a 14-day money-back guarantee, there's literally no risk to you.
That's the kind of deal that would make any regular or founding father proud.
So why put off your store's growth any longer? Click below to get started:
Check Out the Father's Day template Today!
BONUS: Done-For-You Campaign Setup ($297 value)
Our conversion experts will design 1 free campaign for you to get maximum results – absolutely FREE!
Click here to get started →
The OptinMonster team has also been hard at work fixing minor bugs and issues to provide you a better user experience.
Though these changes operate in the background, they make a HUGE impact on keeping OptinMonster the #1 lead generation software in the world.
That's the kind of commitment to customers that OptinMonster strives for on a daily basis, and we're excited to continue serving you through that work – even when nobody sees it.
As always, we're grateful for your continued support of OptinMonster, and we look forward to bringing you even more ways to grow your business as quickly and efficiently as possible.