Even without any of your professional responsibilities, the holiday season can be stressful.
You've got decorations to buy, gifts to wrap, meals to cook, and about a million other tasks to juggle.
Ok, now add the pressure of running a business on top of ALL that.
At this point, money probably isn't even your biggest concern…
What you're probably looking for this holiday season is MORE TIME.
That's why OptinMonster just released 4 new holiday templates for:
Black Friday
Cyber Monday
Small Business Saturday
Christmas
These campaign templates look and function great out of the box.
Let's take a quick look at each new template. Then we'll share how these new options will give you more time back for the holidays.
1) Black Friday
Black Friday is one of the biggest holidays for shoppers around the world. That's true for both digital and physical goods.
One of the most common incentives for Black Friday shoppers involves free shipping.
That's why we made this a featured component to our new Black Friday template: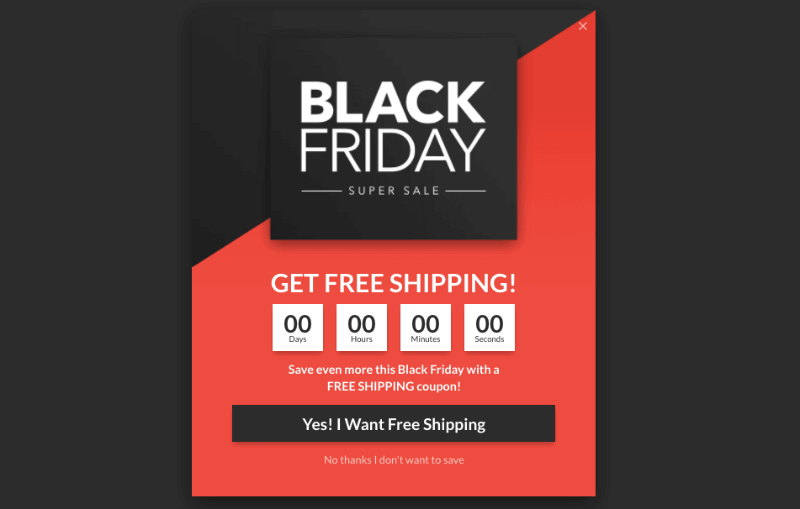 The goal is to give you something that just works without any kind of technical setup.
If you want to change the offer, you can do so in seconds with zero coding required.
It's also a more modern design and layout, meaning it will work for more brands with fewer modifications needed.
2) Cyber Monday
Following Black Friday is a HUGE holiday for eCommerce: Cyber Monday.
It's a great excuse to extend your Black Friday deals to generate more profits over the weekend.
And now you can use this flashy, attention-grabbing template to boost sales: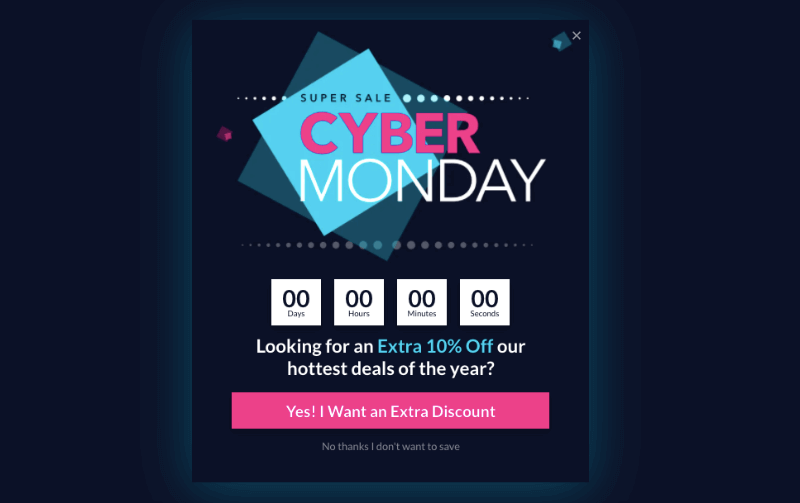 The brightly-colored design is sure to make your Cyber Monday deals stand out.
But if it's too "off-brand" for your business, that's OK!
You can change the colors, text, images, and countdown timer settings with just a few clicks.
3) Small Business Saturday
Small Business Saturday is an established (though admittedly less popular) holiday sandwiched between Black Friday and Cyber Monday.
It's your opportunity as a small business owner to connect with your audience and drive more sales.
And for the occasion, you can set up this campaign in under 5 minutes: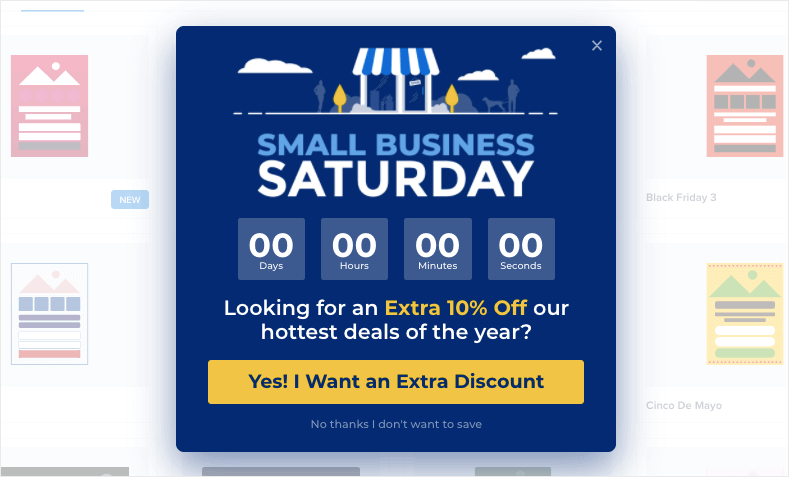 As with all of our templates, the goal is to give you professional and high-converting campaigns in the least amount of time.
4) Christmas
Christmas is one of the biggest holidays of the year. It's also one of your last opportunities to make MAJOR sales before things begin to slow down.
(You know… once people start looking at their credit card bills in January).
OptinMonster now offers a sleek new template that you can use this Christmas: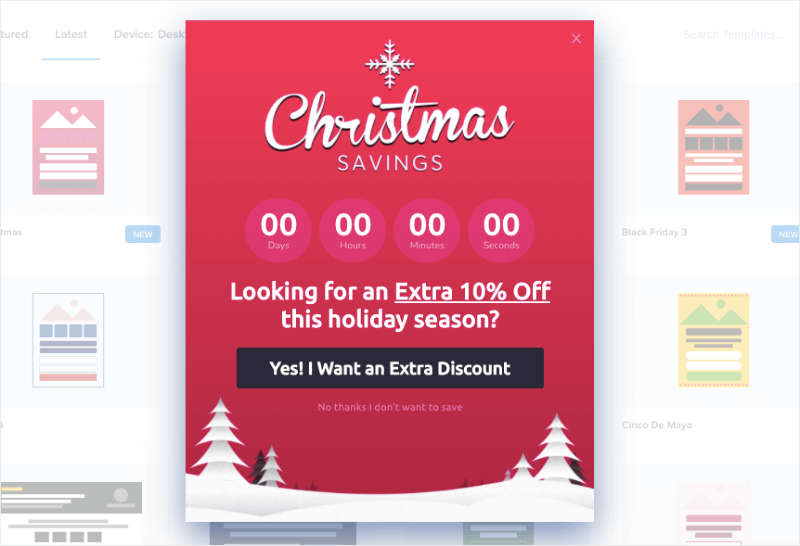 It's a straightforward design that won't distract your user.
But it's highly effective at grabbing your visitor's attention and creating a sense of urgency with the built-in countdown timer.
Now that you've gotten a glimpse at the new holiday template selection, let's answer a question that's likely on your mind: Will these templates really save you time this holiday season?
And if so, how?
How Holiday Templates SAVE Time
At OptinMonster, we've always had one goal at the center of everything: to help small businesses compete with the "big guys."
And one thing we've found with small business owners is that they're usually strapped for time.
That's why these templates play such a large role in your holiday marketing strategy.
With these 4 templates, we're giving you 4 BIG opportunities to generate more sales. Plus, these templates make it possible to set up each campaign in under 5 minutes.
Here's how it works in 3 simple steps:
Select your campaign type (popup, floating bar, fullscreen welcome mat, etc.),
Grab your holiday template
Sync your email service provider (ESP)
Then just like that, you'll have an automated holiday marketing plan in place.
Your new leads will go directly to your email provider where you can continue to promote deals, offers, and products to drive more sales.
When everything's set up, you'll have all the time in the world to put up those decorations, wrap those gifts, cook those meals, and tackle all the things that require your attention during the holidays.
Still feeling like it'll take too much of your time? Then let us build a campaign for you… free of charge.
If you click below to start your 100% risk-free OptinMonster account today, you can have a free gift campaign made for you by one of our conversion experts (a $297 value):
Get Started With OptinMonster Today!
BONUS: Done-For-You Campaign Setup ($297 value)
Our conversion experts will design 1 free campaign for you to get maximum results – absolutely FREE!
Click here to get started →
As always, we're grateful for your continued support of OptinMonster, and we look forward to bringing you even more ways to get the results your brand deserves.