Things just get better and better.
First, an enormous thank you to everyone who sent feedback about the new Campaign Dashboard. You—the users—are the driving force behind everything that we do at OptinMonster. Without you, there is no reason for us.
That's why we put hours into even the smallest details that will make your experience as a user that much better. So, when you take the time to provide feedback we value it so very much.
Now, let's talk about what's up at OptinMonster…
New Campaign Dashboard Out of Beta
OptinMonster's new Campaign Dashboard is now available to all customers. And, we've made it even better with your help.
Thanks to the amazing feedback we received from OptinMonster customers, we've tweaked the Campaign Dashboard to make these improvements:
Increased contrast and made changes to colors for better accessibility
Increased font sizes and icon sizes for better readability
Added several new sorting options for viewing your campaigns
Added folder renaming and deleting capabilities
You can now also see screenshots of your campaigns from the Campaign Dashboard!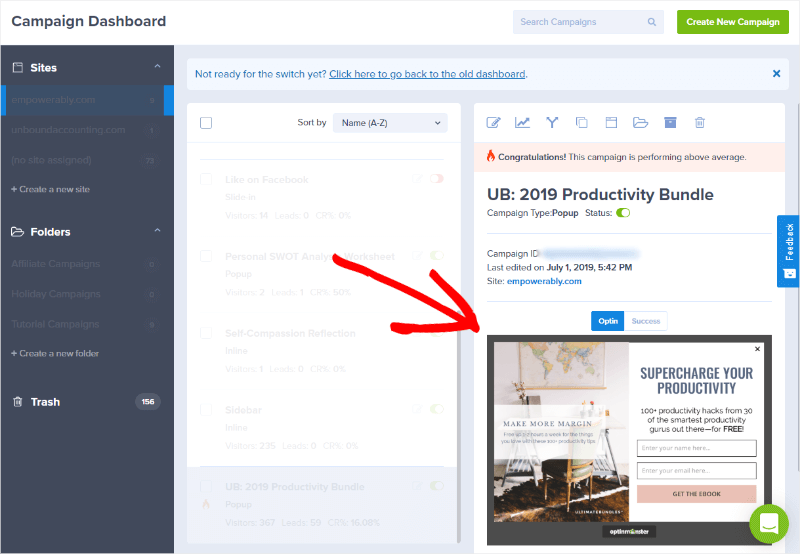 Pro Tip: If you just switched to the new Campaign Dashboard and aren't seeing the preview, go into the campaign and save it. It should show up in the Campaign Preview section then. ?
Campaign Dashboard Overview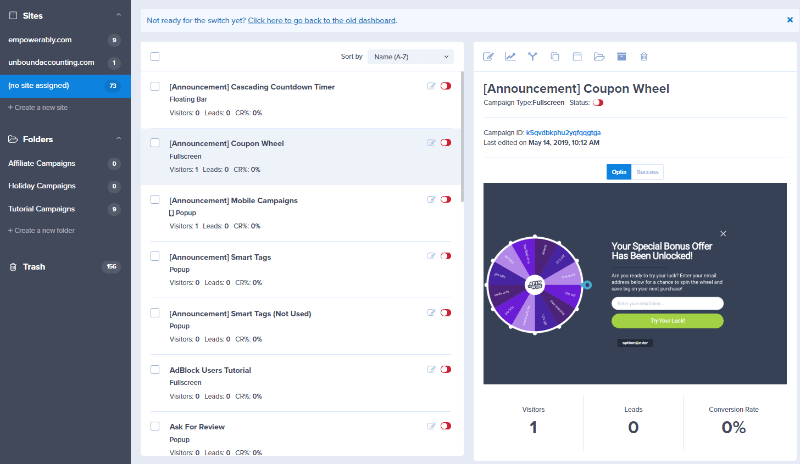 On the far left of the Campaign Dashboard, you have a list of your sites and folders. We refer to this as Campaign Navigation. Clicking on a site or a folder will bring up the campaigns associated with only that site or that folder.
The list that comes up is the Campaign List and it's in the middle of the Campaign Dashboard.
Clicking on one of the campaigns in your Campaign List will bring up the Campaign Preview on the far right of the Campaign Dashboard. As you can see above, you have that cool preview of your campaign that we talked about, plus information about the campaign's performance along the bottom.
Along the top of the Campaign Preview, you have the tools that you need to edit and manage the campaign, including things like split testing, duplicating, adding to folders, looking at deeper analytics, and archiving or deleting the campaign.
How to Get the New Campaign Dashboard
To get your hands on the new Campaign Dashboard, you just have to click to activate!

If you decide you want to go back to the old Campaign Dashboard, you can do that. You'll lose access to the super cool folders, though. On the bright side, you can flip back and forth between the Campaign Dashboards whenever you want.
WooCommerce Integration With Latest Version of Plugin (1.7+)
Big news for WooCommerce lovers! With the latest version of the OptinMonster plugin (1.7+), you can now connect WooCommerce directly with your OptinMonster account.
You still have your WordPress endpoint settings but, to make your life a bit easier, you'll also have the ability to use your WooCommerce data to create display rules from right inside the OptinMonster campaign builder:
WooCommerce Product
WooCommerce Product Category
WooCommerce Product Tag
WooCommerce Cart Items Count
WooCommerce Cart Subtotal
WooCommerce Cart Total
This opens up a world of possibilities for abandoned cart campaigns, retargeting campaigns, and other behavioral campaigns.
Set Custom Colors by Campaign
Now you can set custom colors for each campaign. From the home screen of the campaign builder, you'll see Custom Colors listed. Just click and you'll be able to create a set of custom color swatches.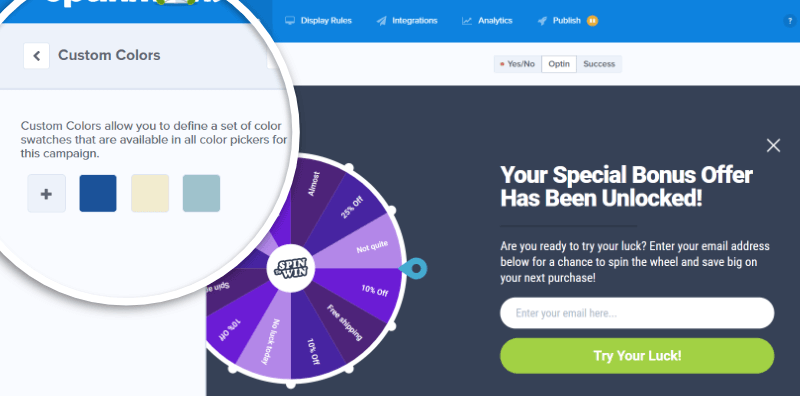 Once you've selected your colors, whenever you want to change colors throughout this campaign those colors will appear as swatches at the bottom of the color picker tool: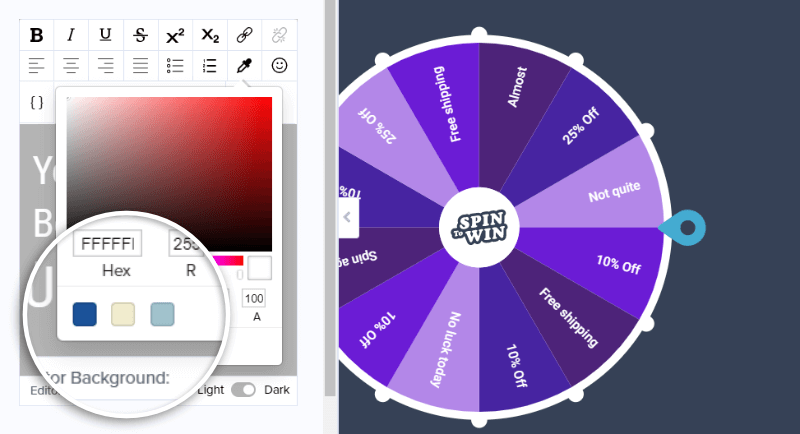 No more remembering which color you used on which element, or which hex code it is that's in your logo—you can save them! This makes customizing your OptinMonster campaigns even easier!
Coming Soon for OptinMonster
Based on the overwhelming feedback we received for the Campaign Dashboard, it's clear that you want a new Account Dashboard, too. So, guess what?
It's happening!
Guess what else?
It's going to be massively useful! The new Account Dashboard is going to include performance data for each of your sites so you can, at a glance, see how all of your campaigns are doing. Our goal is to give you everything you need to start your day knowing where you need to focus your attention to get the biggest win.
We've also got bigger and better things in store for eCommerce (pun intended) with more WooCommerce updates to come, as well as updates to our Shopify integration and integration with BigCommerce. Stay tuned!
Ready to explode sales and generate leads like never before? Get started with OptinMonster today!