Last week, we quietly rolled out the OptinMonster App.
OptinMonster is now a stand-alone (SaaS) lead generation software that can be used on any website platform: WordPress, Drupal, Joomla, Shopify, Magento, BigCommerce, and basically any HTML website.
It is by far the biggest update to OptinMonster since the launch of OptinMonster itself.
Over the last two years, we've built a phenomenal product that has helped tens of thousands of people convert abandoning website visitors into subscribers and customers. We also learned some hard lessons along the process that led us to build the new and much more powerful OptinMonster App.
Our Vision Behind the Decision
When we first launched OptinMonster, we kept it simple and limited it only to self-hosted WordPress.
Our goal was to make it easy for businesses to maximize their conversion revenue from each of their website visitors. We "sort of" accomplished that by offering high-quality templates, our easy to use design customizer, built-in integration with every major email marketing service provider, simple A/B testing, advanced page level targeting, conversion analytics, etc.
While all that sounded great, we ran into some serious limitations on how much further we could innovate as an isolated solutions provider.
Each WordPress site is hosted in a different environment which proved to be a huge challenge for us since the very early days (shared hosting usage restrictions, plugin and theme conflicts, integration problems on slower hosts, scalability issues on larger sites, lack of a clear upgrade path, etc).
These restrictions started limiting us from offering you, our valuable customers, a truly amazing experience and the most powerful lead generation software.
We never wanted people to look back and regret their experience with OptinMonster. Ever.
So we made the decision to invest extensive amounts of time and resources into building the new OptinMonster app to help you get even more email subscribers.
What's New in the OptinMonster App?
We have added in a lot of powerful features while keeping the same familiar and easy to use OptinMonster interface.
Works on any platform
A lot of you asked us to make OptinMonster available for other platforms. Well, we listened.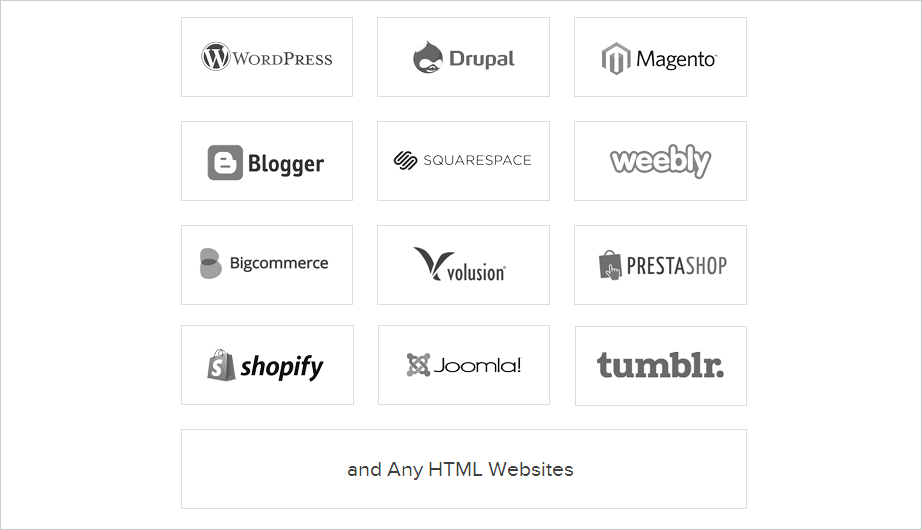 Now OptinMonster can be embedded on all websites and content management systems. Since WordPress is our largest market, we have built a native integration which has a lot of resemblance of the original plugin.
Over the next few months, we will be building more native platform integrations with other web and eCommerce platforms. In the meantime, you can follow our instructions on how to add OptinMonster on different website platforms.
Detailed Conversion Analytics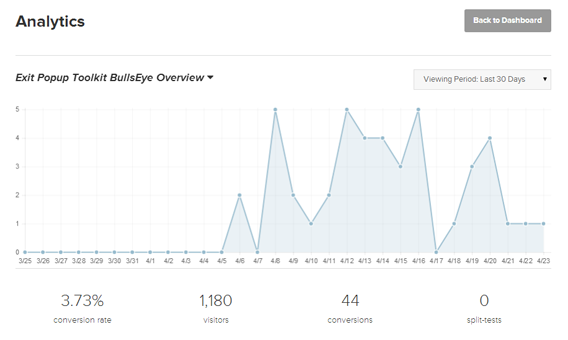 For those of you who have been with us since the beginning, you probably remember the detailed analytics feature that OptinMonster used to offer. Yeah, it was my favorite feature too.
Sadly, we had to remove it out due to usage restrictions on our customers' shared web hosting providers.
Well, since the new OptinMonster app is hosted on our servers, we are not limited by any shared hosting restrictions.
I'm excited to announce that detailed analytics are back and are even more powerful. Aside from accurately tracking clicks, views, and conversions, you can now track top referral pages for your conversions. We integrated with Google Analytics, so you can find out how well your optins are performing in a quick glance from within the OptinMonster dashboard as well as run robust custom reports in your Google Analytics dashboard.
Smarter Targeting and Personalization
OptinMonster was already well-known for it's advanced page level targeting. In this new version, we took it to the next level.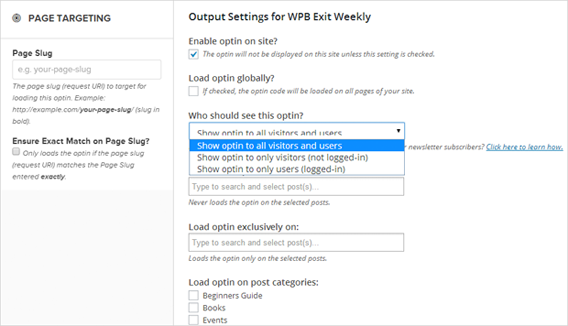 We added dynamic page slug targeting to make personalization even easier. Instead of adding your posts / pages in specific categories and tags to display targeted messages, now you can simply specify the keyword you want to target, and our system will display the popup on when your specified keyword is in the page URL.
We also added a robust traffic referrer detection system which allows you to show highly customized messages based on the referral source. Whether they found you on Google, Facebook, or another website, you can greet each visitor with a special targeted message based on their interest.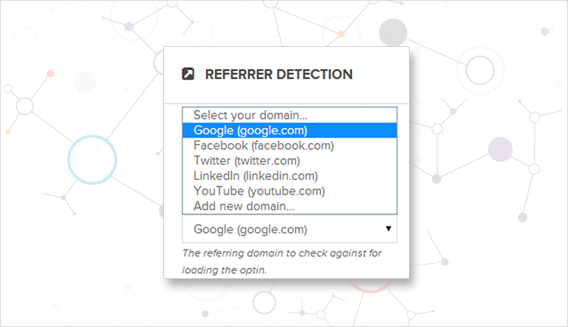 MonsterLinks™
MonsterLinks can turn any link or image into a 2-step opt-in process. When a user clicks on the link or an image, a popup opens up asking them to subscribe.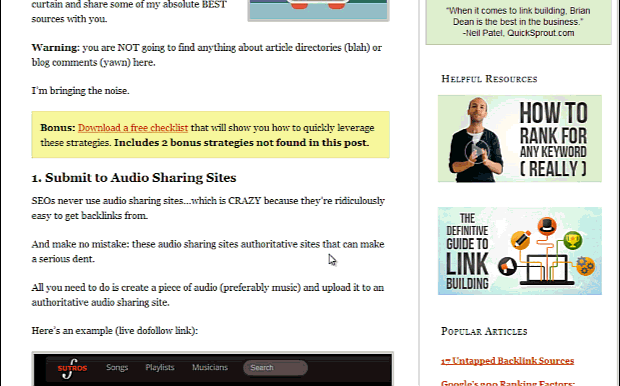 We have had this functionality for quite sometime in the older version, but it wasn't very prominent. We used to call it manual trigger, but thanks to a lot of your suggestions, we renamed it and made it more prominent in our design builder.
Marketers all across the industry are raving about this technology because it has the power to increase your conversions by as much as 785%. I highly encourage you to use MonsterLinks to offer content upgrades.
Download our Content Upgrade Checklist for a step-by-step guide on how to boost your conversions with content upgrades.
Scroll Detection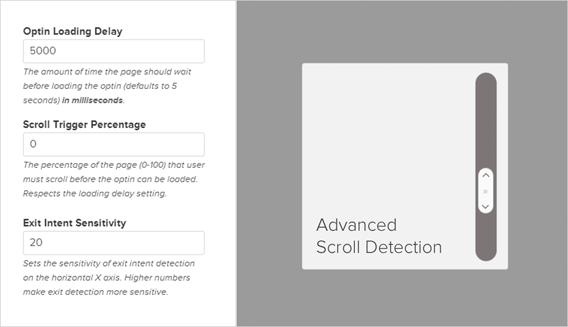 In the past, we had both timed delay as well as exit-intent trigger to load our popups and other lead-capture forms.
Now OptinMonster also allows you to detect user's scroll movement and trigger a targeted message once they have scrolled past a certain point in your page.
This allows you to convert your most engaged users into loyal subscribers and customers.
With our suite of behavioral automation features, you can target your visitors real-time to re-engage the abandoners, nudge the idlers, and sway the engaged customers to subscribe and purchase.
Simplified A/B Testing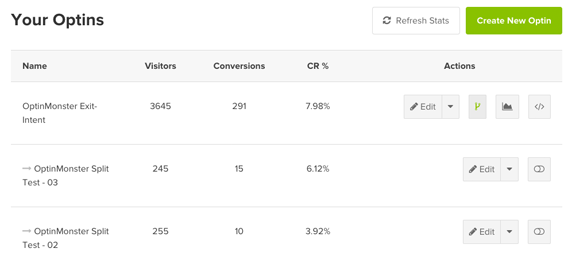 Our A/B testing feature has always been very powerful, but several of you reported that the user-interface was not very beginner friendly.
We changed that by revamping the A/B testing interface to make it easier for you to create and manage split-tests.
Single Dashboard to Manage Multiple Sites
A lot of our customers have multiple websites. The new OptinMonster app allows you to manage all of your optins from a single dashboard to make it easy for you to track conversions across all your websites.
In the coming months, we will be adding the highly requested sub-account functionality for our agency customers.
How does this impact existing customers?
First of all, I want to start by saying THANK YOU to all of our loyal OptinMonster customers. We couldn't have made this giant leap forward without your support, feedback, and suggestions. I also want to send extra love to our VIP customers who helped us throughout the Beta Testing period.
Now let me address how the new OptinMonster app will impact existing customers.
Can Existing Customers Migrate to the OptinMonster App?
Absolutely. Your account details, subscription plan, etc are already in our new system. You don't have to pay anything extra to use the new OptinMonster app (as long as you have an active license of the original plugin).
You can login with the same credentials and start the migration process. After you migrate successfully, you are free to deactivate and remove the old OptinMonster plugins and its addons. You only need the new API OptinMonster plugin. Some processes have changed, so don't forget to check our documentation.
We have strived to make this transition as smooth as possible with a one-click data importer. Despite all the beta testing, I realize that I (along with the OptinMonster team) are imperfect. If you encounter an issue, then please send us a support request. Our team would be happy to help you get started with this new powerful platform.
What if I don't want to switch? What will happen to the old OptinMonster plugin?
We understand that not everyone will want to switch to the new OptinMonster platform right away, and we respect your decision.
We will honor our promise to existing customers by continuing to support and maintain the original OptinMonster plugin until December 31, 2015.
All of your optins will continue to work, and you don't need to change a single thing. You can view our old website to access your account area for plugin downloads, license key, and documentation.
We are anticipating great things with the new platform – most importantly that your email lists see explosive growth with every new feature that we add. These new features will only be added to our new hosted platform, so our hope is that you will consider migrating to the new platform and take advantage of the new powerful features.
Are there any price changes?
No. We are committed to helping small businesses. That's why you can still get OptinMonster for the same low prices as before.
Having that said, we did retire our Ultimate Lifetime License. All existing Ultimate Lifetime customers were grand-fathered in at that plan.
We also added monthly pricing options to make it easy for new users to try OptinMonster, but this doesn't impact any existing customers.
What's Coming Next?
We are working on some really awesome features that you will love. This includes geo-targeting, yes/no popups, improved form builder, industry-specific templates, tons of educational resources, and more.
The majority of these features are suggested by our users like yourself, some of which we are already beta-testing (so the next few weeks are going to be amazing).
I'd like to personally thank every single one of our valued customers for helping us get to where we are today. I along with the entire OptinMonster team look forward to helping you take your conversions to the next level.
– Syed