In the past year, we've added tons of new features and seen amazing growth – and now we're about to take OptinMonster to the next level.
Check out our announcement video for all the details, or keep reading below…
To more accurately reflect the value users gets from OptinMonster and to make room for the other amazing features coming your way, we will be introducing a new pricing structure on June 18, 2018.
Important: The price change WILL NOT affect existing customers.
You're grandfathered in for life, so you won't see any change.
But before prices go up, we wanted to give you one last chance to get the current Pro plan and lock in the best OptinMonster pricing for life.
Frequently Asked Questions About This Offer
#1. How do I take advantage of this offer?
1. If you're NOT an OptinMonster customer yet, then purchase OptinMonster Pro before June 17th midnight Eastern.
2. If you're already an OptinMonster Basic or Plus customer, then upgrade your membership to Pro before June 17th midnight Eastern.
3. If you're already a Pro monthly customer, then upgrade your membership to Pro Annual before June 17 midnight Eastern.
4. If you're already a Pro Annual customer, then you're all set. No need to do anything because you're locked into the best rate.
#2. How do I upgrade if I'm already an OptinMonster customer?
First, you need to login to your OptinMonster dashboard, and click on the Upgrade button in the top menu.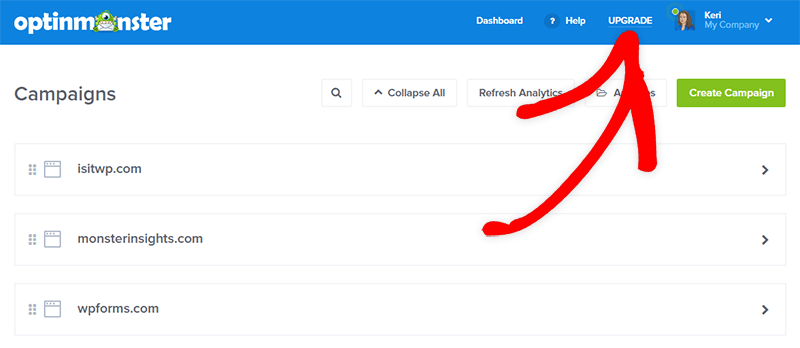 Next follow the process to sign up for the OptinMonster Pro account.
If you have any questions, please reach out to our support team or follow this guide on how to upgrade your account.
If you're not an OptinMonster customer, you can purchase OptinMonster by clicking the link below to lock in the current rate before the price goes up.
#3. What Does "Locking in the Lowest Rate" Mean?
Once you purchase any OptinMonster subscription, you will NEVER pay more than your initial price as long as your subscription remains active.
It doesn't matter how we may raise prices in the future, you lock in your current rate as soon as you purchase.
The best part is that you continue to get access to all existing and new features that we roll out for your plan.
That's why our current Pro Annual members will continue to pay their existing $29/month every year for as long as they remain customers, even after the price is increased on June 18.
If you purchase or upgrade to the Pro Annual plan this week, then you will never pay more for this membership level – for as long as your subscription is active.
#4. What features do I get with my Pro Annual Membership?
As a Pro member, you get all OptinMonster features. This includes:
Our Pro Features:
Exit-Intent Technology
MonsterLinks
Yes / No Campaigns
Full Screen Welcome Gate
Slide-in Scroll Boxes
Smart Canvas Forms
Campaign Scheduling
Referral Detection
Onsite Follow-up Campaigns
Onsite Retargeting
Dynamic Text Replacement
Priority Support
…Plus, you'll get all Pro features we release from now on.
New Upcoming Features:
Landing Pages
FOMO Campaigns
Push Notifications
Gamified Campaigns
And if you join OptinMonster by June 17 midnight Eastern, you'll lock in our current rate for as long as you remain a member.
As always our 14-day money back guarantee applies to all new OptinMonster subscriptions.
If you join and find for whatever reason that OptinMonster is not for you, just let us know within 14 days, and we'll issue you a refund right away.