We live in a world where speed matters more than anything else.
And as a business owner, the faster you can implement ideas, the higher your chances of success.
So if you want to leave your competition choking on your dust, or if you just want to generate leads and sales at a faster pace than ever before… keep reading.
We just released two new amazing solutions that completely destroy the need for hard work when creating high-converting campaigns: Saved Blocks and Saved Rulesets.
At OptinMonster, we want you to WIN, and win MORE OFTEN. Let's take a look at how these new features can help you do exactly that.
Saved Blocks

Our easy-to-use drag and drop editor gives you the freedom to easily add optin forms, buttons, images, videos, text, coupon wheels, and much more to any campaign, each one styled to match your brand.
But let's say you've built an Exit-Intent Popup campaign with an Optin Form block, and you worked hard to style it to match your brand. The buttons are the same color and rounded like the buttons on your website, and the font matches, too. You even configured the Success Action on the form to go to your most popular up-sell.
And then you wanted to use that same Optin Form Block in a fullscreen campaign you're building for another area of your site.
Before now, you couldn't easily do that.
Your only option was to duplicate the entire campaign (even though you only needed the Optin Form block), and then adjust everything else in the duplicated campaign to suit your needs and goals.
While that's pretty neat, we took it up a notch and made things way easier for you.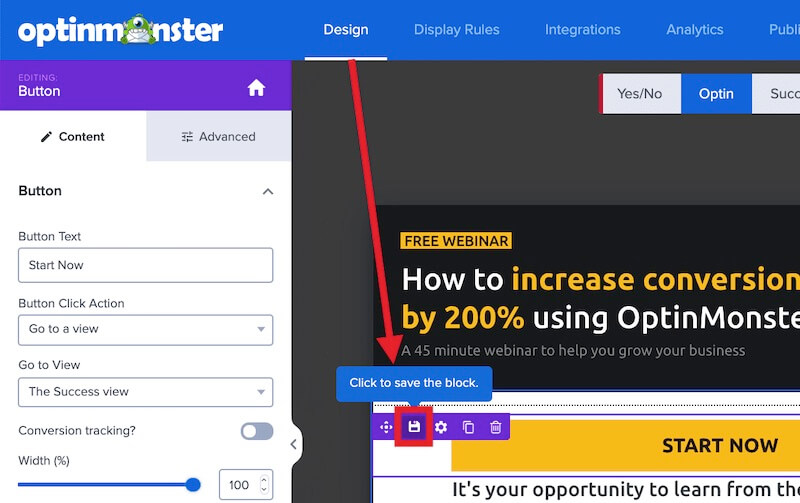 Our new Saved Blocks feature does exactly what it says.
You can save any block in your campaign, and then reuse it in other campaigns… with just a click.
The colors, structure, copy, actions, etc…all the elements of the block will import using Saved Blocks.
Why should you care?
If time is not an important resource for you, then you shouldn't!
But if you like efficiency, and you want to spend seconds instead of minutes every time you create a new campaign, then you should definitely give this feature a try.
Saved Rulesets

OptinMonster's powerful Display Rules set the foundation for all high-converting campaigns. They're our superpower, and they're the reason we are the leaders in our industry.
Once you've configured a set of Display Rules just the way you want, you might want to use those same Rules in another campaign.
Up until now, if you wanted to do that, you had to create a new Ruleset from scratch in Campaign B and then manually compare the Ruleset from Campaign A to recreate it in Campaign B.
With our new Saved Rulesets, you can save any Ruleset, and then use it over and over again in as many campaigns as you want… with just one click.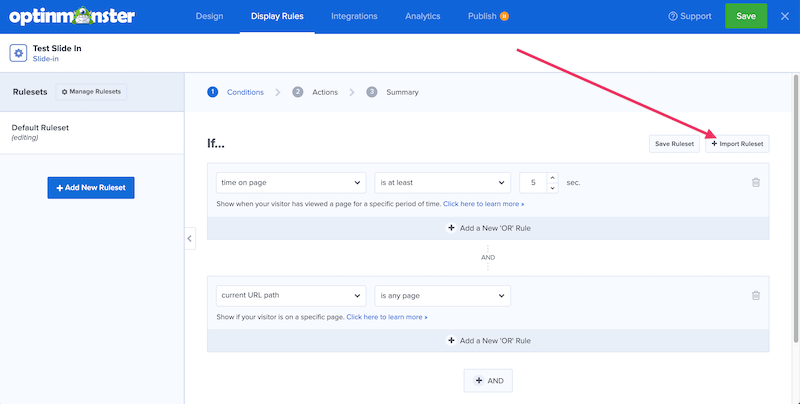 In simpler terms, you can utilize the same targeting conditions on multiple campaigns, without having to start from ground zero.
Just create a Ruleset, save it, and then import it into any campaign.
It's that simple.
Why should you care?
Because this is a HUGE timesaver! We used it ourselves over Black Friday and Cyber Monday 2021 to quickly add identical display rules and schedules to dozens of campaigns, in just minutes as opposed to hours.
And if you use it in combination with Saved Blocks, you'll fly through creating new campaigns, too.
By the end of the year, you'll be pleasantly surprised to see you've saved dozens of hours using Saved Blocks and Saved Rulesets.
Hours you can invest in other money-generating activities.
Hours that you can spend with your family and friends.
Why did we do this?
Saved Blocks and Saved Rulesets represent one of our core values: We labor for simplicity.
Without an ounce of doubt, these new solutions make it simpler for you to…
Save time.
Stop creating from scratch and reuse what's already performing well using Saved Blocks and Saved Rulesets.
Get ahead of your competition.
Implement new offers faster to capture a bigger portion of your market.
Make more money.
Work smarter, not harder so you can focus on the other needle-movers in your business.
Do You Want a Head Start On Your First OptinMonster Campaign?
We're so confident you'll love OptinMonster, we'll even build your first campaign for you… free of charge.
Shortly after you register for an OptinMonster account today, our team will reach out with an offer to design one high-converting campaign to match your goals, whether that's generating leads, driving sales, or something else. No extra cost – it's included with your subscription!
This one campaign will help you get started using OptinMonster faster and seeing results, but that's not all…
With Saved Blocks and Saved Rulesets, everything we build within that campaign you'll be able to reuse time and time again.
We'll give you a finished masterpiece, and all the pieces you need to recreate it on your own the next time you want to launch a new offer.
Click below to start using OptinMonster 100% risk-free today.
Get Started With OptinMonster Today!
BONUS: Register Today to Claim Your FREE Done-For-You Campaign Setup ($297 value)
Our conversion experts will design 1 free campaign for you to get maximum results – absolutely FREE!
Click here to get started →