Marketing is all about testing. Trying different strategies and tactics to see what makes people take action in a favorable way for your company.
The more you test, the better you'll understand how to persuade your audience.
However, a lot of companies don't know what to test. They don't know what they should try in their campaigns in order to hopefully see good results.
We're here to help.
Over the past years, we've tested more ideas than we can count… both for our own business, and for our customers.  Doing this helped us gain a deep understanding of what works and what doesn't.
One of the things that always proved effective was using advanced forms in campaigns. WordPress popup forms help companies get closer to their prospects and customers in creative ways, improving the lead generation process.
Using WordPress popup forms can help you get better quality leads, without a lot of effort. This is especially true if the forms you're using are personalized and shown to your visitors at the right time.
It might sound complicated, but it's quite easy.
Improve Lead Generation with the new WPForms Integration
We've made a new update to OptinMonster to help you use advanced WordPress popup forms and capture quality leads without any hassle.
Up until now, users trying to integrate OptinMonster with WPForms had to copy/paste their WPForms shortcode into the campaign they wanted to use.
That was often times confusing. It wasn't very clear whether to use the HTML block or the Custom HTML for the integration.
So, we've made it easy.
How to Easily Create a WordPress Popup Form
We've created a WPForms block that you can quickly drag and drop in your campaign.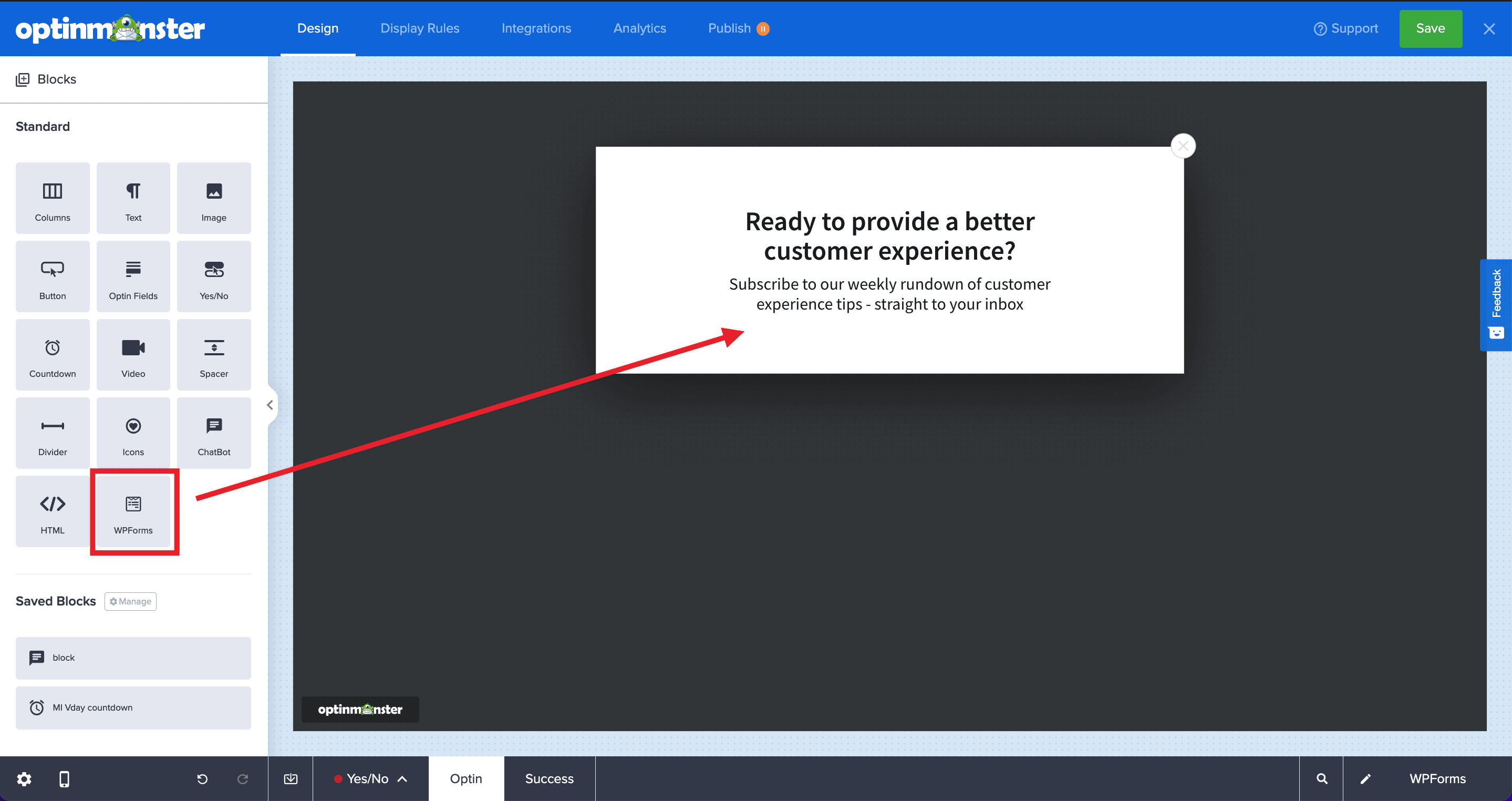 Once you move the block in the right position, all that's left do to is choose the form you want to add.
Note: You must create the form inside WPForms first.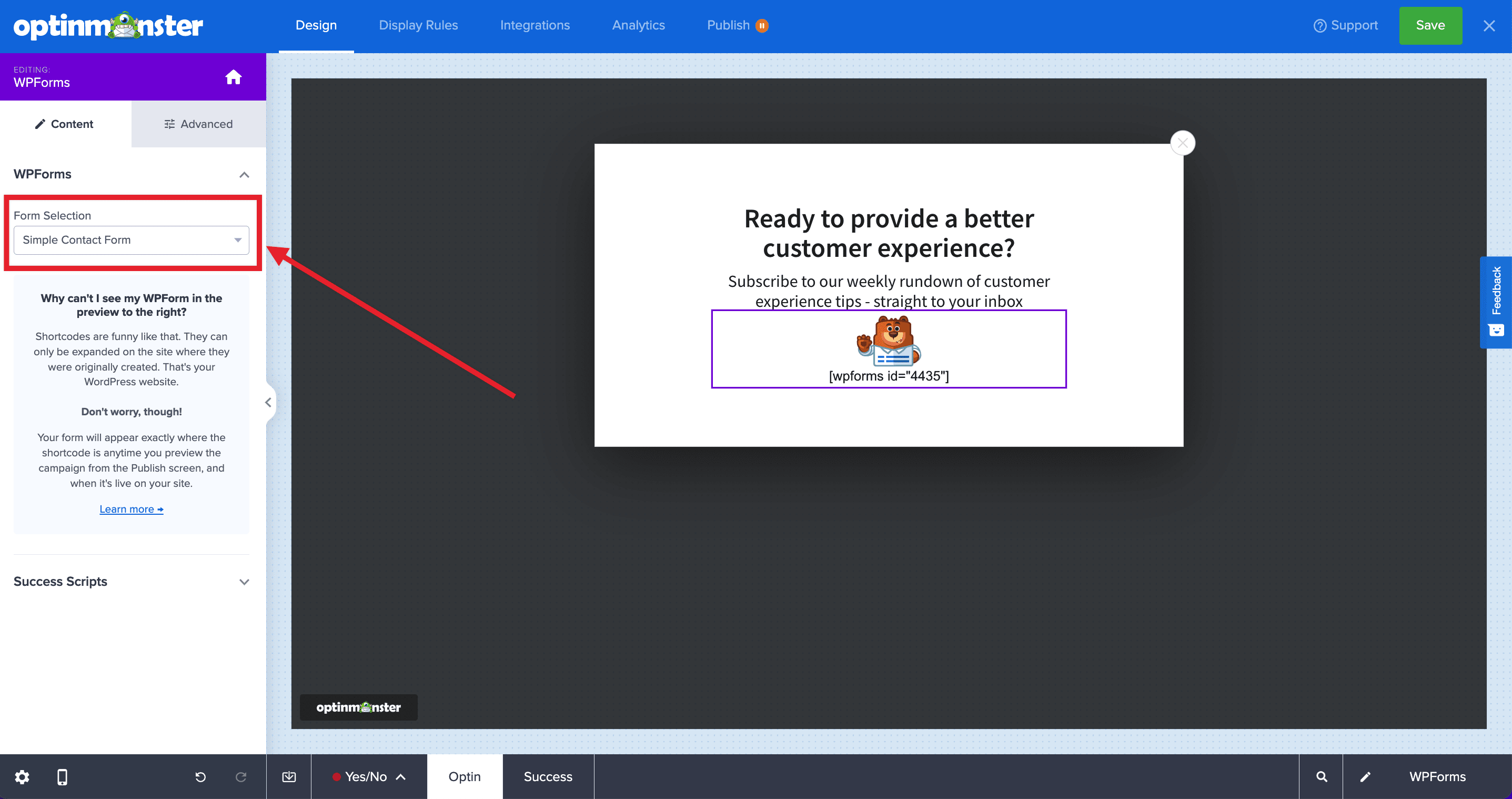 You can then change how the form looks inside your OptinMonster campaign.
That's it.
It should take you less than 1 minute to get this done if the form is already created.
This being said, you might be wondering how you can benefit from using the WPForms block in your campaigns.
How to Use WPForms to Get Better Results
Engage with your audience in a fun way by giving them interesting surveys. It's one of the easiest and most effective ways to generate leads.
Collect relevant information with dynamic WordPress popup forms. These are the type of forms that will dynamically change based on the selection the user makes while filling out your WPForms.
The majority of users who start filling out a form leave the page before completing it. Those are lost visitors that could've turned into paying customers. However, abandonment can be greatly reduced by using Conversational Forms. It improves the experience and it doesn't make your users feel like they have to force themselves through the form.
Use smart CAPTCHA and the built-in anti-spam WPForms feature to keep low quality leads or spam attacks away from your list.
Use Form Pages inside your campaigns to persuade visitors to subscribe to your email list, give feedback, sign up to a membership site, or take any kind of action.
WPForms brings Unlimited Possibilities to Your Marketing
Using WPForms with your OptinMonster campaigns gives you the ability to test tactics that your competitors are unable to.
You have the opportunity to implement dozens of new ideas in order to increase the number and the quality of your leads. The ideas we shared above are just a drop in the ocean.
If you're creative enough, you'll never run out of things to test… and that's powerful.
Do you want to give the new WPForms integration a try?
Improve Lead Generation by Claiming Your FREE Done-For-You Campaign ($297 value)
Shortly after you register for an OptinMonster account, our team will reach out with an offer to design one High-Converting Campaign for you.
Plus, you get a 14-day money-back guarantee with your account. There's absolutely nothing for you to lose in this scenario.
Register for an OptinMonster account below!
Get Started With OptinMonster Today!
As always, we're grateful for your continued support of OptinMonster, and we look forward to bringing you even more ways to grow your business as quickly and efficiently as possible.