Despite popular belief, lead generation is more about quality than it is about quantity.
An email list of 1000 people can outperform and outsell a list of 50,000.
Why?
Because even though using email marketing as a channel of communication can easily turn into a numbers game… at the end of the day, you're connecting with people.
People who have needs, desires, and problems of their own…  who opted in to your email list in order to find something of value that can improve their lives.
That's why you need to treat your list as a community, not a dumping ground for names and email addresses.
And while this can usually be done by being mindful of what type of content you send and where your traffic comes from, sometimes it's not enough.
Sometimes you come face to face with the dark side of the Internet, and your list gets attacked by spammers, tire-kickers, and people that are not a good fit for your business.
When that happens, you need to protect the community you've built.
How? With…
Lead Verification
Lead Verification in OptinMonster allows you to intelligently filter and verify every lead captured through your campaigns.
You can see it as a gatekeeper.
Just like someone without a ticket can't enter a concert, someone who matches your filters won't be able to join your list.
It's actually a very simple process.
Here's how it works:
     1. Create a new filter from your Lead Verification dashboard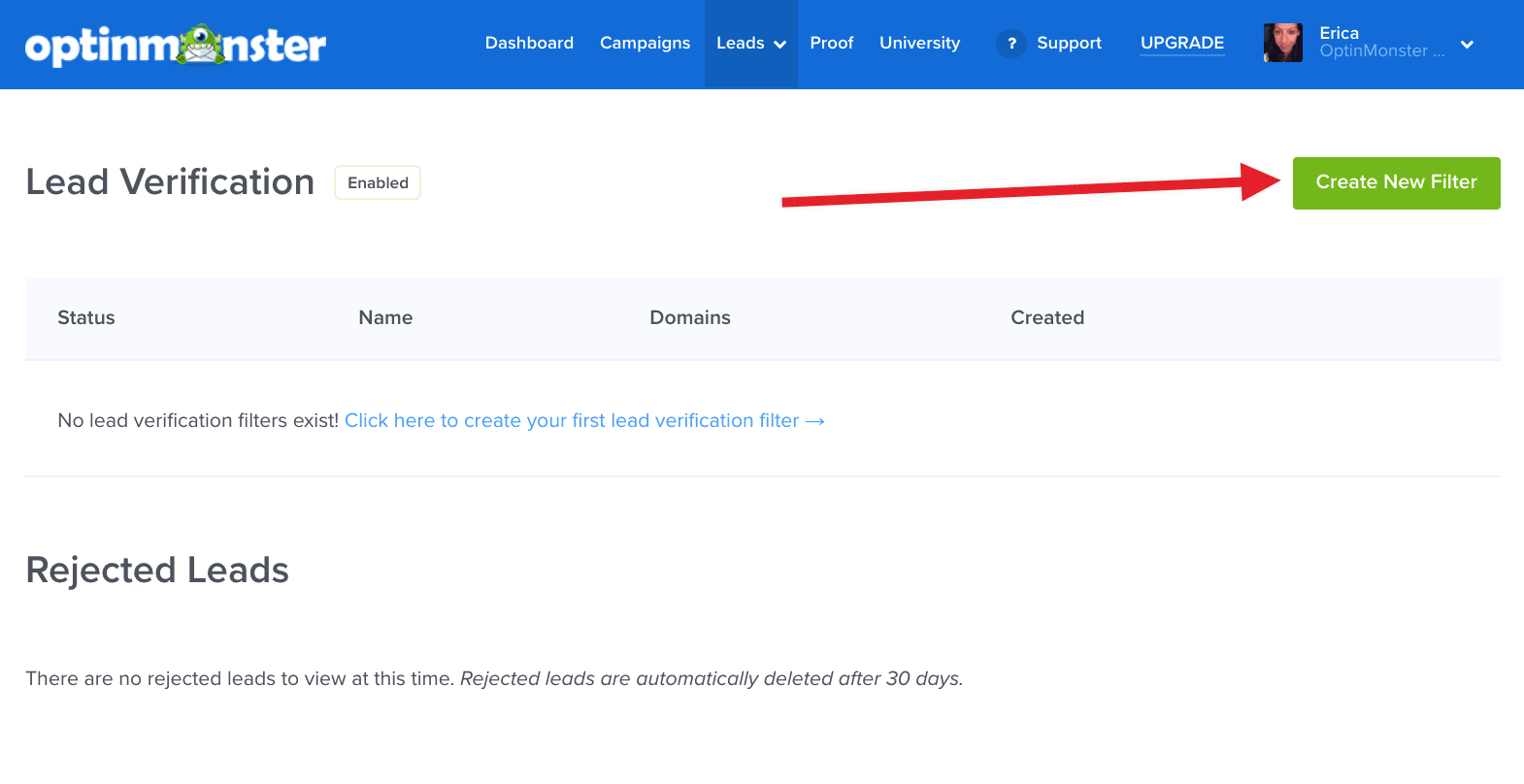 2. Give your filter a name and configure the rules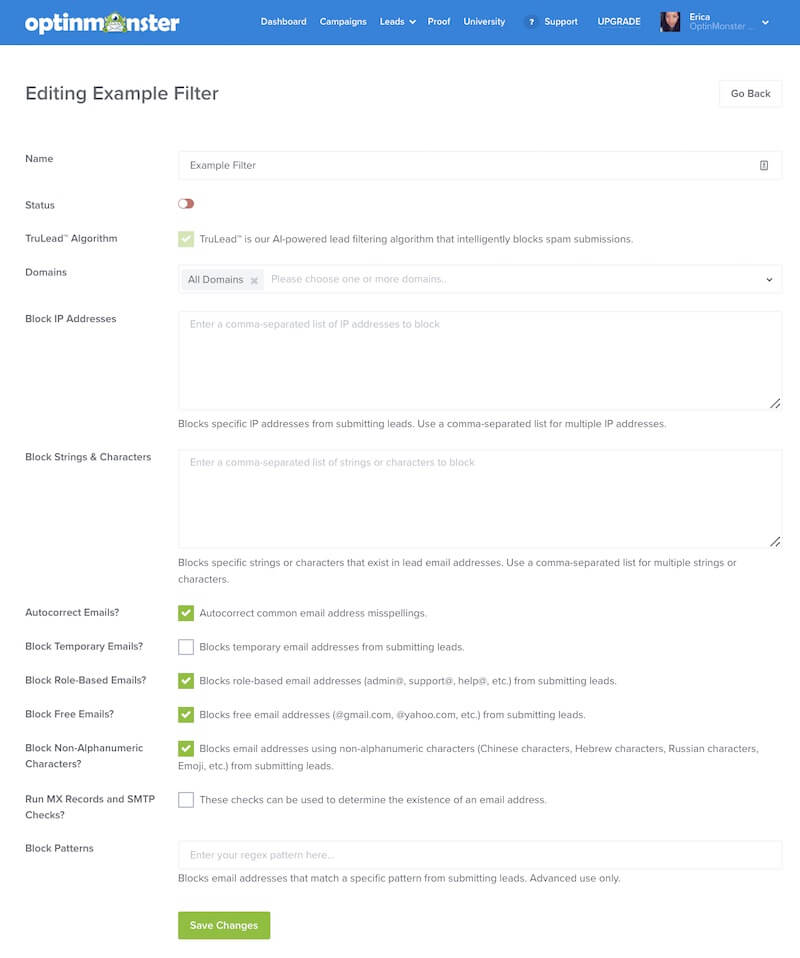 The options available for your filter include:
Status (allows you to enable/disable a filter)
TruLead® Algorithm
Domains (to apply the filter to)
Block IP Addresses
Block Strings & Characters
Autocorrect Emails
Block Temporary Emails
Block Role-Based Emails
Block Free Emails
Block Non-Alphanumeric Characters
Run MX Records and STMP Checks
Block Patterns
     3. When you're done, click the Create Filter button to save.
Easy-peasy.
Now, why would you want to have Lead Verification enabled inside your OptinMonster account?
Stop Spam Attacks
Recently, an OptinMonster customer was the target of a spam attack, where bots were submitting tens of thousands of leads through one of their contact forms.
At that point in time, they didn't have Lead Verification turned on inside their account yet, so those spam addresses were infesting their list.
Each submission had a recognizable pattern, but not in the email address field where you might typically see it. Instead, it was in the name field, in the form of numbers.
E.g. asdfs1912459asdags@gmail.com
To mitigate the attack, they enabled Lead Verification, and filtered out the IP addresses sending the submissions (one of the main features of Lead Verification).
Then, they used the name filter (also a feature of Lead Verification) to search for strings of numbers in order to capture the rest of the spam addresses.
What would've otherwise been a long and strenuous process, was solved in a matter of minutes using Lead Verification.
The attack was stopped, the list was cleaned, and all future issues of this kind got neutralized.
Increase List Quality and Engagement
One of the most important aspects of email marketing is deliverability.
Your deliverability success rate is influenced by the quality of your leads and content. If those two lack quality, your email domain reputation will drop.
A bad email domain reputation decreases your deliverability, and now you've found yourself in a vicious cycle.
Lead Verification keeps your list clean, allowing only high-quality leads to get in.
This will instantly improve your open rate and clickthrough rate, both of which are going to improve your email domain reputation.
Improve ROI
This might be obvious, but qualified leads and a higher engagement rate means more prospects will interact with your offers.
Prospects that are open to the idea of paying you money.
It might not happen overnight, but as you keep sending valuable emails, your ROI (Return on Investment) will improve.
In fact, once you have Lead Verification enabled, that's all you need to do.
Send emails and profit.
You won't have to worry about the quality status of your list.
And if you don't have a big enough list yet, or maybe no list at all… here's an offer for you:
Grow Your List by Claiming Your FREE Done-For-You Campaign ($297 value)
Shortly after you register for an OptinMonster account, our team will reach out with an offer to design one High-Converting Campaign for you.
If your goal is lead generation, we'll make sure you get the best results possible right out of the gate!
Plus, you get a 14-day money-back guarantee with your account. There's absolutely nothing for you to lose in this scenario.
If this sounds good, register for an OptinMonster account below!
Get Started With OptinMonster Today!
As always, we're grateful for your continued support of OptinMonster, and we look forward to bringing you even more ways to grow your business as quickly and efficiently as possible.