Thomas here – I've got some exciting new updates for you!
New Lightbox Themes
Now that we have nailed down a lot of the overarching functionality of OptinMonster, we've shifted focus to start building out some beautiful and high converting themes to all of our optin types. The latest update introduces 3 new lightbox popup themes: Chalkboard, Postal and Target.
You can see a screenshot of the Chalkboard theme below.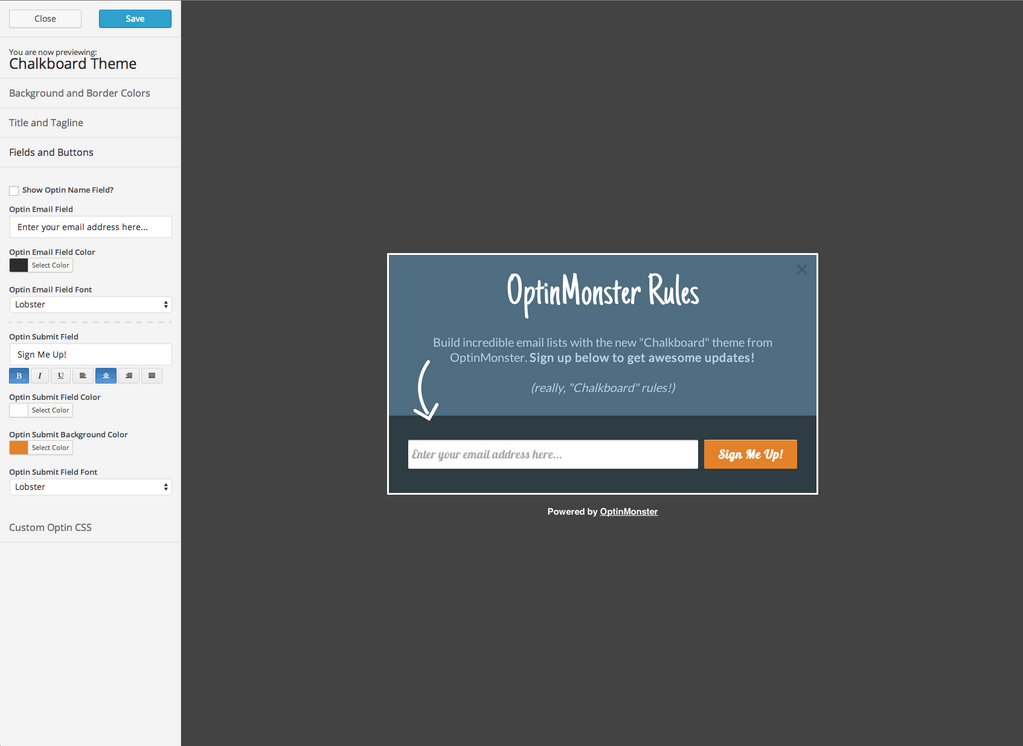 Each of our new themes is designed and built to give you the best chance to turn your visitors into subscribers and customers. These theme updates are just the first of many more to come – we have plenty more in the pipeline for each of our optin types!
New API Integrations
We are excited to announce that OptinMonster now integrates natively with Feedblitz and SendinBlue. Both integrations are available with the latest update, and documentation on connecting OptinMonster with both of the services will be out later this week.
New Addon: Effects
We are also introducing a new addon to our Pro and Ultimate license packages: Effects. Effects gives you the ability to add over 25+ visually stunning display effects to your optins to grab your visitors attention. You can choose from different animations such as Flip, Rotate In, Swing (as seen on our own popup), and so many more. If you don't own a Pro license or higher, you can always upgrade straight from your account by clicking on the Upgrade tab and selecting the plan to upgrade to (the difference in cost is calculated for you already).
If you want to see a quick demo of an effect in action, click on the button below to see an example of the effect "Flip Down" integrated with the Canvas addon to show a Facebook like box for OptinMonster.
Click Here to See Effects + Canvas in Action!
"True" Stat Tracking
This update also introduces something that we have been fine tuning: stat tracking. Up until now, we had been tracking stats a little wonky, and this update fixes that stat tracking. Impressions will now only be counted once an optin is actually displayed on the page. Previously, impressions were tracked once an optin loaded, but that could give false positives if an optin loaded and the user left before it had time to display. This has been corrected, so now your impression and conversion stats will be calculated properly. As such, I highly encourage you to use this time to reset your statistics because this change will improve your conversion rates now that you are getting a realistic picture of actual impressions vs. conversions.
Performance and Workflow Updates
This update also incredible performance fixes for some of the installs where hosts have issues with the Transient API. API checks are now backed by both transient and option settings so that update checks are only run every 12 hours or if you are on the main Updates page. This should remedy any of the slowness some have experienced with OptinMonster in the admin area of your site.
We've also added numerous workflow improvements, including the ability to duplicate optins right from your Settings menu and the ability to define your license key in the wp-config.php file using the constant OPTINMONSTER_LICENSE_KEY. We've also pushed out an update to the Canvas addon to allow shortcode parsing so that you can use things like Gravity Forms inside of your popups.
Beyond this, there are lots of little tweaks, bug fixes and improvements to help make your experience with OptinMonster that much better. Be on the lookout for new Footerbar, Slide In, After Post and Sidebar widget designs coming this month!