2017 is going to be a HUGE year for OptinMonster. Instead of spending money on a fancy domain or marketing gimmicks, we are investing in our infrastructure and adding new features to further our lead as the most powerful conversion optimization software in the market.
Today, I'm extremely excited to announce the launch of OptinMonster 4.0 that makes OptinMonster more powerful and intuitive than ever.
In a nutshell: we redesigned the OptinMonster dashboard, added sub-accounts + permission control, added the ability to archive campaigns, created a new trash feature, and improved performance by over 57%.
Here's all what's new in OptinMonster 4.0:
New OptinMonster Dashboard
Over the years, we have led the market with advanced behavior targeting and automation rules. However I felt that our dashboard failed to keep up with times.
In OptinMonster 4.0, we redesigned the dashboard to make it more intuitive than ever.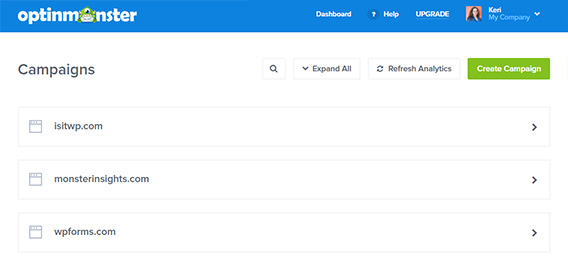 If you are anything like me, then you probably have dozens of optin campaigns in your account. Finding them can be challenging at times. That's why we added the ability for you to easily search your campaigns.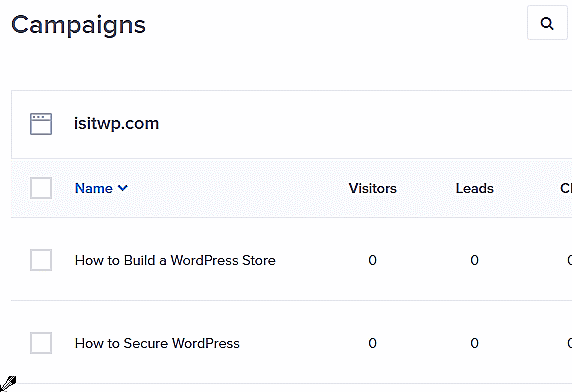 OptinMonster has hundreds of documentation showing how to do almost anything you want with OptinMonster. In the new dashboard, we made it easy for you to find them with our Contextual Search feature.
Simply click on the Help Icon or Use the keyboard shortcut "Shift + ?":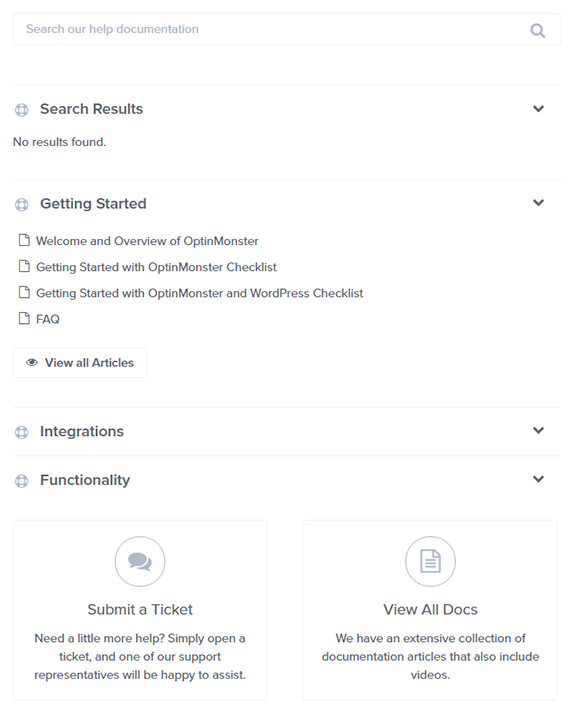 Sub Accounts + Permission Control
One of the biggest features of OptinMonster 4.0 is the ability to create sub-accounts and manage user permissions.
Now you can give restricted OptinMonster access to your team members and third-party consultants.
If you are a marketing agency or consultant, then you can also give restricted OptinMonster access to your clients.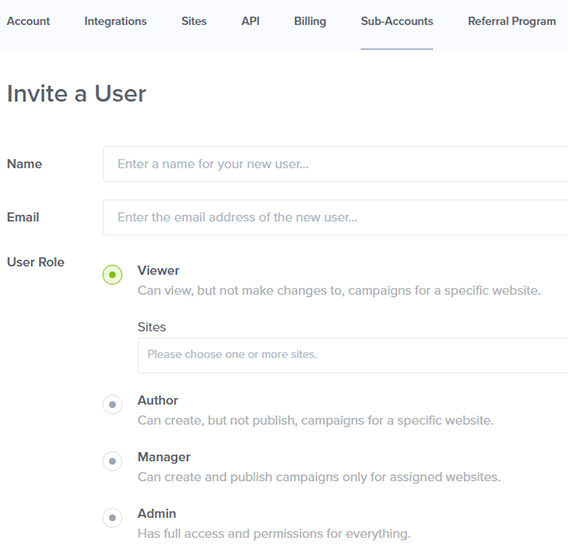 Sub-accounts are available with OptinMonster Pro plan (2 sub-accounts). You can upgrade to the OptinMonster Agency Plan or our Enterprise plan to get additional sub-accounts.
We will also be adding a Custom Branding option for agencies in a few weeks to go along with some other really neat features.
New Campaign Creation Workflow
In OptinMonster 4.0, we refined the campaign creation workflow to make it more intuitive and easy for users to get started.
The first thing you need to select is your campaign type.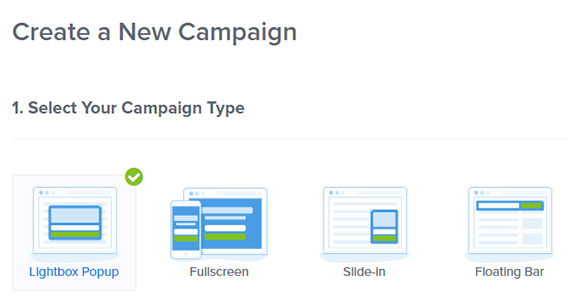 After that you can choose from our pre-made campaign templates. We added a search feature as well as a sorting feature to make it easy for you to find the template you're looking for.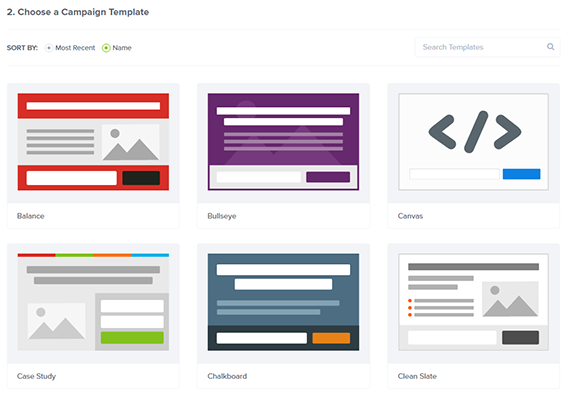 You'll notice that you no longer have to name your campaign or choose your website in the first step. Instead, you can get started by creating campaign as quickly as possible.
After choosing your template, you'll be prompted to name your campaign before launching the builder.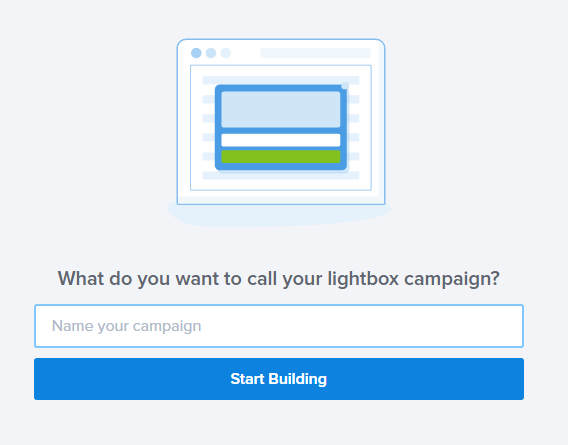 The ability to add websites and selecting the campaign status is now moved to the new Publish screen inside the builder.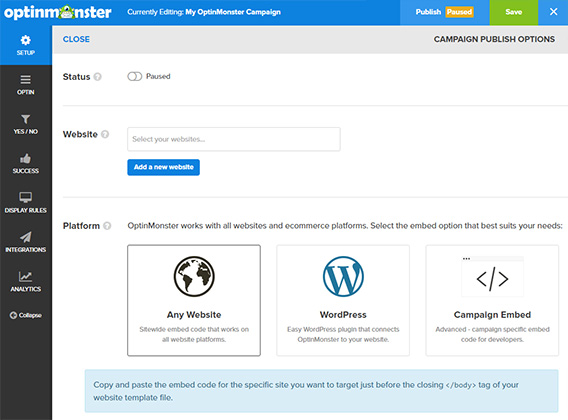 The new workflow will also give us room to add new templates and more features in the coming months including a 100% drag and drop campaign builder (I'm super excited about this).
New Archive Feature
Do you have a lot of old campaigns in your account that are cluttering your dashboard?
Maybe some of the are seasonal campaigns that you simply don't want to delete because you want to re-use them next year.
Well, say hello to the new Archives feature. You can easily Archive your campaigns with two clicks.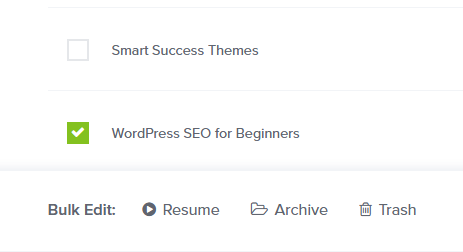 When you want to bring the campaigns back, you can now restore it with a single click.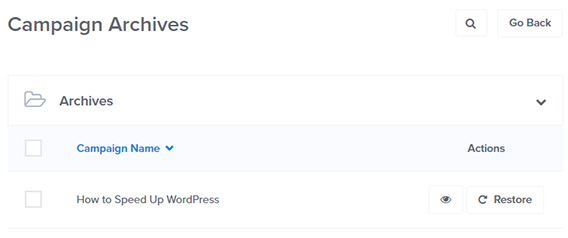 New Trash Feature
Have you ever accidentally deleted a campaign before? It sucks, trust me I know.
Even though it required three clicks to delete a campaign in the past, sometimes you may want to bring it back.
In OptinMonster 4.0, we added a new Trash feature which works similar to the Trash / Recyle Bin in your computer. Now when you delete a campaign, it's not deleted permanently.
Rather it is moved to a Trash area where it stays for 90 days before being deleted permanently.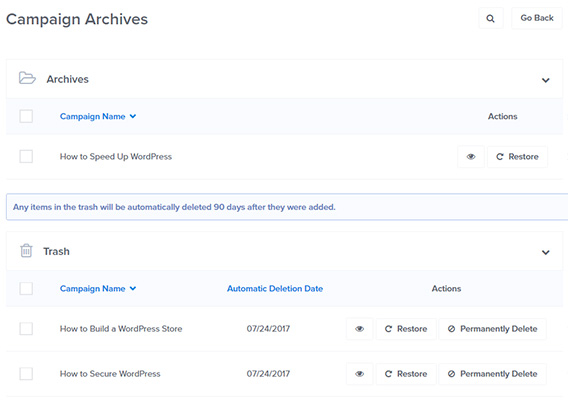 Huge Performance Improvement
At OptinMonster, we take pride in our server speed and performance. As part of OptinMonster 4.0, we made significant investments to further improve our infrastructure.
We added multiple web nodes, database redundancies, and dedicated caching servers to improve our overall response times and loading speed.
Combined with the hardware improvements and several software enhancements, we were able to improve our performance by 57%.
What's Coming Next?
OptinMonster 4.0 is a big release for our platform because it gives us room to add new features that a lot of you have been asking for.
In the coming weeks, you will see several new features being rolled in such as the Custom Branding option for agencies, an Activity Logging feature to go along with sub-accounts, and new display targeting rules for your campaigns.
The next big thing our team is working on is a 100% drag & drop campaign builder which will be released in Q3.
You will also be seeing a lot more fun Archie stuff inside the Dashboard and through out our marketing material (see the new login page for an example).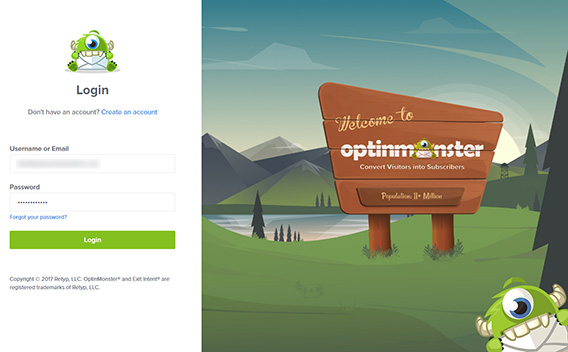 I want to thank all of you (our customers) because the growth that OptinMonster is seeing wouldn't be possible without all of your support and feedback. I also want to specially thank everyone who helped us beta test OptinMonster 4.0. We couldn't have done it without your help.
We look forward to helping you take your conversions to the next level.
Syed and the OptinMonster Team