This week we're excited to announce new account-wide embed codes are now available in your OptinMonster dashboard.
Now there's no longer a need to keep track of multiple different embed codes for each different site.
Instead, you have just one account-wide embed code that will work everywhere you want to display your OptinMonster campaigns. If you're running a campaign on multiple sites, you no longer need to figure out which code to use on each site.
The new code will automatically detect the site it's on and only load the campaigns assigned to that site, so your OptinMonster campaigns will be as fast as ever.
Don't worry – your existing embed codes will continue to work. We'll keep supporting your existing site-wide embed codes, so there's nothing you need to change right now.
Next time you want to update your embed code or add it to a new site, you'll see your account-wide embed code in your dashboard instead.
After creating a campaign, you can also choose the Any Website option on the Publish screen to get your new account-wide embed code.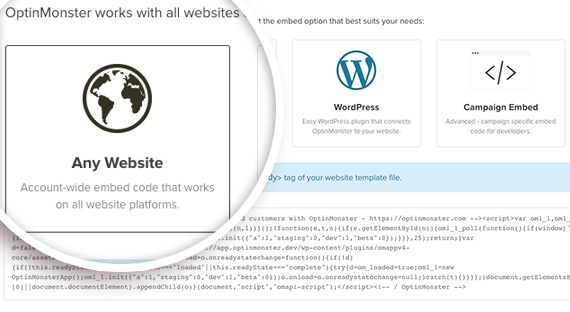 What's Coming Next?
Next up we have more new holiday theme collections in the works, so be sure to subscribe to our email newsletter and follow us on Facebook and Twitter to be the first to try them out.
Getting started with OptinMonster is now easier than ever with a single account-wide embed code! Click here to get started with OptinMonster and start converting visitors into subscribers and customers today.