Looking to display specific campaigns based on the geographic location of your visitors? It's simple with OptinMonster's Geo-Location Addon! Follow this guide to get started geo-targeting your OptinMonster campaigns!

---
Step 1 – Review the Page Targeting Guide
If you haven't already, you'll find it helpful to first review our page targeting guide. Once you're ready, let's jump in and begin enabling referral detection for a campaign!
Step 2 – Display Rules
Select a campaign in your account to edit, which will open the campaign Builder. Select the Display Rules tab.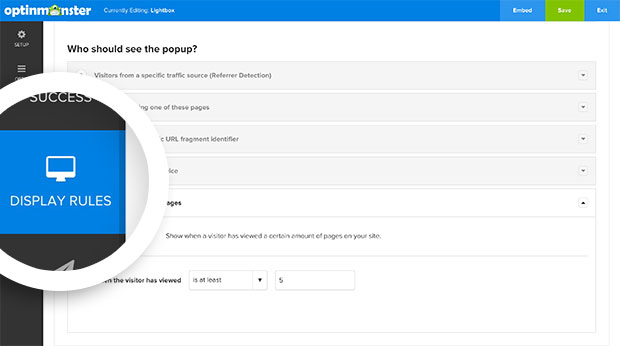 You'll then see the Display Rules panel which appears similar to the following.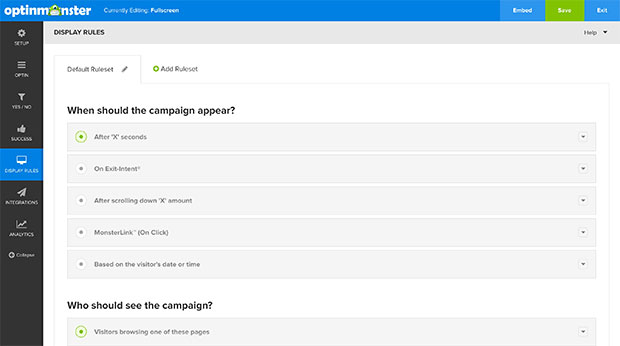 Step 3 – Who should see the campaign?
In the Display Rules panel, scroll down to the Who should see the campaign? section and you'll see the Visitors from a specific physical location option. Select this panel to expand its view.
Next, select the toggle to Activate the Geo-Location rule for your campaign to begin configuring the physical location you want to target or exclude for your campaign.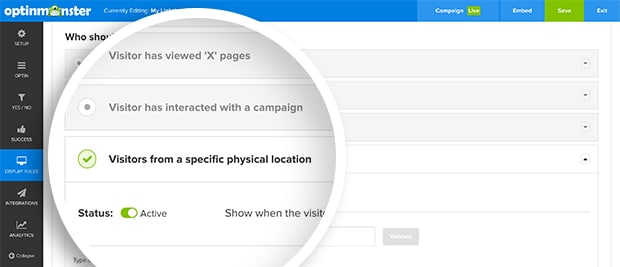 Step 4 – Configure Visitors from a specific physical location
You are now ready to configure your Geo-Location rule.
Target or Exclude Physical Location
You'll see a dropdown option which you can choose either "is" or "is not" from to determine whether your optin is targeted to or excluded from the physical location specified.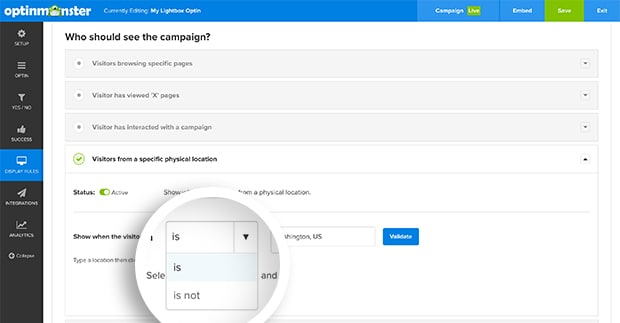 Validate Physical Location
Next, type the name of the location you wish to target and select the Validate button.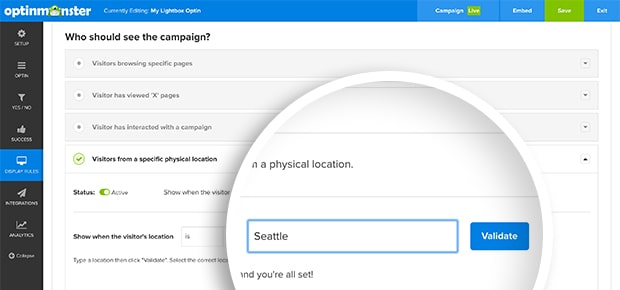 A popup modal will appear on the screen providing possible matches to the name of the location you entered. Choose the correct location and select the Done button.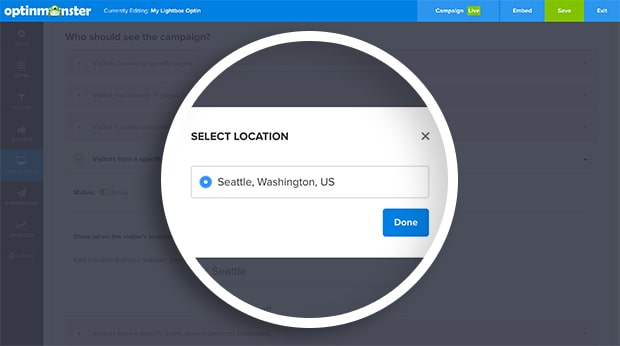 Save the changes to your campaign, and that's it, you've successfully geo-targeted your campaign using OptinMonster's Geo-Location technology!
Interested in learning more about advanced campaign targeting? See our post on how page-level targeting helps you generate more conversions.
---
FAQs
Q: Why would I use OptinMonster's Geo-Location feature?
A: Geo-Location allows you to personalize your campaigns based on your visitor's location. Highly targeted campaigns yield higher conversions over non-targeted, general campaigns.
You can also check out some of our guides for more tips on increasing lead generation.
---
Q: How can I upgrade my plan to use Geo-Location?
A: Learn how to purchase the Geo-Location Addon to get started geo-targeting your campaigns!