How often do you hear that someone doubled their email signups with just a few clicks and added 10,000 new email subscribers in a month?
At OptinMonster, we hear tons of cool stories like this from our customers.
When you start recovering abandoning website visitors, you will be surprised by how effective onsite retargeting can be.
In this case study, we will show you how Yoast doubled his email signups and added over 10,000 email subscribers in 30 days!
Who is Yoast?
Joost de Valk aka Yoast is the founder and CEO of the popular WordPress SEO plugin Yoast SEO which runs on approximately 4 million websites (including ours).
Yoast is a household name among bloggers, webmasters and SEOs.
Like any other business owner, Joost wanted to grow his email list.
Despite being skeptical about popups, he decided to give OptinMonster a try.
"I was once a disbeliever myself. I didn't like popups at all. But the results speak for themselves, it just works. OptinMonster makes it super easy and is well worth the money." – Joost
Let's take a look at what Yoast did that helped him double his email signups.
Simple Design, Massive Results
Now if you saw our Kampanjjakt case study, then you're probably thinking that Yoast probably has an equally complicated popup.
Not at all. Yoast used our Clean Slate theme with a custom image to achieve these results.
Yoast's OptinMonster setup included:
What's even cooler is that all of his optins looked nearly identical. They were just shown to different users at different times.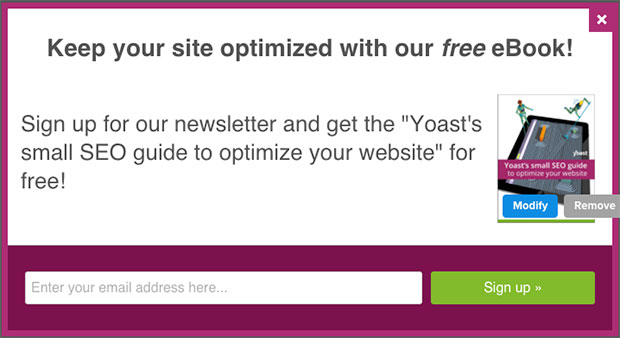 Some of his users saw this optin when they were about to leave his website (exit-intent). Others saw it when they were browsing his site on mobile, and some saw it when they clicked on a specific download button.
Upon signup, the users were added to Yoast's MailChimp email list with our built-in MailChimp integration, and they received a free eBook.
Result:
"We doubled our opt-in rate, by simply only using an exit intent popup." – Joost
While the setup looks simple, there is a very key underlying factor without which no optin design will convert.
And that's relevance!
Yoast's free eBook incentive is highly relevant and useful for his website visitors.
Considering Joost is well-known for SEO, downloading an optimization book from him is a no-brainer specially when it is free.
Key Lesson
As you can see, Yoast team did not create a super complicated custom popup. Rather they used our Clean Slate theme and uploaded a custom image in the placeholder.
The main lesson here is that all you need is a targeted free resource (eBook, checklist, video, etc) and an exit-intent popup to grow your email list.
When you hear people say that you need more traffic to get more subscribers, it's not TRUE.
What you need is to stop losing abandoning visitors and start converting them into email subscribers by offering them free resources using the exit-intent popup.
Want similar results?
Whether you use MailChimp like Yoast, or any other email marketing service, OptinMonster can help you grow your email list in just a few clicks.
I asked Joost, what was his favorite part about OptinMonster considering he has used so many other solutions, and he said:
"The ease of use of the whole thing. Even though I dislike popups, it makes it almost enjoyable." – Joost
Ready to get more email subscribers? Get started with OptinMonster today!