OptinMonster comes with the powerful exit-intent technology. Exit-Intent allows you to display your campaign at the precise moment when a user decides to leave your site. Using Exit-Intent with a lightbox popup produces great results and will dramatically increase your email list signups. Here is how to activate Exit-Intent in OptinMonster.
NOTE: This guide will show you how to effectively use the Display Rule: On Exit-Intent®.
---
What is the Exit-Intent Rule?
Did you know that over 70% of people who leave your website will never return?
In most cases, this means that 95% – 98% of your marketing efforts are going to waste, and you are losing more money in customer acquisition cost than you need to.
OptinMonster's exit-intent technology detects user behavior and prompts them with a targeted campaign at the precise moment they are about to leave.
By using this SMART behavioral technology, you can convert an additional 2 – 4% of your users into email subscribers and soon thereafter into paying customers.
---
How to Use the Exit-Intent Rule
You will find the Page View rule under the When should the campaign appear? section of the Display Rules.
Within the When should the campaign appear? section, select the On Exit-Intent panel to expand its view.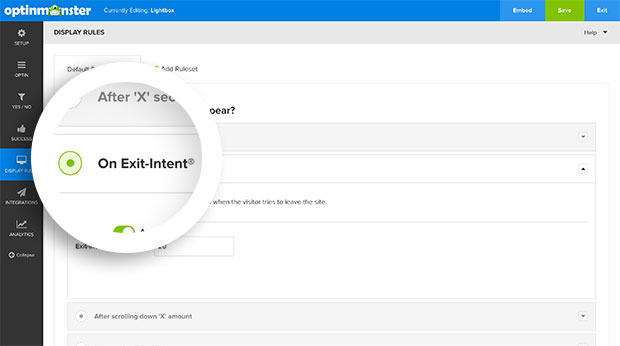 Go ahead and activate Exit-Intent for your campaign.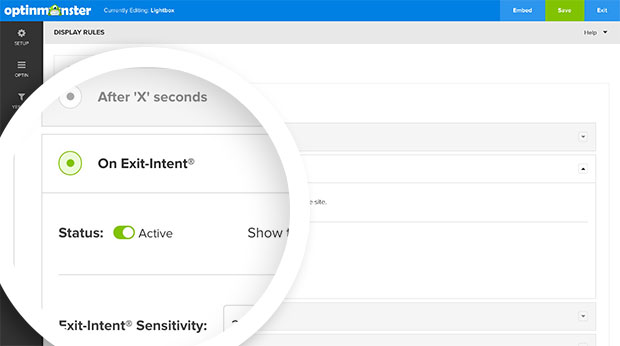 TIP: Disable All Other Rules in This Section: In the same When should the campaign appear? section, be sure to disable all other rules if you want your campaign to load only on Exit-Intent.
---
FAQs
Q: What is the Exit-Intent Sensitivity Setting?
A: The Exit Sensitivity setting controls how far away from the top of the browser the user's mouse must be before the campaign is triggered.
The Exit-Intent Sensitivity can be set to Low, Medium or High sensitivity.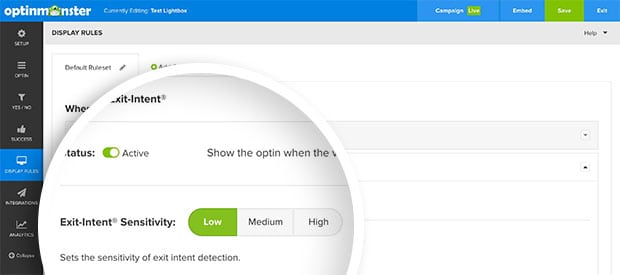 For example, High sensitivity will cause the campaign to be triggered when the visitor's mouse is further away from the browser than a Medium or Low sensitivity setting would.
Each setting correlates to a specific pixel value. When the visitor is that many pixels away from the top of the browser window with their mouse, the campaign will be triggered to appear. The pixel value for each setting is as follows:
Low: 1 pixel
Medium: 50 pixels
High: 150 pixels
---
Q: Does Exit-Intent work on mobile?
A: No. Exit-Intent cannot be enabled for our Mobile campaign type. Additionally, the Fullscreen campaign type which loads on all devices, will default to show the campaign on either Time Delay or Scroll Percentage when loaded from a mobile device.
As an alternative, you can utilize the Inactivity Sensor rule to trigger campaigns for mobiles devices. This rule allows you to show the campaign when a user has stopped all activity, including clicking and scrolling, for a given amount of time.
---
Q: How does Exit-Intent Work?
A: OptinMonster's Exit-Intent Technology works by tracking the user's mouse position and triggering a campaign as the mouse approaches the top of the browser window – indicating they intend to navigate away from your site.
---
Why doesn't my campaign show on exit?
Most likely, this issue is related to your Display Rules and you have set up additional AND condition rules.
For instance, enabling Exit-Intent for a campaign will only ignore your Time Delay and/or Scroll Percentage IF both of those are inactive. If you activate another trigger rule in the same RuleSET then all conditions must be met before the campaign will appear.
For another example: an Exit-Intent campaign that also has a 5 second time delay will not show the campaign when one tries to exit unless the visitor has already spent 5 seconds on the page.