Do you want to encourage your viewers to turn off their ad-blocking software? You can do it easily with OptinMonster's AdBlock rule! This doc will show you how to create campaigns targeted specifically towards visitors who are using popular ad blocker software such as AdBlock, AdBlock Plus, and uBlock Origin.
---
What is AdBlock?
AdBlock is software designed to block "annoying" popups, advertisements, malware, and more. The downside? Not all popups are SPAM advertisements. Some popups, slide-ins, etc. provide real value to the web visitor by offering them the ability to receive more information – via PDF download, joining an email newsletter, etc.
However, AdBlock Plus can block those beneficial signups for your web visitors. In addition, your web visitors will not see the ads you have on your site that provide the financial resources to keep your site operational.
Therefore, since OptinMonster is not affected by AdBlock, you have potential for AdBlock Targeting.
Why Use the AdBlock Detection Rule
Ad blockers are a growing force on the web today and have huge implications for publishers who earn their revenue via advertising.
The ability to target users who are running AdBlock is incredibly beneficial because it helps ensure that your ads are seen.
One of the main reasons people allow advertisements on their site is because the sponsors pay money for that advertising space. That money goes to maintaining the site (or it should!)
Therefore, if web visitors do not see the advertisements, the sponsors do not pay money out. If there is no money paid from the advertisement sponsor then there is no money to help maintain the site. If the site becomes too cost prohibitive, the site is down and the valuable resources being sought after by web visitors is now gone.
You may be surprised how many loyal readers are happy to support you by turning off their ad blocker for your website, if you just ask.
We're the only conversion optimization software that can actually offer this because OptinMonster takes extra effort to ensure that our campaigns cannot be blocked by AdBlock scripts.
How to Use the AdBlock Detection Rule
Because OptinMonster itself is not affected by AdBlock, you can use OptinMonster to send targeted messages straight to your web visitors who are utilizing AdBlock.

Note:
the following presumes you are familiar with the Display Rules of OptinMonster. If not, please check out the guide concerning
OptinMonster's Display Rules
before reading any further.
You will find the AdBlock rule in the Display Rules sub-section of
Who Should See The Campaign?
 The rule is titled:
Visitors who are using AdBlock
.
When using OptinMonster, your AdBlock Rule has two options:
Show when user has AdBlock
Enabled
Disabled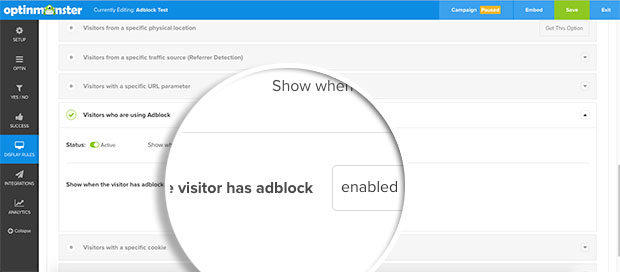 If the disabled option is selected, the campaign will never show to those users who are utilizing AdBlock.
If the enabled option is selected, the campaign will only show to those users who are utilizing AdBlock.
Example Scenario
Imagine your site has a few advertisements running to help cover the costs of maintaining your site. If too many users are using AdBlock, you are losing revenue. You could then choose to create an AdBlock-Targeted Campaign, which continuously shows a campaign to users who have AdBlock turned on.
Example, you could create a fullscreen campaign, use the "Entrance Theme", then set the following:
Cookie (Standard) Setting: 0
Success Cookie: 0
Time Delay: 0
Show When User has AdBlock: Enabled
Next, you could can Create a Yes/No campaign. Remove the No button. You could change your Yes Button's Text to:
I Will Turn Off AdBlock for This Site
And finally, have your Yes Action be Close Campaign and Reload Page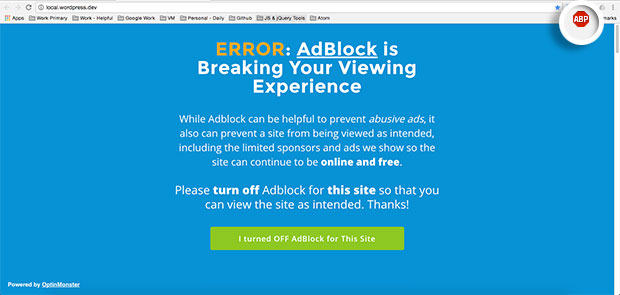 If you do all the above, you should be set to present a message to your viewers. This means, if they just click the button (trying to ignore it), the page will reload and check for AdBlock Again. If it is still on, the add will show again. If the visitor turns off AdBlock, then the AdBlock-Targeted campaign will not show anymore.
What about the general viewer? They'll never even see the campaign.
Interested in more ways to protect your content? See our guide on creating a content locking inline campaign.
---
Frequently Asked Questions
Q: What if I want to protect my site from those using AdBlock? Can I keep them from reading it at all?
A: You could use a method similar to the above and instead create a content locking inline campaign.
---
Q: If I want my Adblock campaign to show if a user is using Adblock, does that mean I need to edit all of my other campaigns to "Not show" if the web visitor has Adblock enabled?
A: No, you do not need to edit your other campaigns. Your Adblock focused campaigns automatically will have a higher priority over your other campaigns.
Therefore, any active Adblock campaigns will be loaded first and should get priority over your other campaigns.