The OptinMonster Exit Intent addon shows your visitors targeted campaigns at the precise moment they are about to leave the page.
You have purchased an OptinMonster Pro License, which allows you use OptinMonster's Exit Intent feature.  However, when you first download OptinMonster, you will not have the addon automatically installed and activated. The process for installing and activating addons is very simple once OptinMonster is downloaded and activated. Let's begin…
STEP ONE: Go to OptinMonster Menu Item
Easy first step.  Login to your WordPress Admin panel and Click your OptinMonster Menu item. Then click the tab that says, Addons.
STEP Two: Install and Activate Addon
Your next screen will show you all the addons available for use. You will notice three operations available for each addon.
Install — Installs the Addon so that it can used.
Activate — Allows the functionality to be utilized. If the addon is installed but not activated, you will not be able to utilize the addon in your campaigns.
Deactivate — Turns off the functionality of the addon.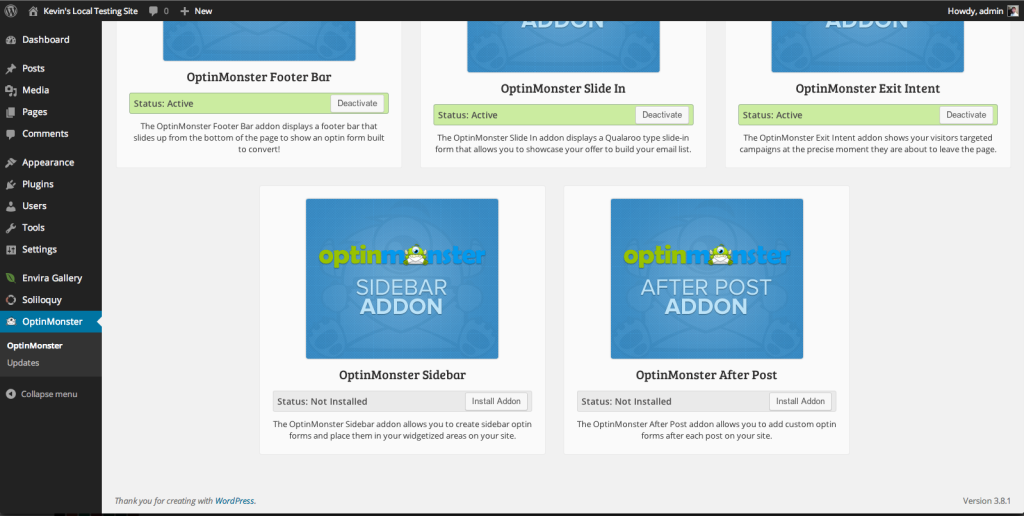 For those installing the Exit Intent addon for the first time, click Install.  Once that has loaded, be sure to click Activate.
Congratulations, you have now installed and activated your Exit Intent addon!
That's all the steps you needed to install OptinMonster Exit Intent addon on your site. You can now proceed to create beautiful lightbox popups and display them just when the users are about to leave your site.