Is there anything holding back your site from ranking higher in search engine results? If you've never performed an SEO audit of your website, then you could be missing out on the rankings you deserve.
SEO is one of those things some people look after when launching their site. Others may optimize content as they create it, but often we don't pay enough attention to it. Be honest, when's the last time you checked that everything was working right and you were getting the right results in terms of traffic and online authority?
If it's more than a few months ago, it's definitely time to take another look. SEO guidelines change often, so your site might not be complying with current best SEO practices.
In this guide, we're going to show you how to use a website SEO audit to find the SEO errors that hurt your search ranking. We'll also share tools and tips that'll help you to carry out your own audit, so you can fix errors and get your site ready for more traffic, leads, and sales.
Recommended Resource: Need more website traffic? Learn how to rank #1 on Google with our Ultimate Guide to SEO in 2020.
What Is an SEO Site Audit?
A website SEO audit is like a health check for your site. It allows you to check how your web pages appear in search results, so you can find and fix any weaknesses.
An SEO audit is the best way to identify and implement improvements to help more people find your website when they search.
Relevant, well-optimized sites get more traffic, and then you can use content and marketing campaigns to turn visitors into customers.
How Do You Do a Website Audit?
When you audit SEO, you'll typically look at on-page SEO, technical SEO and off-page SEO issues.
As we mentioned in our guide to SEO ranking factors:
On-page SEO is about optimizing content on your own site
Off-page SEO is about social signals and building links
Technical SEO is all other search engine optimization activities that don't relate to content and building links
A complete SEO audit will take a look at all three of those categories.
Ready to get started with your own SEO audit? You'll want to check all the items below in order to catch any issues that are tanking your rankings.
We've included a table of contents so you can navigate quickly.
Step 1. Make Sure Google Can Crawl Your Site
One of the most important things to do before you begin to check your website SEO is to ensure that search engines can crawl your site.
What's the meaning of "crawling" in SEO? Crawling is how search engine software finds and indexes web content.
One of the easiest ways to find out if your site can be crawled is with free software from Google called Google Search Console. This is an essential tool for any SEO audit.
You'll need a Google account to use Google Search Console. If you're already using Google Analytics, you can also link the two accounts to get access to Search Console data in your Google Analytics account.
When you're logged in, there are a couple of tools that will help you to figure out whether Google can crawl your website.
Create and Submit an XML Sitemap
First, make sure that you have an XML sitemap for your website and have submitted it to Google Search Console. This will tell the search engine where all your webpages are so that they can be crawled. And it also establishes you as the original author of your site content, which can stop it being removed from search engine listings for duplicated content.
Choose your property (which is your website), then you'll find this information in Crawl » Sitemaps.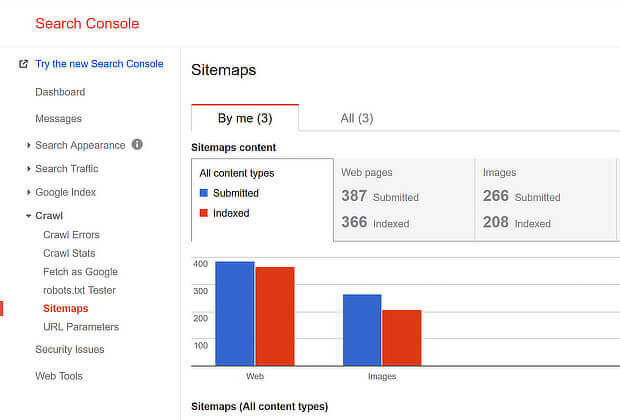 If you don't have a sitemap, you can create one easily in WordPress by using All in One SEO.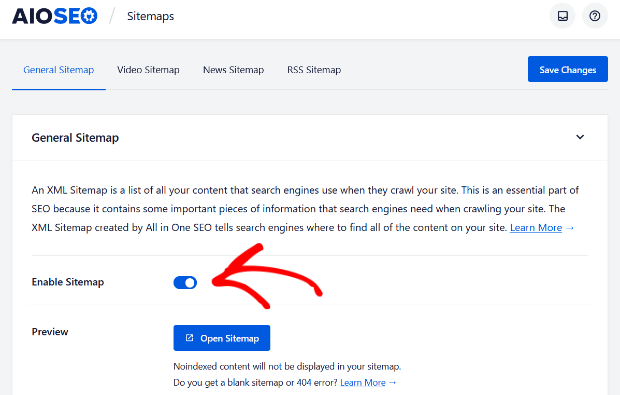 You can also use an online sitemap creation tool like XML Sitemaps.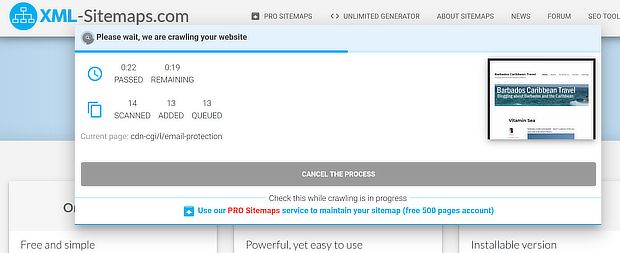 Then use the Add/Test Sitemap button to add the sitemap URL to Google Search Console.

If you wish, you can test first, then press Submit. Soon, Google will have a list of your URLs.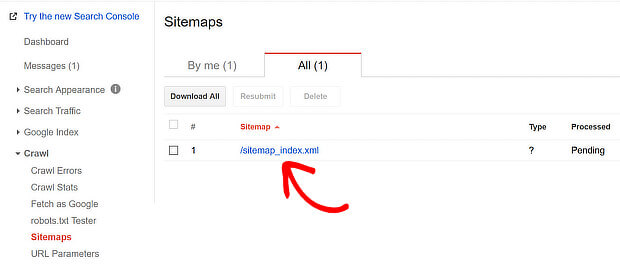 Once you submit the sitemap URL, Google should crawl it automatically, but if you ever make major changes to your site, it's worth resubmitting.
Look for Crawl Errors
Next, go to Crawl » Crawl Errors. You'll see a report which highlights errors in a graph. Below that, there's a table showing pages that returned a 404 or "page not found" code.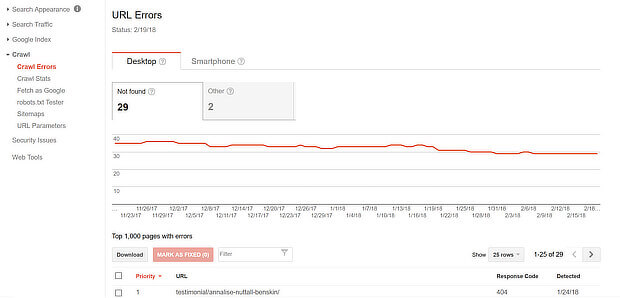 While Google says 404s don't hurt your site's search performance, they're bad for user experience, so it's wise to address these with redirections, if necessary.
You can implement redirections via the .htaccess file on your web server, via Yoast SEO, or by using one of these WordPress redirection plugins. You can also use UTM codes to track your redirects. However, beware of setting up long redirection chains (see tip #6).
Test Your Robots.txt
Another file that can help with SEO is a robots.txt file. Robots.txt is a small file that lives on your website server and tells search engines which parts of your site they can and cannot crawl.
Google can crawl your site even if you don't have one, so don't worry if you don't. If you do, here are some tips on optimizing your robots.txt file.
Google Search Console includes a Robots.txt Tester to help you identify errors.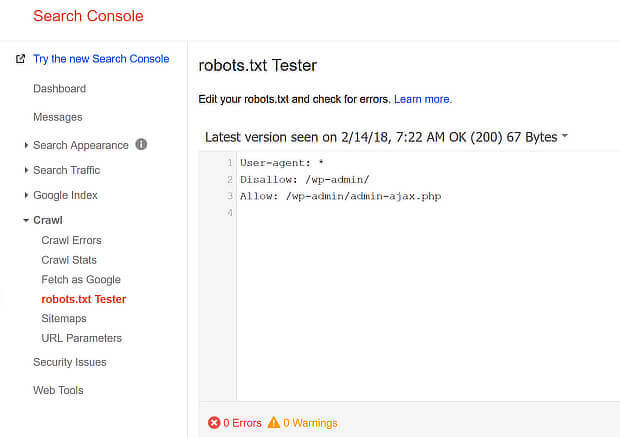 Next, let's look at some issues related to URLs and links.
Step 2. Secure Your Site With HTTPS
As we said in our guide to SEO ranking factors, it's now essential to have a secure website URL.
HTTPS became an SEO ranking factor in 2014. Now, Google is making moves to explicitly flag insecure sites. That'll affect both SEO and visitors' perceptions of your site. Let's face it; if you land on a site and see a "not secure" warning, you're probably going to leave, right? It's the same for your visitors.

If you're ready to switch to HTTPS, here's how you enable HTTPS on WordPress, and here's a guide for doing it on any site.
Check for Site Security Issues
Switching over to HTTPS is just one aspect of this, because there can be issues that stop your site from being totally secure. The trouble is, you've got to be able to find them.
A great tool to help with this is the SEMrush site audit report. Before you use it, set up a project for your website, because you'll want to use SEMrush to track other site health metrics.
Then, go to the project dashboard, and click the Site Audit section.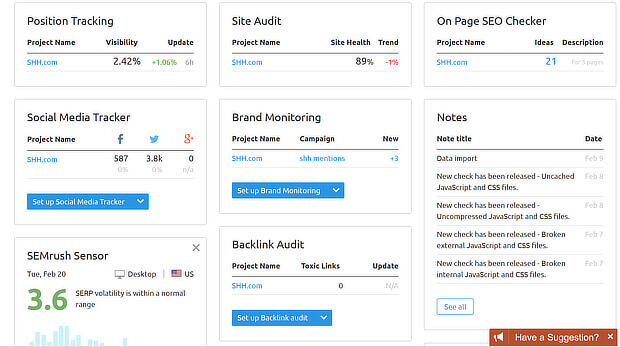 This will take you to another dashboard with site audit metrics.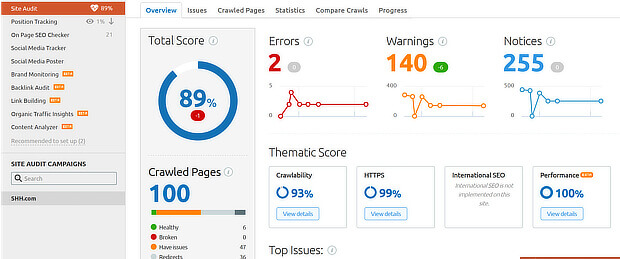 Click on HTTPS to see an in-depth analysis of all HTTPS issues. This will look at issues like:
Having mixed content on your pages
Having some pages of your website that are not using HTTPS
Internal linking to non-HTTPS pages
Having an up-to-date security certificate
Ensuring that your server security protocols are up-to-date
For each issue SEMrush will give an explanation and suggest a fix.
Step 3. Specify Canonical URLs
A canonical URL lets search engines know which version of the web page you want to treat as the authoritative one. This helps you avoid duplicate content issues which are bad for your search ranking. You'll likely add a canonical tag either as a result of doing an SEO audit (as shown below), or because you already know that there's duplication.
That's why, when you check website SEO, you want to make sure you sort this out, as Google itself advises. Again, SEMrush is a useful tool to help you identify canonical URL issues.
To find these, go to Site Audit » Issues, and you will immediately see if there's a problem with duplicate content.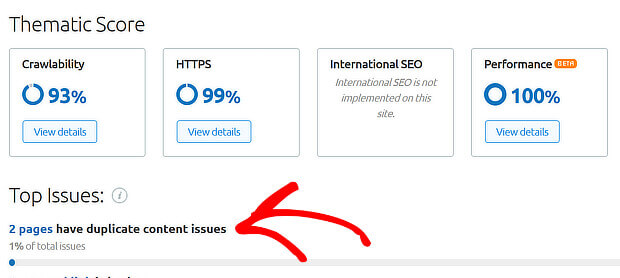 Click on the link identifying the issue to see the actual pages where you have the problem.

For example, if you've got a WordPress site, author pages, category pages, and tag pages, can look like duplicate content. That's because they all use the same post excerpts.
One way to fix this is to use All in One SEO to apply a noindex tag to the pages you don't want indexed. That'll tell search engines to ignore them, removing the duplicate content issue.

If you're not using All in One SEO, then ask your web developer to apply the code manually.
Step 4. Check for Broken Links
A good quality link profile is an essential SEO ranking factor, but only if those links work. That's why it's important to check for broken links when doing an SEO audit. This applies both to internal pages and to external links.
There are several ways to identify broken links. in addition to finding them in the SEMrush site audit report, as shown in the screenshot below, there are a couple of other tools you can use.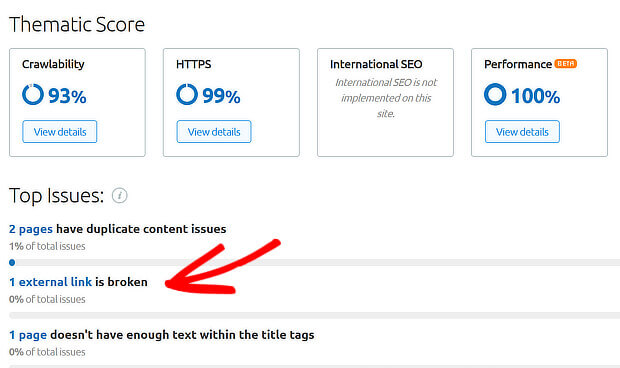 If you're using WordPress, use the Broken Link Checker plugin.

This runs in the background and will give you a report on broken links on your site, along with options for how to fix them. Note that this can sometimes slow down your WordPress site so it's probably a good idea to enable it only when needed.
If you're not using WordPress, then use Dr. Link Check for your broken link SEO audit. The free version will give you results for 1000 URLs, which is a good starting point. Then you'll have to visit each URL manually and fix the issues that have been identified.
Step 5. Ensure You're Using Readable URLs
Ideally, URLs will work both for visitors to your website and for search engines. A good way to get a quick overview of what your URLs look like is to use the Screaming Frog SEO Spider to crawl your website. This website SEO checker is one of the best SEO audit tools around and you can crawl up to 500 URLs for free.
To use it, type your URL into the onscreen box and you'll soon have a report showing a list of links, which can be sorted in different ways.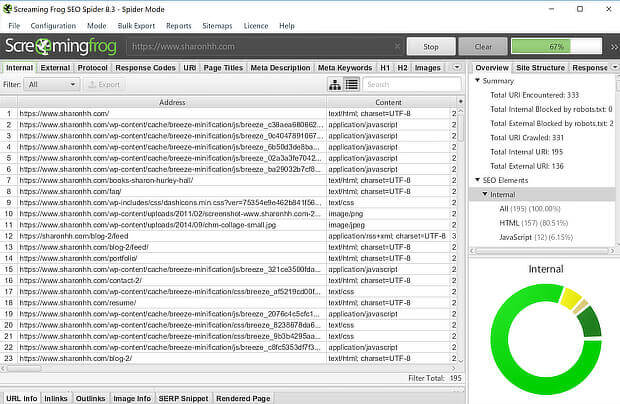 We'll come back to Screaming Frog later, but for now look out for links that are:
Too long
Have lots of underscores
Hard to understand, perhaps because they include strings of numbers and other characters
Changing URLs can affect SEO, so you'll have to implement redirects the right way to avoid that. Again, you'll want to avoid redirect chains. We'll talk about that in the next tip.
Step 6. Eliminate Redirect Chains
An important aspect of SEO site audits is checking for long chains of 301 redirected pages. A redirect chain can happen:
When you change between WWW and non-WWW versions of web pages
When your site moves from HTTP to HTTPS (see tip #2)
If there's more than one redirect between the source page and the destination page, that can have a negative effect on the page's search ranking. Long redirect chains can also make crawling the site a slower process, and affect page load time. Both of those hurt SEO.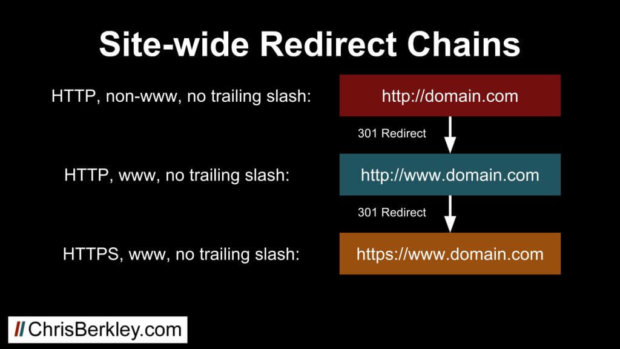 Most SEO auditors can help you find and fix these issues. For example, if you're using Screaming Frog, go to Reports » Redirect Chains to export a spreadsheet showing redirected links.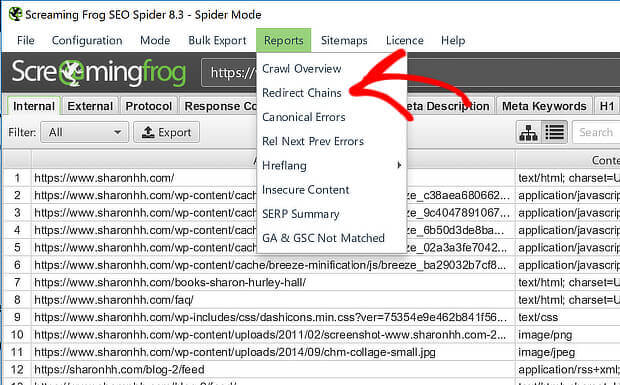 And the Site Audit » Issues section of SEMrush also shows redirect chains and loops.

This guide from WPBeginner can help you create and fix redirects.
Step 7. Check Who's Linking to You
Link building is an important part of SEO, but links from low-quality sites can really hurt your SEO efforts. That's why it's important to find those links, as part of your off-page SEO efforts. This is easy to do with SEMrush.
When you're in the project dashboard for your site, click on the Backlink Audit tool. This'll take you to a report identifying that shows you your links, anchor text, and what percentage of your inbound links are fine, and what percentage are toxic.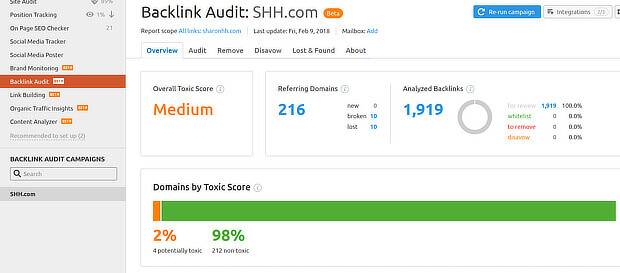 Click on the toxic percentage to see the actual links.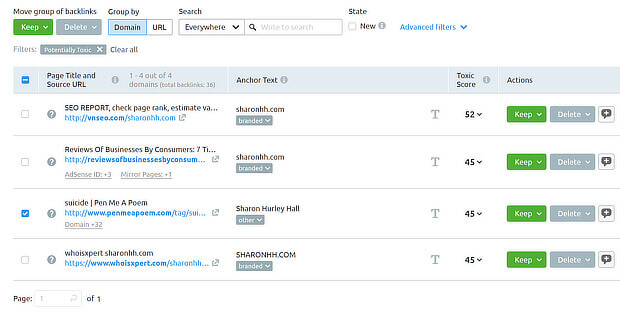 Once you do, you can choose to keep, whitelist, remove, or disavow links.

Here's some more help with disavowing links, though Google advises caution with this feature.
The next group of SEO audit tasks relate to on-page SEO.
Step 8. Find Missing or Duplicated Page Titles
Page titles are the first thing you see in a search listing for any URL. Not only are they useful for searchers, but they're one way Google works out when a piece of content is relevant to what people are looking for. That's why it's so important to get page titles right.
The most common page title SEO issues are missing or duplicated page titles. Most SEO audit tools will find these easily, so you can fix them.
When you run an SEO audit in Screaming Frog, as described earlier, just click the Page Titles tab to see a list of page titles. Click on the Occurrences column heading twice to sort from most to least occurrences.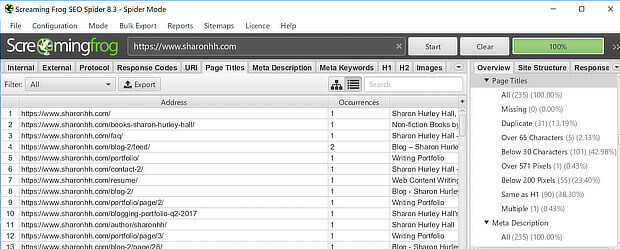 Each page title should occur once. If it appears more than once, you've found duplication. If there are blank entries, then you know page titles are missing. Use a tool like All in One SEO to edit page titles for each URL.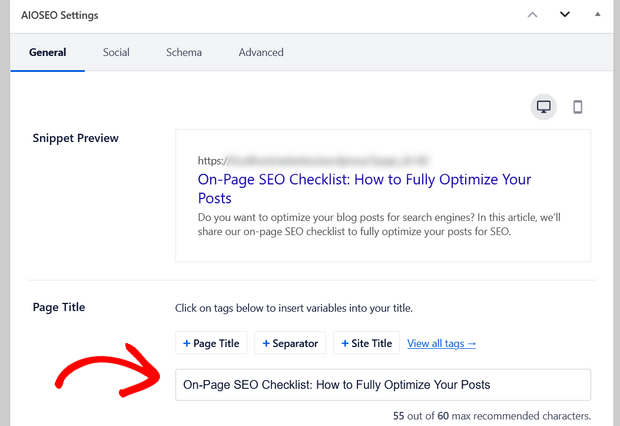 You can also find this information in SEMrush under Site Audit » Issues.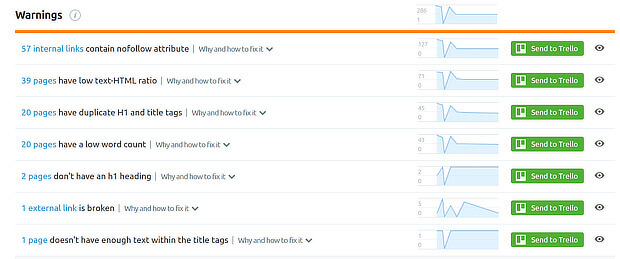 Watch out for long page titles, because these may be cut short on a both desktop and mobile device screens. On desktop, where titles display on a single line, the maximum length is around 70 characters, though it's not an exact science. On mobile devices, where page titles can go to two lines, it's 78 characters.
You can find page title length in Screaming Frog in Page Title » Title 1 Length. Click on the column header to sort by length.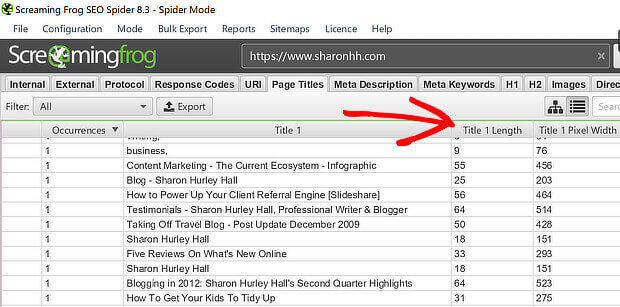 Step 9. Assess Your Meta Descriptions
The presence or absence of meta descriptions is another important SEO search ranking factor.
Meta descriptions tell both Google and searchers what your pages are about. That means pages without meta descriptions won't rank well in search engine results, and won't attract the traffic you need to grow your business. For best results, give a unique description to every page of your site.
To identify meta description issues, go back to the site audit you carried out with Screaming Frog. Go to the Meta Descriptions tab and click on the Occurrences column to sort the results from least to most. By doing this you'll immediately see which pages have no meta descriptions: fix these first, using All in One SEO if you have it.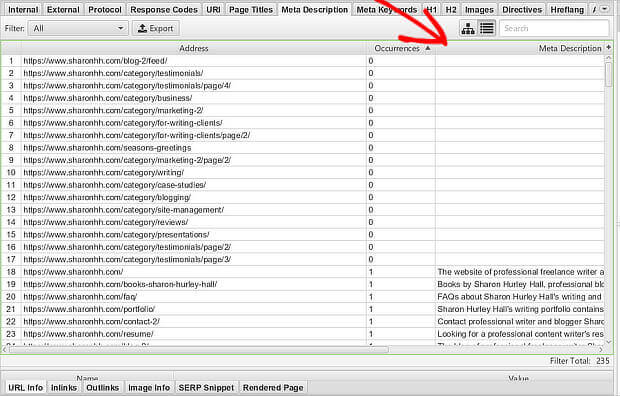 When you're done, click on the Meta Description 1 column to sort the descriptions alphabetically. This is a quick way to see where meta description tags are duplicated.

Step 10. Use the Right Header Tags
Header tags, like H1, H2, and H3, are one way to tell Google which content is most important on a web page. That's why it's essential to get your content hierarchy right. For example, if your blog post title is an H1 (the most important), then any sub-headings should be H2 or H3, consistently.
Screaming Frog makes it easy to identify this issue. When you run an SEO audit, go to the H1 column and click Occurrences to sort by the number of occurrences. That'll help you work out quickly if you're flagging more than one section of any page as the most important content.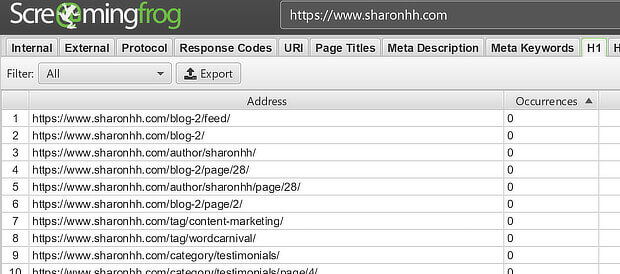 Do the same thing for H2s, so you can check that they match up with your expectations. You can use these same searches to check for duplication, too. All you have to do is sort the headings alphabetically, for example, by clicking on the H2-1 column header.

Fix this by editing page content in your favorite content management tool, and using formatting tool to amend header tags as needed.
Step 11. Make Images Accessible
You can't ignore images in your SEO audit. Issues with images include:
Image size, which we'll look at in tip #16
Broken links to external images, which you'll find when you implement tip #4
Broken internal image links
Missing alt text
Let's look at those last two issues. To find broken internal image links, go to the Site Audit section of SEMrush, and navigate to Issues. If there are broken internal image links you'll find the URL listed there. Then go to each URL and fix the URL, or remove or replace both the image and the URL.

Alt text helps with both SEO and accessibility. It's the text that describes what an image is about, and every image included in your content should have that description. SEMrush flags missing alt text under Site Audit » Issues.

Once you're aware, go to the URLs where the images are and add alt text for each image where it's missing. This guide to image metadata is a useful resource to help with this.
Step 12. Optimize Content
Content is one of the top SEO ranking factors, so you can't neglect it in an SEO audit. Your online presence and your authority stand or fall by the quality of your content.
That's why you need to make sure that every page of your site has a defined purpose and delivers on that purpose. It also has to be valuable to visitors and readers.
As well as looking after titles, meta descriptions, and content hierarchy as described earlier, you'll also have to assess the quality of your content.
To get this right, you'll have to go back to basics and:
You can also use SEMrush to see what search terms your content is already ranking for so you can make decisions about which content to optimize. To find this information, login and go to Domain Analytics » Organic Research » Positions.

Type in your domain name to see which pages already have a good (top 10) search ranking. Look at the content from positions 11-20 to see if you can optimize it to improve its position.
Step 13. Look After Local SEO
If you're targeting a particular locality, then it's important to include real business information on your website. A quick way to find out if your site is optimized for local search is to do a search (in an incognito or private window so results aren't personalized) and see what comes up.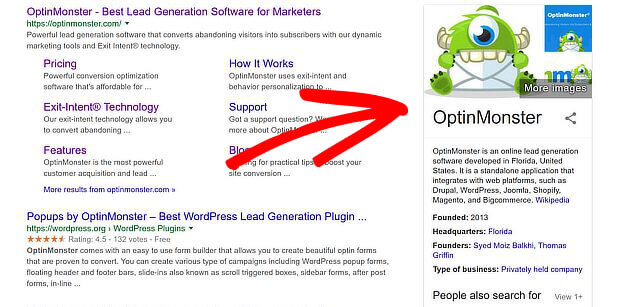 Look for:
Your business name, address, and phone number
A Google My Business listing, and other business listings
Where your business shows up for your target local keywords
Reviews
You can also use BrightLocal to check local rankings for any location around the world. And MozLocal will help with local search optimization.
Our last few SEO audit tips are all to do with the technical aspects of website optimization.
Step 14. Measure Site Speed
Site speed has been an SEO ranking factor for a long time, but it's got even more important as mobile devices have become more prevalent.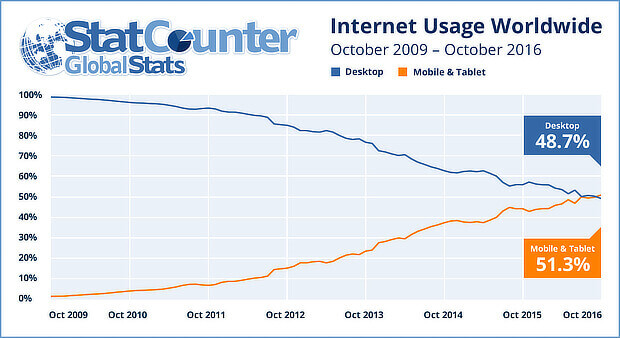 One tool to use to see if you have site speed issues is GTMetrix. Just type in your URL, and you'll get a report showing where the issues are. You'll also get guidance on how to fix them.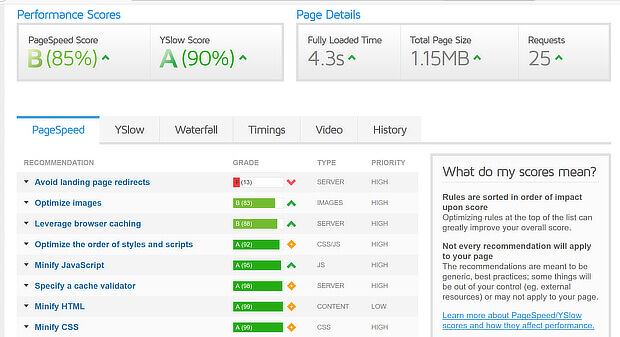 Step 15. Compress Images
Image size is a key factor affecting site speed, so it makes sense to keep image size small. You can easily identify large images via Screaming Frog. Click on Images, the click the Size column title to sort from smallest to largest. It's a quick way to figure out which images are in most urgent need of optimization.

Once you know which images to compress, upload them to TinyPNG or your favorite image compression tool. They'll be resized quickly, then you can download the much smaller images and upload them to your site.
Step 16. Optimize for Mobile
As we said earlier, it's now essential to optimize sites for mobile so you don't lose visitors. Ideally, you're aiming for a load time of less than 3 seconds. One of the quickest ways to test this is with another of Google's mobile testing tools. This will gives you an overview of speed issues.
We also like Hubspot's Website Grader tool, which looks at areas like whether your site is responsive and how the viewport size stacks up for different devices.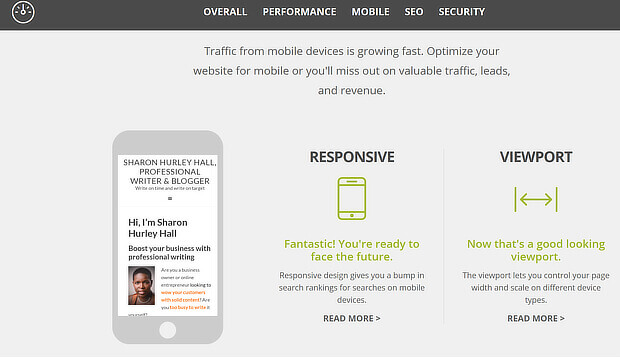 Another place to look for mobile SEO issues is in Google Search Console. Go to Search Appearance » Accelerated Mobile Pages to see if there are any issues with those pages.

We've got more mobile SEO tips in our article on boosting mobile conversions.
Step 17. Include Structured Data
Another important SEO audit issue is structured data. In SEO, this refers to web content that has been classified and organized, usually via schema markup.
Structured data is another way to tell Google what your content is about and what's valuable in it. Searchers see the results of implementing structured data as answer boxes and rich cards in search results.
For example, structured data can help Google decide whether a particular site's content relates to Titanic the movie, or Titanic the ship, sending the right kind of traffic to the right site.
Structured data can help you highlight articles, reviews, local businesses, events, and much more. And the best way to add structured data to your site is to use the tool built into Google Search Console. Here's how you do it.
When you're logged in, go to Search Appearance » Data Highlighter. Click the Start Highlighting button.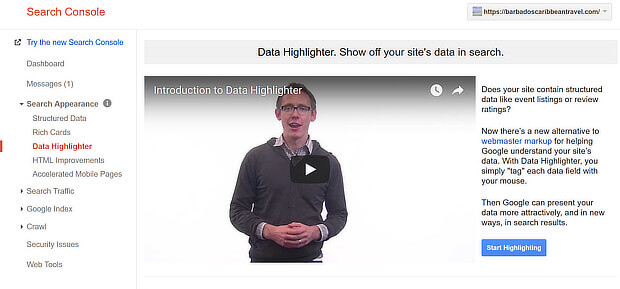 Type the URL of a page of your site or blog into the box that pops up, and choose a content type. For example, if you're creating structured data for your blog, you might choose Articles or Reviews. Leave the default Tag this page and others like it.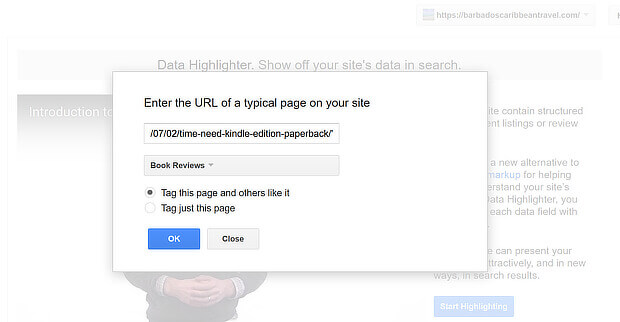 Google will tag your pages, then give you the chance to confirm the tags or edit them for accuracy.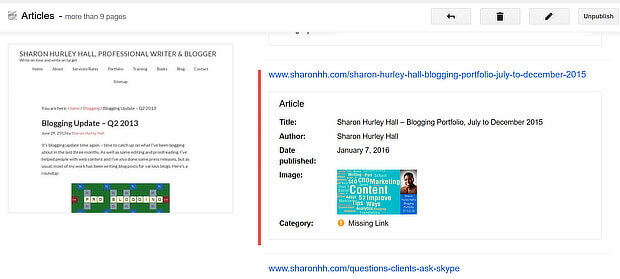 Step 18. Make Sure Users Can Find What They Need
Finally, don't forget users when you're optimizing for search engines. User experience matters a lot in terms of SEO signals. Google's algorithm takes account of whether people click on your search engine listing, and how long they stick around.
If they bounce back too quickly, then Google will assume your site's not relevant to their search and could demote it in search results.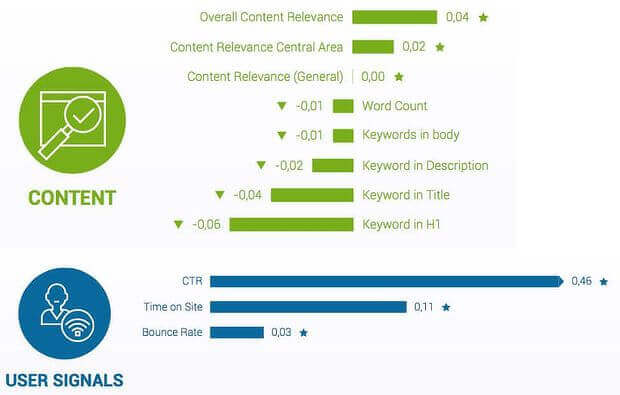 To check your dwell time, use Google Analytics. Look at the bounce rate (which ideally will be low), time on page and session duration (both of which will be high). Bounce rate and session duration show on the main analytics dashboard.

Go to Audience » Behavior » Engagement to see how long users are sticking around.

If visitors are bouncing away too quickly, then take another look at tip #12 and see if there's a way to optimize your content so it's more appealing.
That's it! These 18 steps will help you do an SEO audit to find and fix issues that are hurting your site traffic. Next, check out these expert tips on SEO, and the keyword tools you can use to boost organic traffic. And follow us on Facebook and Twitter for even more in-depth guides.