In this article, we'll teach you how to run an online contest to increase your website traffic, grow your email list, and build engagement.
If you've ever wanted to run an online contest but thought that it would be too hard to manage, we're here to tell you that it's so much easier than you think. Especially when you have the right tools for the job.
Running a giveaway is one of the fastest ways to get more sales and generate buzz around your brand.
Want specifics? Keep reading to learn more about the benefits of running an online contest.
Table of Contents
What Are the Benefits of Running an Online Contest?
Wondering if running an online contest or giveaway is a good idea? Let's take a closer look at some of the benefits:
Increase Website Traffic
Running an online contest is an easy way to drive more traffic to your website through referrals and social shares. RafflePress, the tool we're using in this tutorial, has built-in viral sharing that lets you reward users with bonus entries for referring a friend or sharing your giveaway on social media.
Grow Your Email List
You can easily grow your email list with an online contest or giveaway by requiring users to sign up in order to get entries. Just make sure you keep them engaged throughout the contest and beyond with compelling email copy.
Boost Your Social Media Followers
Running a contest can quickly boost your social media followers. Offer bonus entries to your giveaway in exchange for follows and your number of social media followers will explode.
Generate Targeted Leads
A viral giveaway will increase brand recognition and bring more people in contact with your business and the products you offer. This will not only help you generate qualified leads but increase sales, too!
See how KnivesShipFree.com boosted their revenue by more than $10,000 using giveaways.
Now that you're hip to the benefits, let's look at how to run an online contest. You're going to love how easy this is.
Set a Goal for Your Online Contest or Giveaway
Before doing anything else, ask yourself what you want to get from your online contest or giveaway. You need to set a goal.
Here are some common goals:
Generate sales
Boost brand awareness
Increase user engagement
Drive traffic to your website
Get more email subscribers
Gather user-generated content
Get more social media followers
Create a buzz around a new product or service
Pick a goal that aligns with your overall business and marketing objectives. It's a lot easier to run a successful online contest once you've chosen a goal and you're more likely to get the results you want.
Choose the Right Contest Prize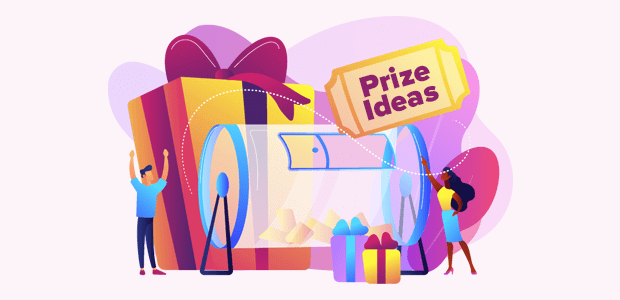 If you want your contest to create a lot of buzz and get a ton of entries, your prize game has to be on point.
The most popular contest prizes are money, gift certificates, and free products or services. Check out this list of contest prize ideas if you need help choosing.
The most important things to think about when picking prizes for your online contest are your target audience and your brand. Choose prizes that are relevant to the audience you're trying to reach and you'll attract those people to your contest.
Plan out the Contest Rules
This is probably the step where most would-be contest creators give up on their contest and walk away.
Have you ever looked at contest entry rules? Those things are full of jargon and lawyer-speak.
Let's break it down so it's not so intimidating.
Here are the things that you need to decide about your contest:
Who can enter? Are there age limits or location limits for your contest?
When can people enter the contest? When does the contest start and end?
How can people enter to win? How often can they enter?
Will you be drawing winners randomly, using a vote, another method?
When answering these questions and planning out your contest rules, keep your goals in mind. For example, if you want to get more user-generated content it should be a requirement to enter your contest that users submit something.
Once you have your rules figured out, it's time to create your contest.
Create an Online Contest With RafflePress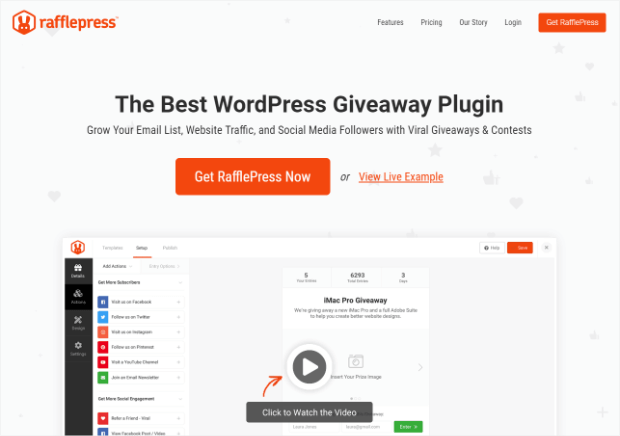 RafflePress is a powerful and easy-to-use WordPress giveaway plugin with a drag and drop builder that makes it ridiculously easy to build a stunning contest landing page or giveaway widget in no time.
With RafflePress and its impressive list of features, you can easily increase social media follows, drive website traffic, and grow your email list. And, there's even a free RafflePress Lite plugin available in the WordPress plugin repository!
For this tutorial, we're using the Pro version of the plugin so you can really get a feel for all of the amazing things you can accomplish with RafflePress.
For more information, check out this helpful review of RafflePress.
Step 1. Create a New Giveaway
To get started with RafflePress you'll need to download, install, and activate the RafflePress plugin. Once you've activated the plugin, RafflePress will show up in your WordPress dashboard.
To create a new giveaway, hover over the RafflePress icon in the WordPress dashboard and click Add New.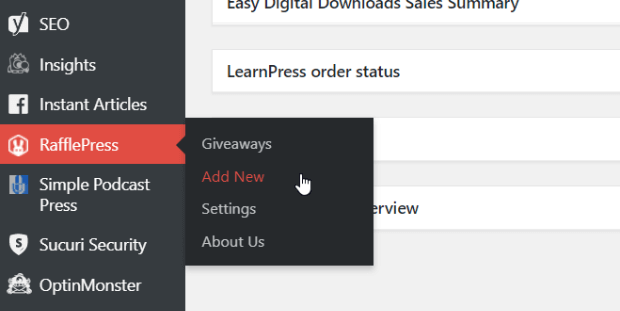 Step 2. Name Your Giveaway and Choose a Template
Once you click Add New, you'll be taken to a new screen where you can name your giveaway and choose a template. The name is just for you, so use something that makes sense to you; it won't be seen by users.
Next, choose a template for your contest from one of the excellent designs provided by RafflePress to make building your contest that much easier.
For this tutorial, we'll use the Classic Giveaway template, but you can choose a template based on your goals: Grow Your Email List, Pre-Launch Campaign, Grow Your Instagram Following, and more.
To select a template, just hover over it with your mouse and click Use This Template.

Step 3. Set the Giveaway Prize Details
After choosing a template, you'll be taken to the RafflePress giveaway builder.
Click on the pencil icon in the Giveaway Prize Details section to add your prize and any details about it you want to include.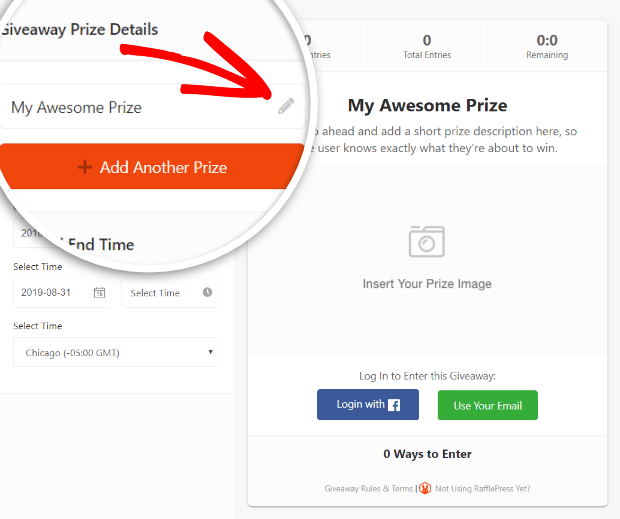 To make your prize more appealing, be sure to add an image by clicking the Select Image button. You can choose an image from your media library or upload a new one from your computer.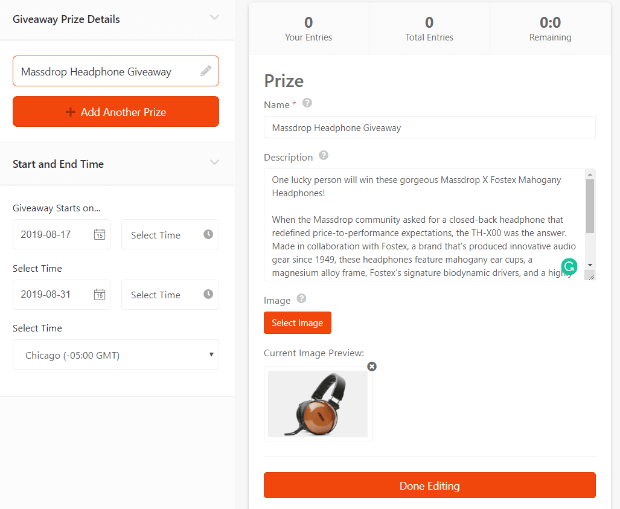 When you're done editing the prize details, click on the Done Editing button.
Got more prizes to add? Simply click on the +Add Another Prize button.
Set the start and end dates and times for your contest in the Start and End Time section underneath the Giveaway Prize Details.
When you're done, click the Save button in the top right corner of the builder. Be sure to save regularly as you're creating your giveaway.
Step 4. Choose Your Contest Entry Actions
RafflePress allows for a number of ways users can enter your contest and you can add as many entry actions as you want.
To set up your contest entry actions, click on the Actions tab and click on any entry method you want to add. The entry actions are sorted into 3 groups based on different goals: Get More Subscribers, Get More Social Engagement, and Get More Traffic.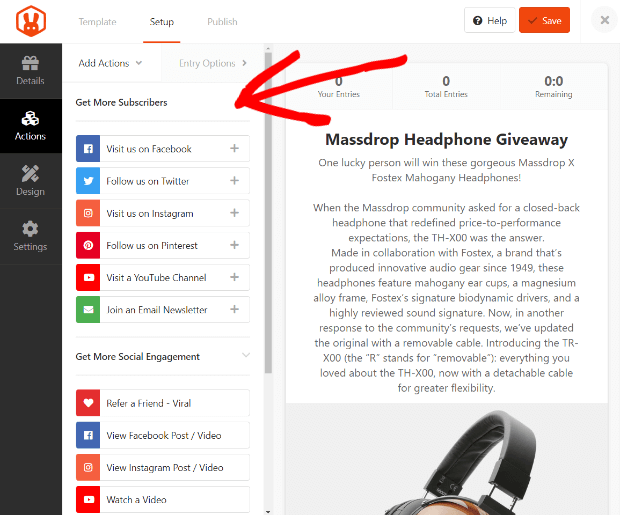 You can even add more weight to certain entry actions to make those actions worth more entries. So, if you want to grow your email list above all else, you'll want to make that worth more contest entries.
When you're done adding your entry actions, Save your giveaway.
Step 5. Design Your Contest
Now it's time to customize the design of your giveaway.
Go to the Design tab.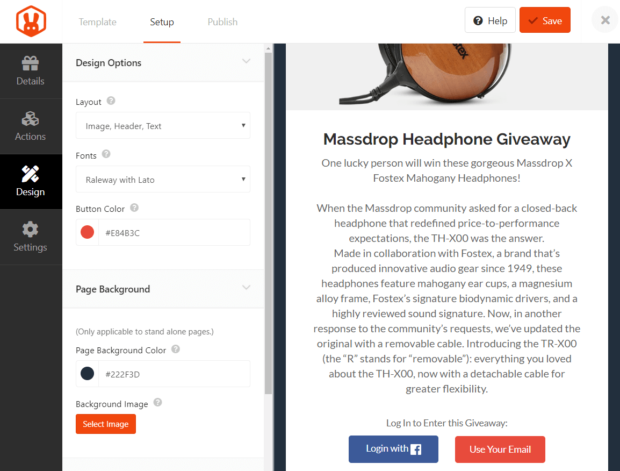 You can choose from a couple of different layouts, set a background image or color for landing pages, pick button colors, fonts, and more.
Once you have your giveaway looking the way you want, click Save.
Step 6. Configure Contest Settings
Click on the Settings tab to configure your contest rules.
Don't panic. RafflePress makes it really easy to create rules for your contest. Use the RafflePress Rules Generator to create contest rules fast.
Start by clicking the +Generate Rules button. This will bring up a window where you can enter your contest details like sponsor contact info, eligible locations, and minimum age.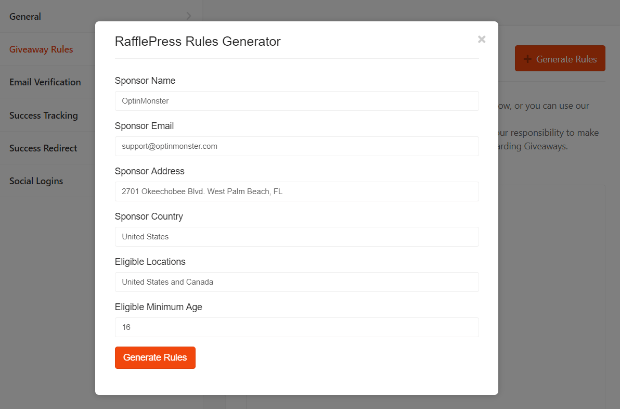 Then, click Generate Rules and the tool creates basic contest rules for you!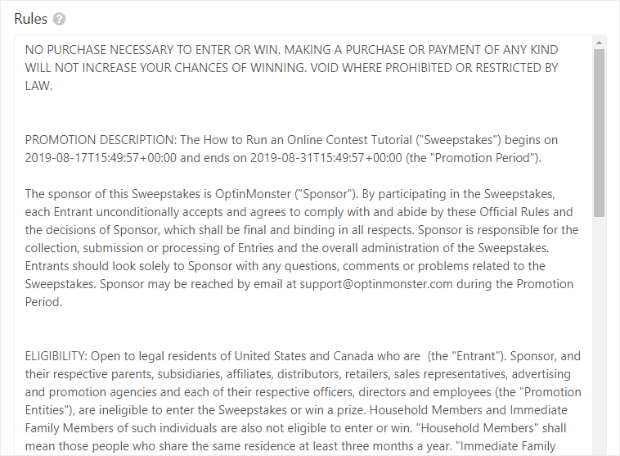 Also in the Settings tab, you can set up email verification, success tracking, success redirect, social logins, and more.
Step 7. Publish Your Contest
You've created your online contest, so now it's time to let it loose on the world.
Click on the Publish tab to see the 3 publishing options:
Giveaway Landing Page
This option lets you create a distraction-free giveaway landing page on your website.
RafflePress WordPress Block
With this option, you can embed the giveaway widget in a WordPress post or page with the new WordPress block editor (Gutenberg).
WordPress Shortcode
Using a WordPress shortcode, you can embed your giveaway in the classic WordPress editor, sidebar widgets, or inside your WordPress theme.
Let's take a look at each of these methods.
Method 1: Creating a RafflePress Landing Page
We recommend creating a giveaway landing page to create a distraction-free setting for visitors. With the landing page method, users are more likely to enter your contest because there's nothing pulling their attention away from it.
To create a landing page, simply select Giveaway Landing Page and click the Giveaway Landing Page URL to set it up.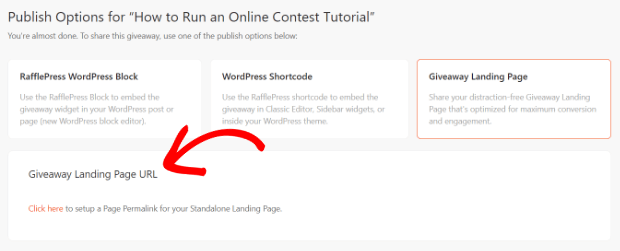 On the General page, you'll create a URL for your landing page. Click the View button to see what it looks like.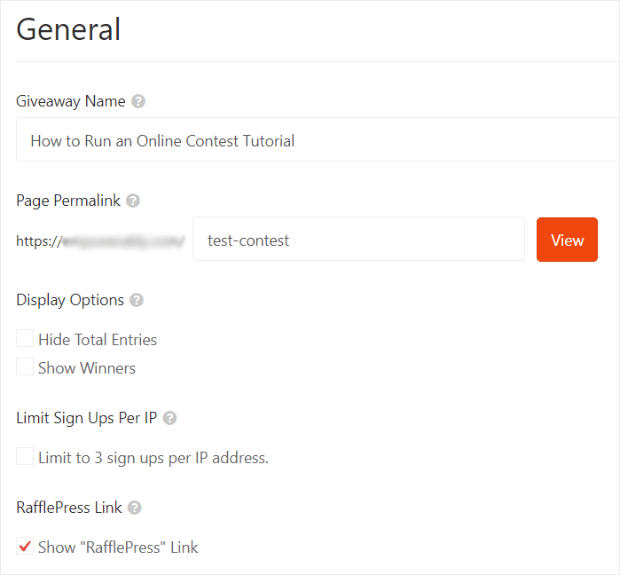 RafflePress will open your giveaway landing page; all you need to do is copy the link and start promoting it.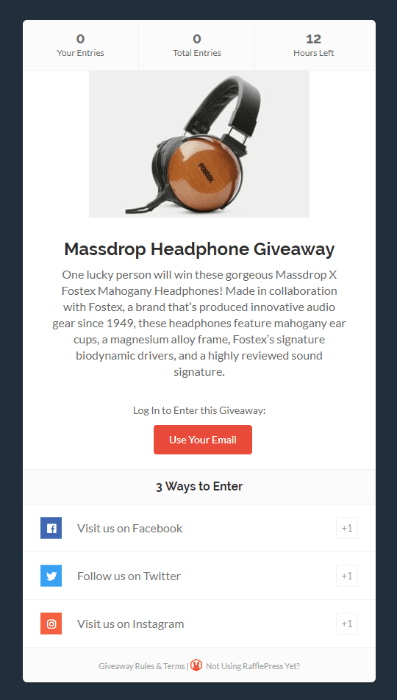 Method 2: Using the RafflePress Block
To use this method, create or edit a post or page in WordPress.
While editing the post or page, click on the add new block button, then choose RafflePress.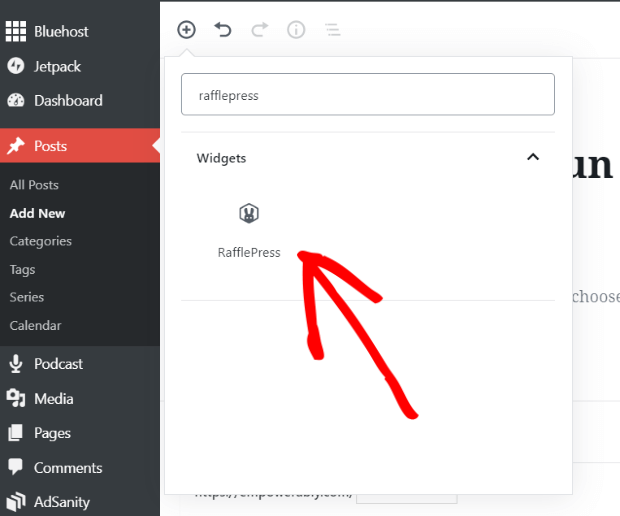 Once you add the block, simply choose the giveaway you want to add from the dropdown.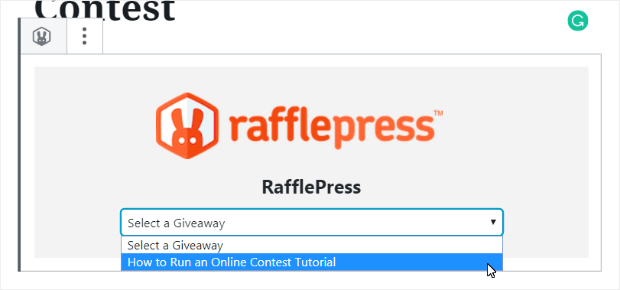 Method 3: Using the RafflePress Shortcode
Shortcodes are versatile and can be added to pages, posts, or widgets.
To use the shortcode, select WordPress Shortcode from the Publish tab in RafflePress.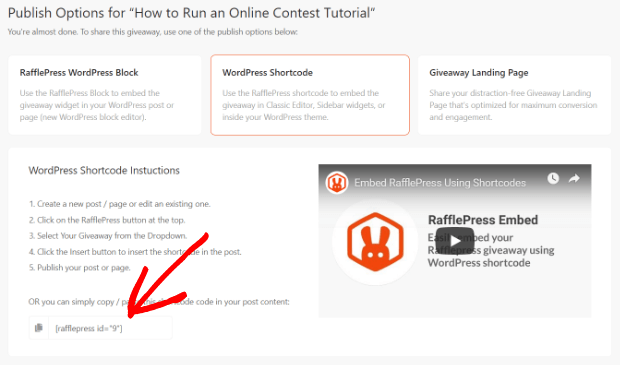 Copy the shortcode and paste it anywhere you want to show your contest.
Promote Your Contest or Giveaway
You've put a lot of work into building a contest you can be proud of, so now it's time to show it off and get some entries.
Here are some of the best, and easiest, ways to promote your online contest:
Share it on Facebook, Instagram, Twitter, etc.
Submit it to online sweepstakes and contest directories
Announce it in an email newsletter
When to Start Promoting Your Online Contest
You should start promoting your giveaway before it even goes live. This will create a buzz around the contest and help you get a lot of entries from day 1.
Pick a Winner
RafflePress makes it really easy to pick a winner for your giveaway.
The easiest and most fair way to choose a giveaway winner is by random draw, so when your contest is over go to RafflePress » Giveaways and click on the Needs Winners link next to your campaign.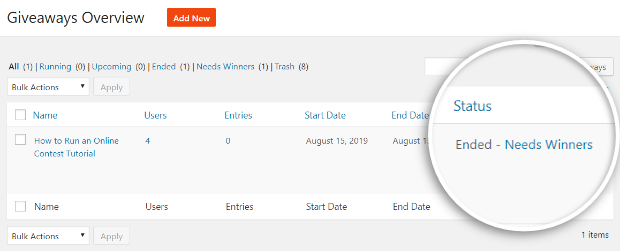 You'll be able to see all of the people who entered your contest and how many entries they have. To pick a random winner, simply click the Pick Winner button, choose your options, then click Choose Winners Now.
Your lucky contest winner will be highlighted.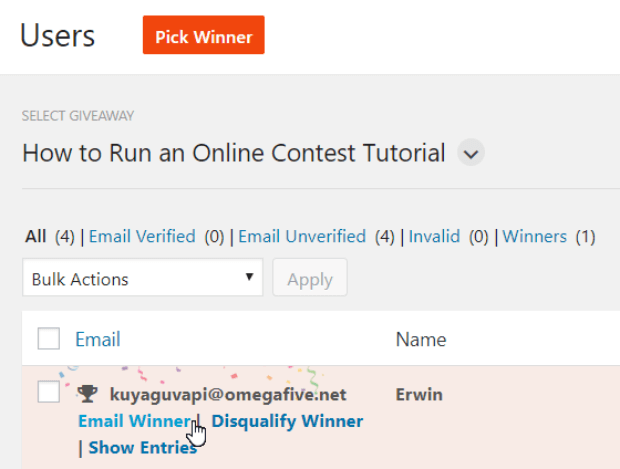 Email your contest winner to share the happy news by clicking Email Winner.
Follow up With Contest Entrants
After you've contacted the winner, it's important to let all the other entrants know what's going on with the contest. Keeping your contest entrants informed will not only increase your credibility, but it lets you engage with them and build relationships.
How to Follow Up With Contest Entrants
Send an email newsletter to announce your contest winner and thank everyone for joining in the fun. Be sure to invite them to participate again.
Social media is also an easy way to announce your contest winner, the prize they won, and keep people talking about your contest and brand a while longer.
RafflePress Makes it Easy to Create an Online Contest
As you can see, RafflePress offers a ton of features to help you create the most successful giveaways.
With RafflePress, you get access to pre-built contest templates, 1-click entry and fraud protection, social media integrations,  and viral sharing (refer-a-friend). And, RafflePress integrates with all the best email marketing services and CRMs to streamline your marketing efforts.
Now that you've got this online contest thing down, why not track your results? Here's how to add Google Analytics to WordPress, the quick and easy way.
Want more from OptinMonster? Follow us on YouTube, Facebook, and Twitter.