Are you using Bronto to send your email campaigns, but want even more subscribers on your list? And have you struggled to come up with a plan to grow your contact list in a way that makes an actual impact?
If so, you should try a custom Bronto popup.
Using the right popup campaign can help explode your email list in a short amount of time. And, if you know what you're doing, you can make sure that all your new subscribers are the kinds of leads you're looking for.
That's why, today, we're going to teach you how to create a Bronto popup that gets you higher conversions.
But before we do, let's take a look at what Bronto is and how it can help your marketing strategy.
What Is Bronto?
Bronto is an email marketing tool that helps you increase profits and streamline your marketing process.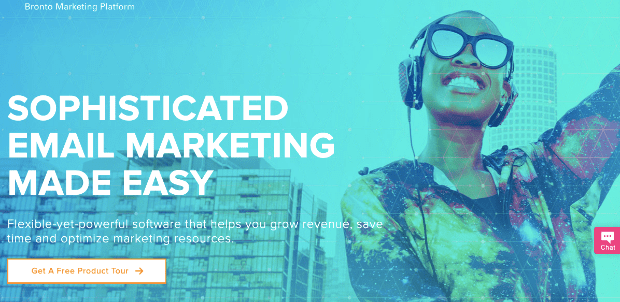 Bronto helps you personalize your email campaigns, increase your click-through rates, and gives you detailed analytics to review. That means you can set targeted conversion goals and track your progress.
But one of Bronto's core products is being an email service provider for marketers. That means you can send emails to your contact list using their services.
To do that, though, you need to have the contact list to begin with! And this is the area that most marketers struggle with:
How do you grow your email list to make your email marketing strategy more profitable?
That's where OptinMonster comes into play: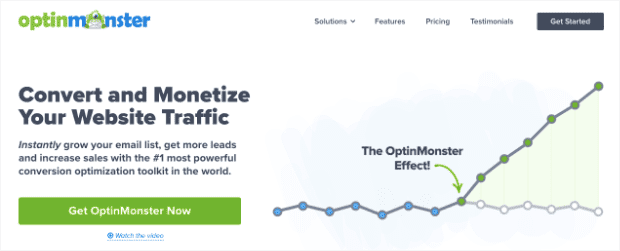 OptinMonster is the world's #1 lead generating software. That means we're the best software for getting you higher conversions on your site.
Put even more simply, if you want people to take any action related to your brand, we help you do it. And that includes getting more people to sign up for your email list.
How? By helping you create targeted campaigns for your site's visitors called "optin campaigns."
These optin campaigns come in many forms, including:
Lightbox popups
Floating bars
Slide-in scroll boxes
And many more. Today, we'll show you how to create a highly-targeted Bronto popup to get more email signups. In fact, here's the popup we built for today's demo in less than 5 minutes: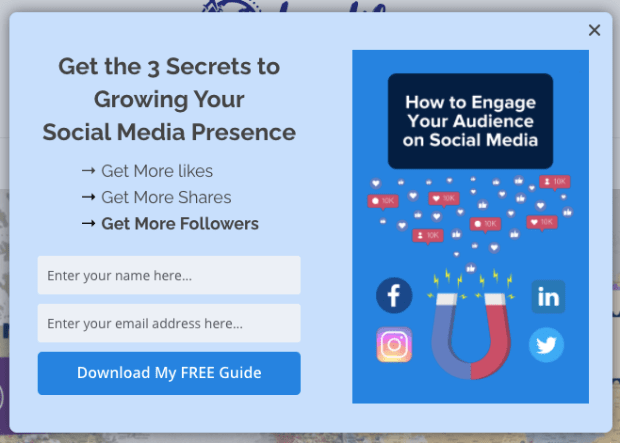 Ready to go? Let's get started!
How to Create a Bronto Popup
Before we begin, you'll need to log into your OptinMonster account. Don't have an account yet? No problem.
You can easily create your OptinMonster account risk-free today!
Step 1: Select Campaign Type and Template
Once you're logged into your OptinMonster account, go to the upper right-hand corner of your dashboard and click Create New Campaign: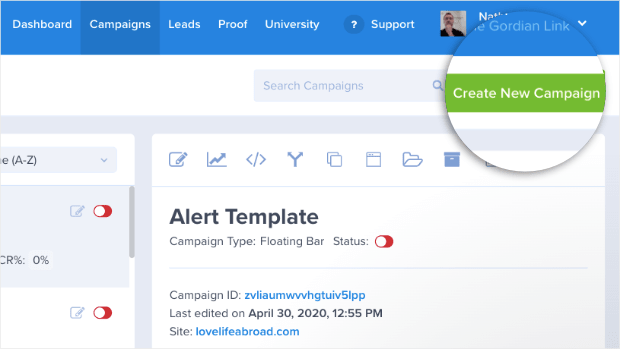 Now you need to select your campaign type. For today's tutorial, we'll choose a Popup campaign:

Then, you'll need to decide which template you want to use: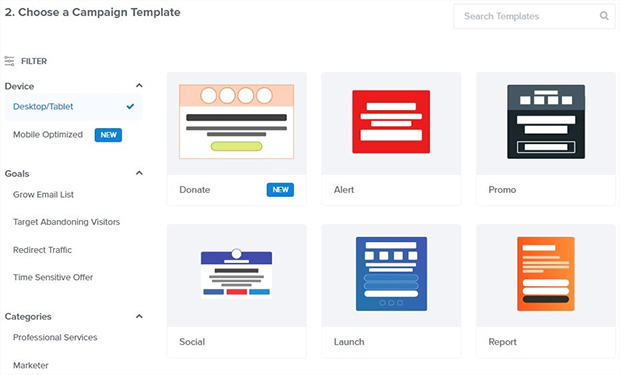 OptinMonster has over 50 pre-built templates that you can start with to design your campaign. Plus, you can filter your template options based on:
This saves you time in deciding which template will help build the campaign you have in mind. But if you want to build a campaign entirely from scratch, that's no problem at all.
You can use our Canvas template: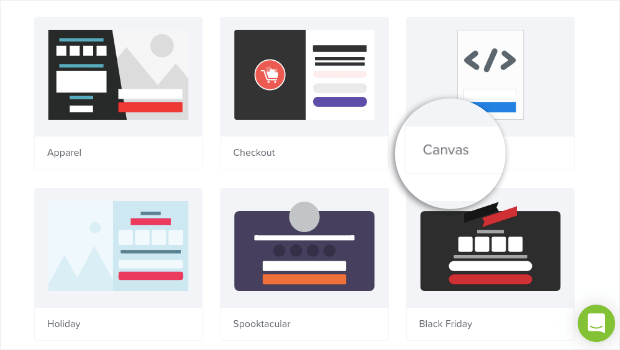 Then you can build a 100% custom campaign in just minutes. Our drag and drop editor makes it easy to create the Bronto popup that will resonate with your target audience.
In the end, you'll have a stunning campaign that gets results in a fraction of the time. That way, you can focus on other areas of your marketing strategy to grow your business.
For today's tutorial, we'll go with the Magnet template: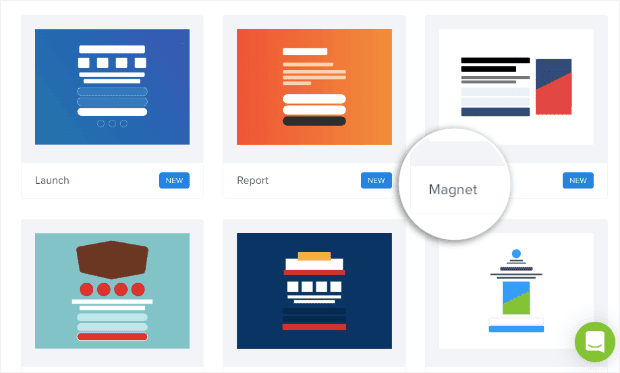 This is a great choice for growing your email list because it gives you plenty of room on the left to write compelling copy. But the right-hand side leaves room to display an image of your lead magnet.
Not sure what a lead magnet is or how to create one? No worries. Just check out this post on 69 lead magnet ideas you can start using today.
Once you've selected your template, you'll need to name your campaign, assign to your website, and click Start Building: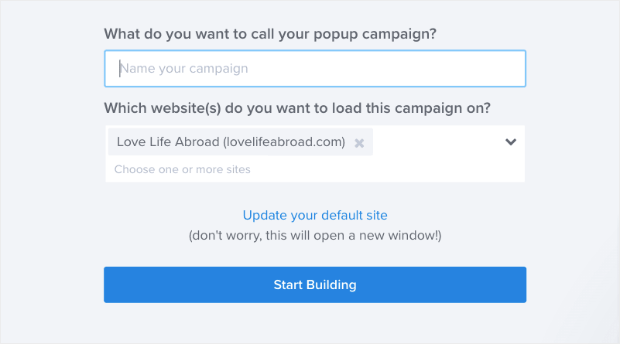 Then your campaign will appear in your editor.
Step 2: Design Your Bronto Popup
One of the best ways to grab your visitor's attention is to create a visually stunning campaign with persuasive copy.
That means you should tailor your Bronto popup for your audience. With OptinMonster, modifying your popup template is simple.
We won't get into much detail on how you can customize your campaign in this post. There are too many options to cover in just one article.
But if you've never used OptinMonster before, don't worry. You can refer to this resource to learn more about how to create and design your first OptinMonster campaign.
For today, all you need to know is that our campaigns are built up of "blocks." These blocks can be adjusted by clicking on them on your editor screen. Then, the editing tools will show up on the left-hand side.
If you wanted to change your text block, for example, you would just click on the text in the campaign editor. Then you could modify the text in the left-hand side menu: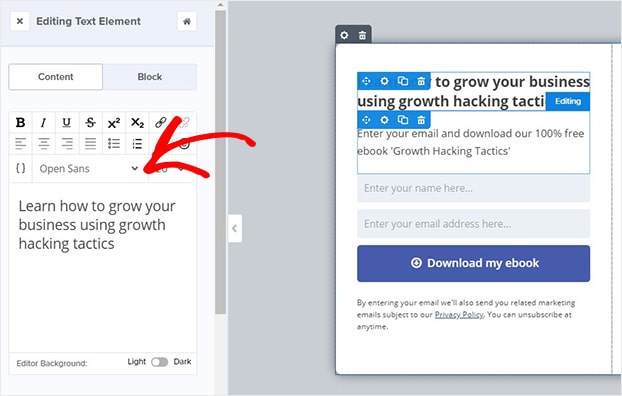 You can do the same for the image block, too: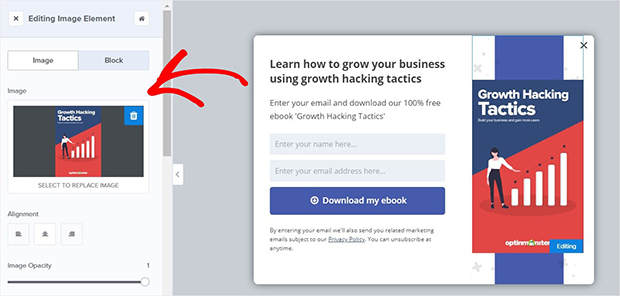 In fact, you can change any part of your campaign in this way. And if you want to add a new block, you can do so with a drag and a drop.
Simply click + Add Blocks at the top of your editor menu: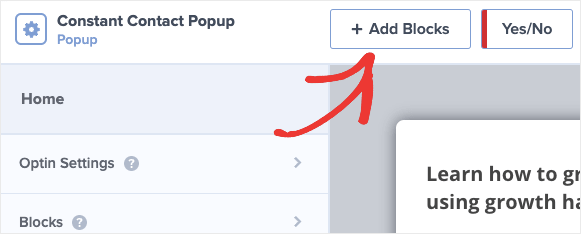 Then scroll down in the left-hand side menu to see your block options. You can choose blocks like:
Buttons
ChatBot
Countdown timer
Image
Video
And more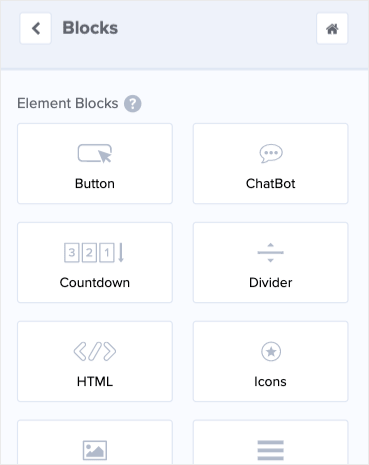 Then you drag and drop the block element into your Bronto popup campaign: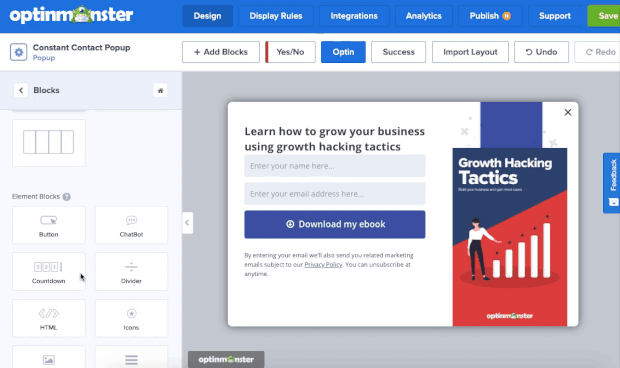 Here's the Bronto popup we created from the Magnet template: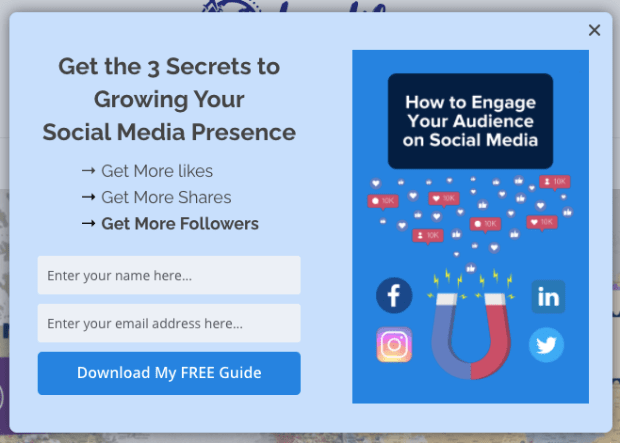 This campaign took us less than 5 minutes to build and won't take much more configuration before going live.
But before we hit Publish, we need to make sure we're targeting our campaign to the right visitors on our website.
Step 3: Set Your Targeting and Trigger Rules
At the top of your OptinMonster editor menu, click Display Rules:

This will bring you to the menu where you can decide where, when, and to whom you show your Bronto popup campaign.
There are 2 types of campaign rules you can use to personalize your popup: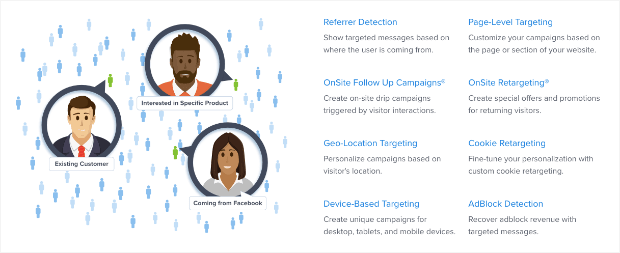 Targets rely on certain characteristics to determine whether or not your Bronto popup will appear. You can, for example, show your popup based on your user's:
Device
Current browser page
Physical location
And much more. Triggers, on the other hand, determine if your popup displays based on your user's behavior. You can show your popup to users who are:
No longer engaged with your content (Inactivity Sensor™)
Actively leaving your website (Exit-Intent® Technology)
Scrolling down a certain percentage of your page (Scroll Trigger)
And again, much more. In the end, you can decide which targeting and trigger rules are best for you.
Today, we'll add an Exit-Intent® trigger to our Bronto popup campaign. That's because exit intent popups have been proven to work so well. Just check out some of these success stories from our clients using exit intent popups:
To set this trigger, click on the default option (time on page) in your display rule menu. Then locate and click Exit Intent®: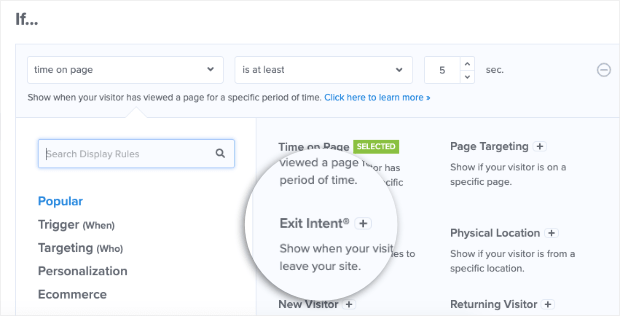 Now you can decide which device you want to show your Bronto popup on. You can choose from:

Finally, you'll need to set your Exit Intent® Sensitivity to one of the following options:

Keep in mind that this will have a larger impact if you're creating a mobile exit intent campaign. That's because your sensitivity level will change the type of trigger for your popup.
Low and Medium sensitivity will create a scroll up trigger. But High sensitivity will create a back button trigger.
To learn more about how this works, check out this post on how to create a mobile exit intent popup that converts.
Then, you should know that you can also change where your Bronto popup will appear on your website. By default, the campaign will appear on every page.
But you can click this rule to change it form a drop-down menu to show your popup on:
The homepage
Specific URLs
URL paths
And more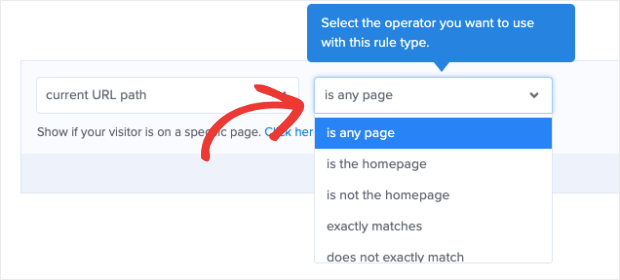 Once you've configured the perfect display rules for your target audience and lead magnet, it's time to hook up OptinMonster with your Bronto account.
Step 4: Sync OptinMonster With Bronto
Head over and click Integrations at the top of your OptinMonster editor dashboard:

In the left-hand side menu, click + Add New Integration: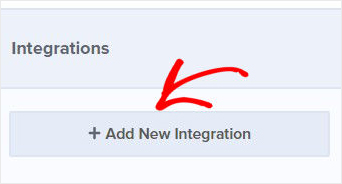 Locate and select Bronto from the drop-down list menu: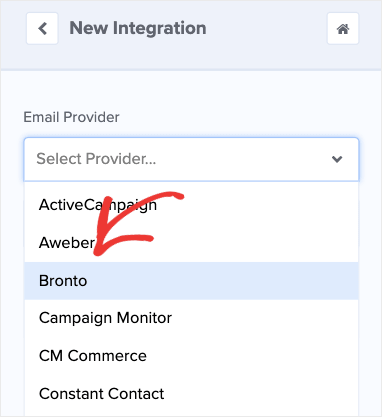 Now you'll need 2 pieces of information:
Bronto account label
Bronto SOAP API Token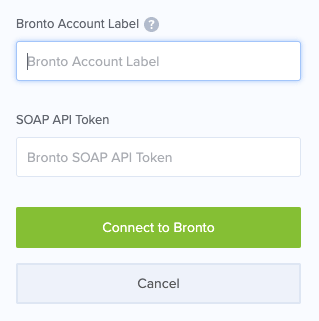 Your account label is something you'll create to stay organized. No one will see this label but you, so you can name it whatever makes the most sense to you.
You can find your SOAP API token in your Bronto account. In your dashboard, navigate to Settings » Platform Settings » Data Exchange and click Add Access Token.
Then give your token a name under Create API Token and click the Write fieldbox under Permissions & Settings: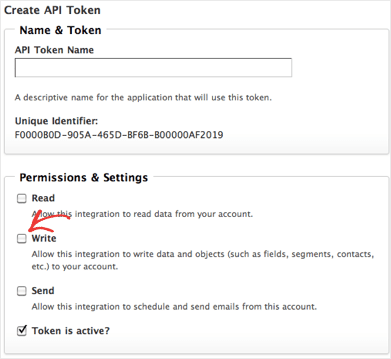 This will allow you to share your API key with OptinMonster to integrate Bronto to your popup. Make sure the box Token is active? is checked (it's the last box from the image above).
Then click Save, copy our SOAP API Token and paste it into your OptinMonster account. Finally, click Connect to Bronto: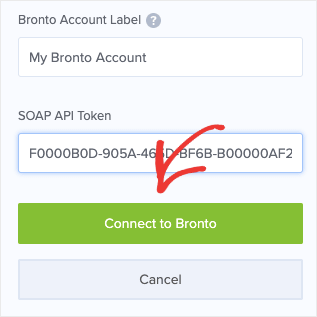 If you need more help connecting your Bronto account with OptinMonster or creating a SOAP API token, check out the following 2 resources:
Your Bronto popup is now ready to go live. To do so, click Save and click Publish at the top of your OptinMonster editor:

And toggle the switch to Live to launch your Bronto popup:

And that's it! Your new leads will go directly to your Bronto contact lists. You can then created personalized email campaigns to monetize your list and increase profits.
We hope you found this post helpful. If you did, that means you're probably interested in leveling up your email marketing game. For that, we highly suggest reading the following articles:
These posts will have everything you need to create better relationships with your clients and grow your business.
Ready to get started converting high-quality leads? Sign up for your risk-free OptinMonster account today!