Smart A/B Split Testing
No more guessing on what works. Try different content, headlines, layouts, and styles to see what converts best with our smart and easy to use A/B testing module.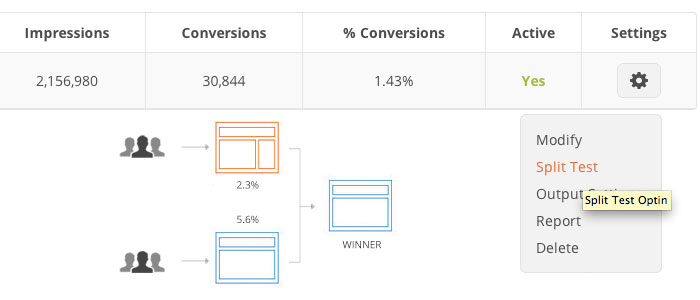 A/B Split testing is one of the most desired features, but normally it is extremely hard to setup. Well, we changed that.
OptinMonster A/B testing module is extremely easy to use. All you have to do is click on the Split test button, and it creates a replica optin. Next, you simply use our design builder to make any necessary tweaks and that's it.
The plugin does the rest for you. It randomly serves each option to see what works best for you.
Our stats module track impressions and conversion for each specific optin. These numbers will clearly indicate which option works best for you.
Using these insights, you can make educated decisions and significantly grow your email list.