Are you looking for the best blog sites to boost your business, meet more like-minded people, and write about things you love?
Whether you're sharing recipes with friends and family or running a 7-figure business, blogs are an incredibly valuable tool. And what often starts as a small hobby can quickly be turned into a way to drive passive income.
But with so many options for building your blog, how do you know which is the best one to choose?
Today, we're going to share the best blog sites that you can use to create, maintain, and monetize your blog. Here's a table of contents to easily navigate to the section or platform that interests you the most:
But first, let's look at a few of the qualities you should look for in a blogging platform.
What to Look for in a Blogging Website
Choosing the best blogging platform is important. That's because it might be difficult to make changes or migrate your blog to another platform down the road.
Here are a few things to consider before you choose the best blogging site for your goals:
1. Why Are You Starting the Blog?
There are lots of reasons people are searching for the best blogging website, such as:
Demonstrating their authority in a certain niche
Driving passive income
Sharing memories or thoughts with friends and family
Keeping an ongoing journal
And much more…
But your goal will have a major impact on the blogging platform you choose. If you eventually want to monetize your writing, then you'll want a blogging site with lots of integrations for your favorite marketing tools.
This would be something like WordPress.org that gives you tons of plugins to turn your blog into a business.
If you're just playing around, though, then a more minimalistic platform like Ghost will work just fine for you.
2. Ease of Use
You'll want a blogging platform that's easy to set up, maintain, and doesn't require any coding skills.
Think about not only where you are right now, but where you may need your blog to take you in the future. As your blog grows and gains more traffic, you might want to change up the look or add features that will dazzle your audience.
You need a blog platform that makes this easy and doesn't require you to hire a developer to get started.
3. Monetization
Like we mentioned earlier, if you think you might ever want to try to monetize your blog, pick a blog site that sets you up for success. The same blog could make millions from one platform or gather cobwebs from another.
Make sure you choose a blogging site that helps you monetize all your hard work.
Now that we know what we would be looking for in a blog, let's turn our attention to the best blog sites that you can use to start writing today.
Best Blog Sites
Before we dive into our list, we quickly wanted to mention a problem that every blogger eventually faces: getting more readers and subscribers.
For that, you'll want to use a tool like OptinMonster: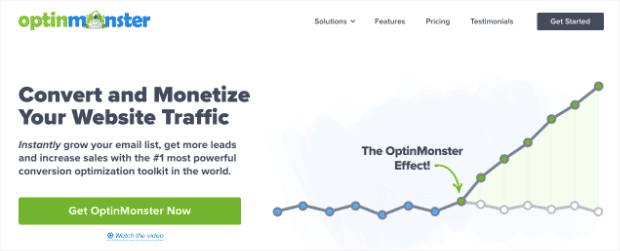 OptinMonster is the #1 lead generation software in the world, and it's the perfect marketing tool to help bloggers grow their audience.
OptinMonster lets you build stunning campaigns for your blog site like popups, floating bars, fullscreen welcome mats, and more.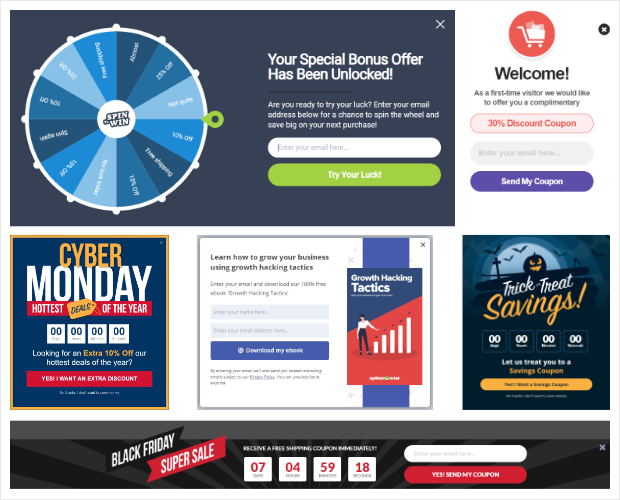 These campaigns include powerful calls to action to get your audience to engage with your brand and your content.
In just minutes, you can create beautiful campaigns that get your readers to subscribe to your blog. And you can personalize the content of your campaigns using the drag and drop builder to make sure you're getting the highest conversion rates possible.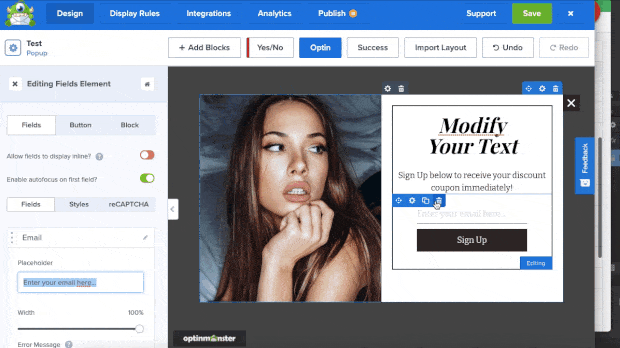 You can build everything without any coding experience or technical knowledge at all. If you can click, type, copy, and paste, then you can design professional-looking campaigns in minutes. Follow this step by step guide to create your first campaign with OptinMonster.
The best part about OptinMonster is its powerful targeting rules that let you display campaigns to the right people at the right time. You can target visitors based on their behavior, interests, and activity on your site.
For instance, you can use the Exit-Intent® rule to trigger a campaign right before a visitor leaves your site to get them to subscribe.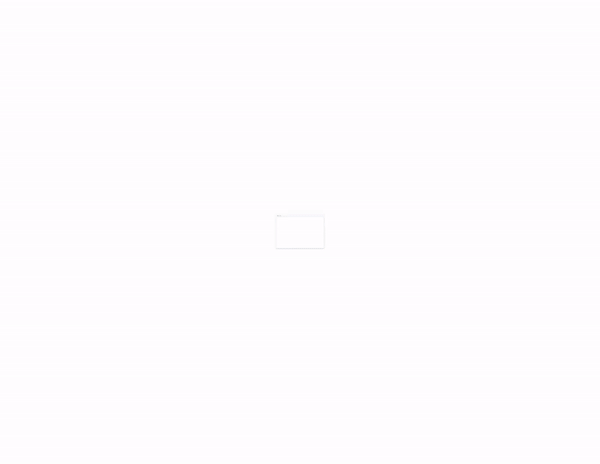 And with OptinMonster, you can monetize your blog or grow your subscriber list easily by locking premium content, and granting access to it only if a visitor signs up for a membership plan.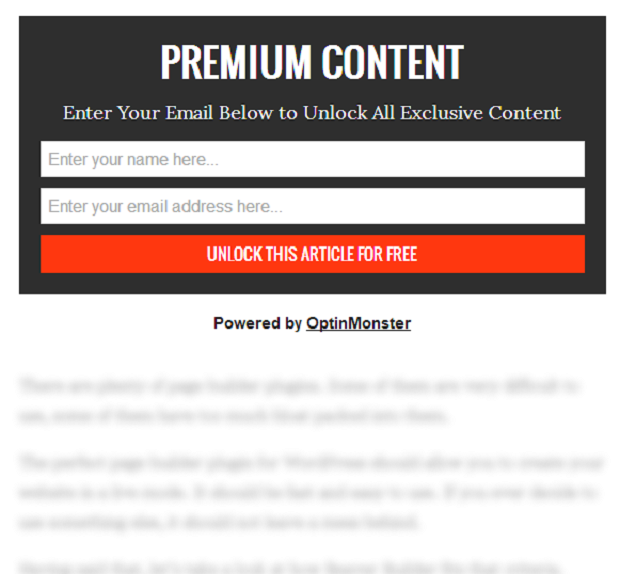 Still not convinced? Check out how RazorSocial increased conversions by 520% using content upgrades with OptinMonster.
Want to try it out? Click below to start your risk-free OptinMonster account today:
Get Started With OptinMonster Today!
BONUS: Done-For-You Campaign Setup ($297 value)
Our conversion experts will design 1 free campaign for you to get maximum results – absolutely FREE!
Click here to get started →
Now let's look at the best blog websites we found for you to start your blog today. All you need to do is pick the one that suits your goals best.

Self-hosted WordPress powers more than 30% of all websites on the internet. Yeah, it's pretty popular and some of the best blog websites in the world are built on WordPress.
It's a self-hosted platform which means that you'll need to get hosting with a WordPress hosting provider. It also means that you have to manage your own backups and security.
WordPress.org is ridiculously extendable with more than 55,000 plugins that let you add features like image galleries, paid memberships, forums, contact forms, and more. Check out our guide on the best WordPress plugins for more details.
This is one of the best blog sites if you want to have control over every aspect of your site. There are thousands of free themes for WordPress, allowing you to create a gorgeous site in minutes.
WordPress is also search engine friendly. This means that it's a breeze to create SEO-friendly URLs, tags, and categories for your posts. Plus there are tons of plugins like MonsterInsights that makes it easy to connect to Google Analytics to track and optimize your site's performance.
Plus, most web hosts have a 1-click option to install WordPress so it's really easy to get started too.
Pricing:
WordPress is an open-source, free blogging platform, but you'll need to pay for hosting (we recommend BlueHost) and a domain name (included with BlueHost hosting).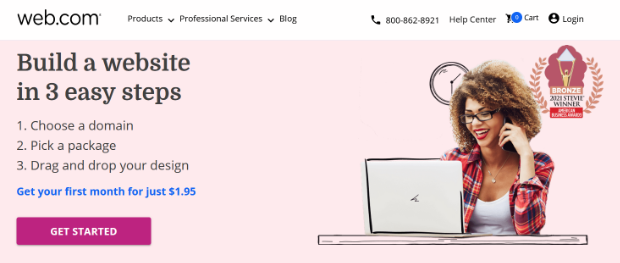 Web.com is the easiest drag and drop website builder for beginners and you can quickly start a blog at a very low price.
You don't need any technical knowledge to use the drag and drop builder. Simply drag features like photo galleries, videos, social media buttons, testimonial sliders, contact forms, and more, and drop them onto your page.
You can also use Web.com's ready-made website templates to give your blog a professional look in an instant. The templates are 100% mobile-friendly, so you can ensure your blog looks great on all devices.
Want to add an online store to your blog? With Web.com's eCommerce tool, you can add up to 50 products, securely accept credit card payments online, manage your orders, offer discounts, and more.
All Web.com plans come with a free domain name, business email address, SEO tools, website analytics, and other essential website tools.
Pricing:
The Starter website plan starts at only $1.95/month.
You can upgrade to the Marketing plan to get added SEO features starting at $2.95/month. And the eCommerce plan starts at $3.95/month.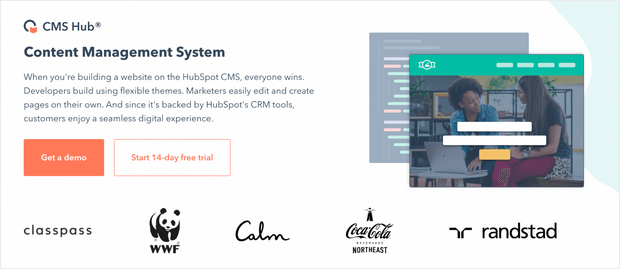 For businesses and marketers, there's no better choice than HubSpot's CMS Hub. This tool was designed to deliver fast, responsive web design for teams with limited IT capabilities.
HubSpot offers an easy-to-use drag and drop website editor that lets you design forms, pop-ups, and CTAs with your branding in minutes. The built-in SEO tools will guide you towards changes that improve organic traffic, and the website analytics help track performance.
The CMS Hub comes packed with advanced features like live chat, chatbots, email marketing, and shared inboxes. Mobile designs are also responsive and easy to test out.
HubSpot's security features like standard SSL certification, global DSN, and 24/7 security monitoring are the real stars here. Unlike self-hosted WordPress sites where you have to take care of security yourself, HubSpot takes out the guesswork so you can rest easy knowing your website is safe.
Pricing:
HubSpot CMS Hub plans start from $25/month. That includes hosting at 99.99% measured uptime, tech support, and dozens of features usually only available as premium plugins.
While there's no free CMS option, there is a 14-day free trial, and you can try some of HubSpot's other business or marketing tools for free.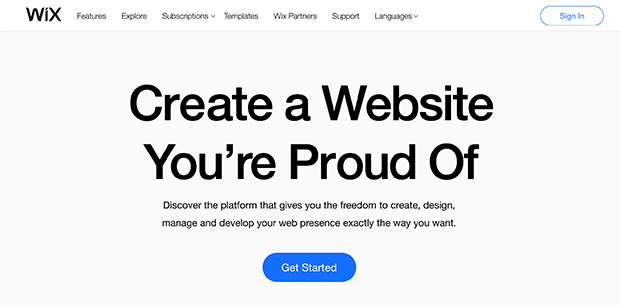 Wix is a hosted website platform that is a great solution for small businesses. You can also add a blog to your website with Wix Blog app.
Building your site with Wix is easy using its drag and drop tools. Plus, you can customize your site with dozens of templates and 3rd-party apps.
Wix offers a free account that includes a Wix subdomain (username.wixsite.com/example); it's limited in features and shows Wix branding and ads on your site.
Take note, once you choose a template with Wix you can't change it.
Pricing:
Free plan available. Add a custom domain for $4.50/month. Paid plans start at $8.50/month and go up to $24.50/month.
You may also be interested in the following post: Wix Email Capture: 5 Ways to Grow Your Email List.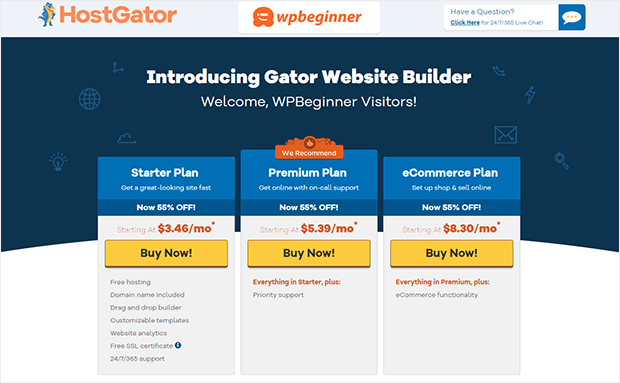 Gator is a site builder and blogging platform from HostGator, a popular web hosting company. Gator includes a drag and drop editor you can use to build blogs, eCommerce stores, and business sites.
The great thing about using Gator by HostGator to build and host your site is that backups, performance, and security are all handled by HostGator. So, you don't have to worry about it!
Plus, it comes with a free domain and SSL certificate with all plans.
Gator doesn't offer free accounts and eCommerce features are restricted to higher-end plans, but there is a 45-day money-back guarantee.
Pricing:
The Starter plan is $3.84/month and comes with everything you need to start a successful blog.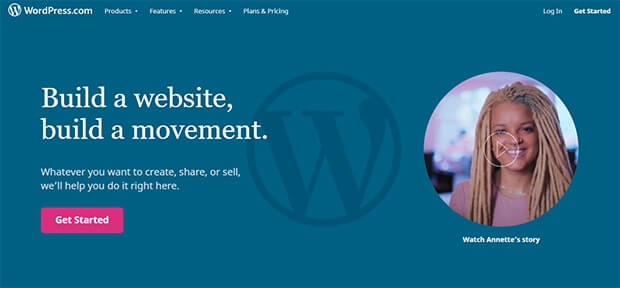 WordPress.com is a simple and easy to use blog hosting service offered by Automattic (the folks that created WordPress.org). You can create a basic WordPress blog and add limited plugins. If you need a custom domain name, more storage, or other services, you'll have to purchase them separately.
This is a free option if you don't mind having a WordPress.com subdomain (example.wordpress.com).
Pricing:
A basic WordPress.com account is free, but it'll have WordPress branding and ads. Paid plans start at $4/month (billed yearly).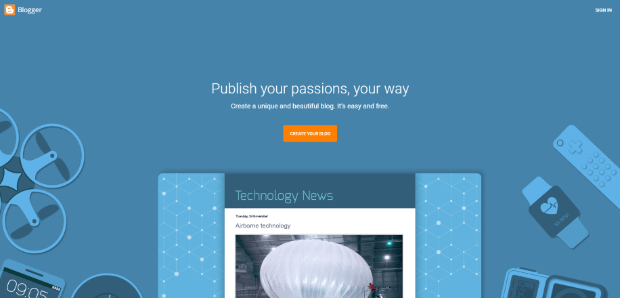 Blogger is Google's free blogging service and it's a quick, easy way for non-tech folks to start a blog. Plus, it's been around forever… since 1999!
While Blogger is free, you'll be limited to basic blogging tools, limited design options, and low-quality 3rd-party templates. If that doesn't bother you, and you're only looking for a simple blog site, then you'll be building your blog on Google's reliable and secure platform.
Pricing:
Blogger is free with a Blogspot subdomain (example.blogspot.com). If you want a custom domain, you'll need to buy one.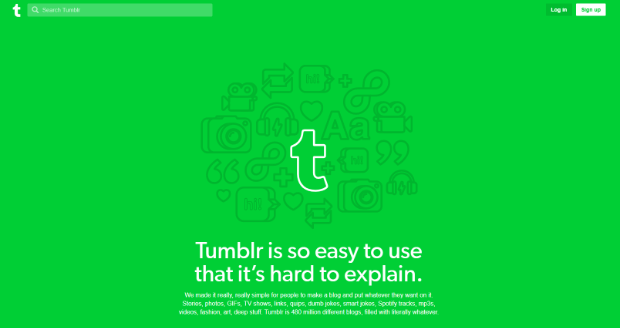 Tumblr is a social media-meets-blogging platform. You can do cool things like reblogging and sharing, just to name a couple.
Tumblr is free with a Tumblr subdomain (example.tumblr.com) but you can also connect a custom domain name that you've purchased.
This is what is commonly called a "microblogging tool." It makes it really easy to blog videos, images, audio, and GIFs.
Pricing:
Tumblr is free to create blog sites. You can purchase and use a custom domain as well as 3rd-party themes and apps.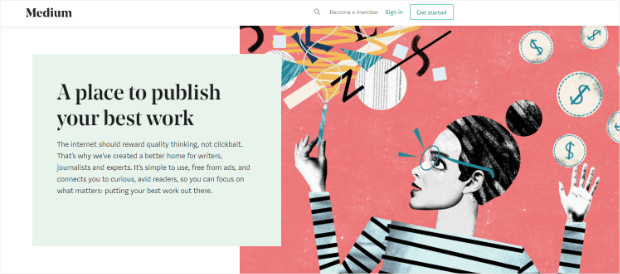 Medium is an online community of writers, bloggers, and journalists. The platform is easy to use and has limited social networking features.
After signing up for Medium, you'll have your own profile address (medium.com/yourusername), but you can't use your own domain.
Since you won't be hosting your blog on your own site, you don't own your audience, Medium does. This means that if you lose your blog for some reason, you can say "buh-bye" to all your followers.
However, not running your own website might be appealing to some since it lets you focus on writing instead of everything that goes with having a site.
Pricing:
You can create blog sites on Medium for free.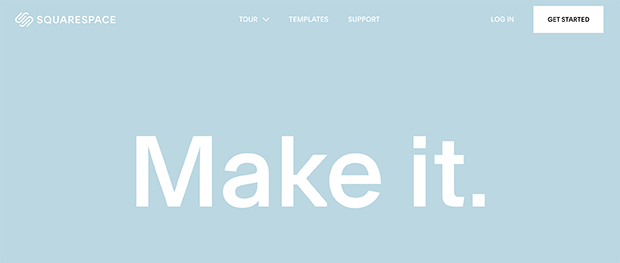 Squarespace is one of the best website builders around. With it, you can create stunning sites easily using its drag and drop tools. Squarespace has many professionally-designed templates and works great for small businesses and beginners who aren't super tech-savvy.
On the downside, Squarespace is a proprietary platform, so you're limited to the features that are built-in. And, while there are integrations, they're limited to a few services and tools.
Pricing:
Pricing for the Personal website plan starts at $12/month (annually). Business plan pricing starts at $18/month (annually).
If you want to set up your eCommerce store with Squarespace, pricing starts at $26/month and goes up to $40/month.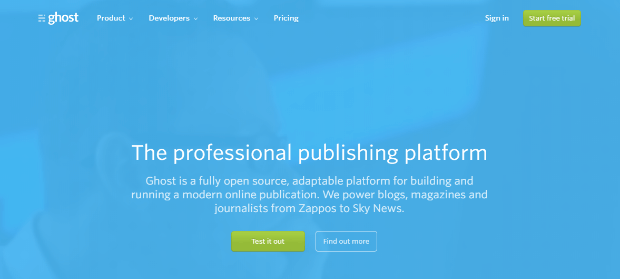 If you like that minimalist vibe, Ghost has you covered. It's a minimalist blogging platform with features designed to keep you writing blog posts. As such, it has a clean, intuitive interface.
You can get Ghost as a hosted version or as software you install and host yourself.
Ghost isn't easy to customize with apps and doesn't come with many themes to change your site's appearance. And, if you go the self-hosted route, setup is a bit complicated.
Pricing:
With the self-hosted plan, you're going to need a custom domain (around $15/year) and web hosting (roughly $8/month).
Pricing for the hosted plan starts at $29/month and includes 2 users with a 100K pageview limit. If you don't want to buy a custom domain on your own, your blog will use a Ghost subdomain (username.ghost.io).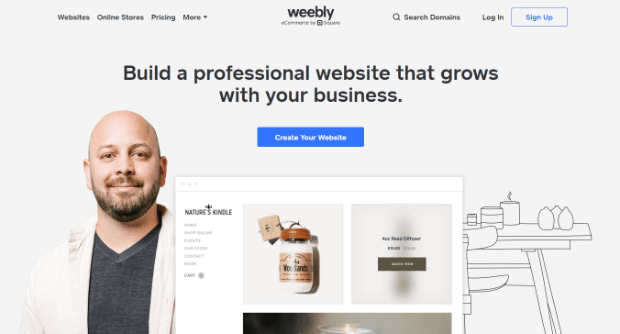 Weebly has an easy-to-use drag and drop builder that makes it really easy to build the website you want. And, all plans come with a free SSL certificate.
You can easily add a blog to your Weebly site as well as integrate an eCommerce storefront.
Despite its ease of use, Weebly has limited built-in features and limited integration with 3rd-party platforms. Plus, it's hard to export Weebly to another platform should you decide to leave.
Pricing:
A limited free plan is available. To add a custom domain, it will cost you $4/month. Also, to remove Weebly brand ads from your site, you'll need to upgrade to the Starter plan for $8/month.
To build an eCommerce store, choose the Business plan for $25/month.
Get More Blog Subscribers Today!
So Which Blog Site Is Truly BEST?
Now that we've compared the features, pros and cons, and pricing of all the blogging platforms out there, we can give you our verdict on which one is #1.
Out of all the options covered on today's list, we highly recommend self-hosted WordPress.org site.
WordPress.org is the most flexible, powerful, and cost-efficient way to create your blog. It has a low learning curve and comes with tons of helpful plugins to help you market and monetize your online writing.
Anyone can get started with WordPress, and there's a reason why it's become the most popular blogging site on the planet.
And that's it! These have been the best blog sites that you can start using to create, maintain, and earn money from your blog.
We hope you enjoyed this post. If so, you might want to check out the following resources:
These articles will have everything you need to grow and drive more revenue from your blog.