Looking for a surefire way to persuade people to buy your products?
Customer testimonials are a powerful tool that every marketer should have in their arsenal. In this post, we'll share 10 different types of customer testimonials examples that you can use on your website.
More specifically, we'll cover examples including:
But before diving into all that, let's take a look at what makes customer testimonials so effective in the first place.
Why Customer Testimonials Work Like Magic
From choosing a restaurant for dinner tonight to shopping for a luxury vehicle, people want to know that they are making the right decision before they buy.
When searching for the answer to that question, shoppers almost always turn to other shoppers.
This phenomenon is known as social proof: a psychological mechanism where people tend to follow the actions and behaviors of other people, in an attempt to make the "right" choices.
The best way to leverage this phenomenon of social proof is with customer testimonials. By showcasing your existing clients, you can persuade potential leads to buy your products.
So how can your business use customer testimonials to convince shoppers to buy? That's exactly what we'll be covering next.
Because we're about to show you 10 types of customer testimonials that you can embed on your website to get even MORE testimonials today.
10 Types of Customer Testimonial Examples
The following types of customer testimonial examples can be used in a variety of ways. You can add them to your website, embed them in blog posts, reshare them on social media, and much more.
We highly recommend trying to get each type of customer testimonial and leveraging this social proof to grow your business faster.
1. Quotes
Quote testimonials are the most popular form of testimonials. They're powerful, they're credible, and, most importantly, they're effective.
As the name suggests, these are testimonials simply pull a quote directly from a customer.
Here's an example of using a customer quote from one of OptinMonster's campaigns: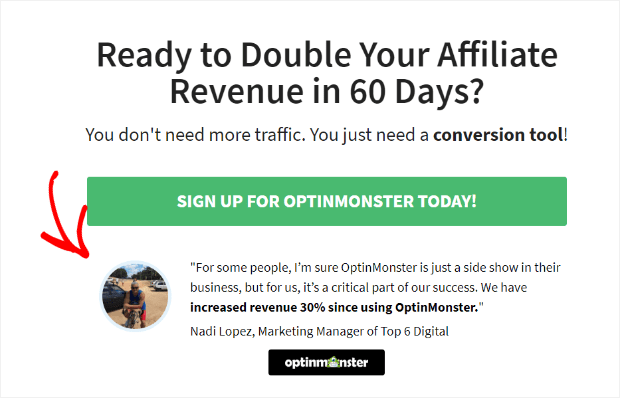 This example is highly effective for 2 reasons:
It uses a testimonial with a photo to build credibility
It's displayed on a popup campaign
Popups have been proven to increase conversions. Especially when you add custom triggers to the campaign to attract visitors based on their behavior.
In fact, a simple popup with an exit-intent trigger is how Crossrope increased its email list by 900%.
Adding a customer quote only increases your chances of converting your site's traffic. If you can, add a high-quality image of the customer providing the quote.
This adds extra credibility to your campaign and will boost your conversion rates for signups, pre-orders, revenue, and more!
Want to see more conversions on your site?
Get Started With OptinMonster Today!
BONUS: Done-For-You Campaign Setup ($297 value)
Our conversion experts will design 1 free campaign for you to get maximum results – absolutely FREE!
Click here to get started →
2. Social Media Posts
With the popularity of social media, getting customer testimonials is extremely convenient.
All you have to do is pull screenshots from a Facebook post or a Twitter update, and you have instant proof that your customers love your products.
No one questions the authenticity of these screenshot testimonials. Many of these social media posts are public, so if someone wants to check it out for themselves, they can usually do so.
Here's an example of a testimonial pulled from Facebook: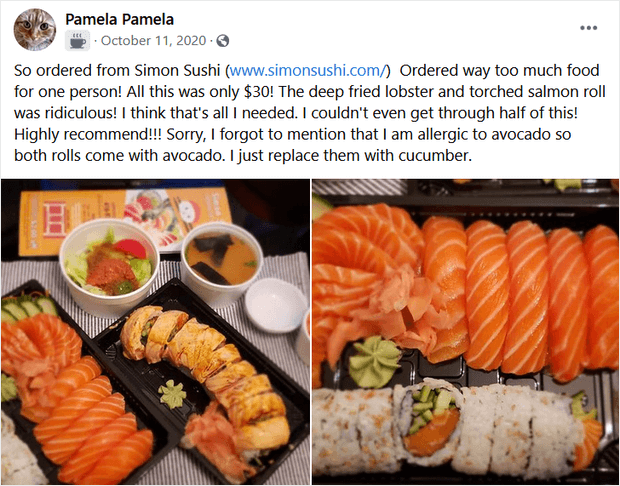 To get social media testimonials like these, keep your customers engaged with your social media accounts by posting regularly yourself, and encourage them to tell you about their experience with your products.
And instead of taking screenshots, you can keep your website automatically updated with social media testimonials using a plugin like Smash Balloon.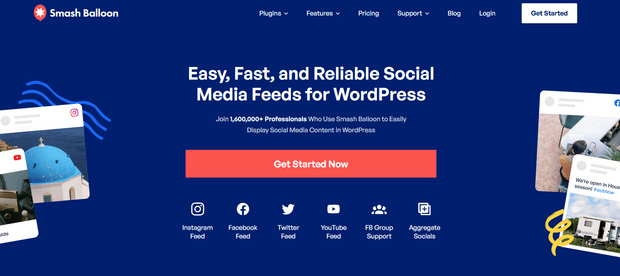 With Smash Balloon, you can easily create a feed of tweets that mention your account or use your branded hashtag. Or, you can embed a feed of Facebook reviews on your website.
Here's an example of a Twitter testimonials feed: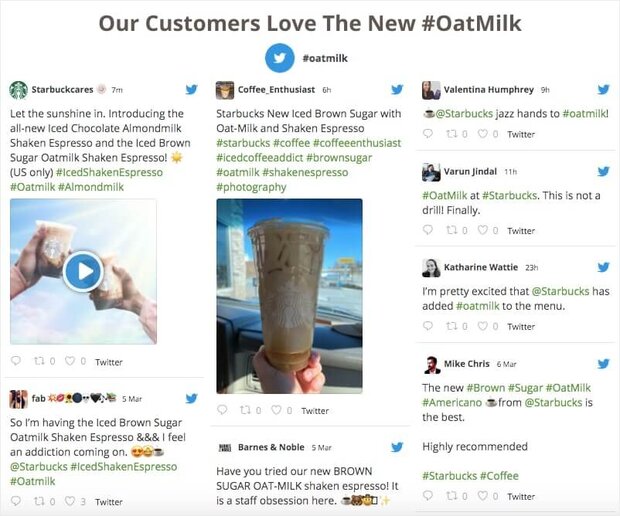 Setting up a feed is super simple, you can design the feed to match your brand, and you can control exactly what content is displayed in your feed.
3. Case Studies
Case studies can also serve as customer testimonials when you take small sections of them.
For instance, you could take a full-blown case study and break it down into brief, digestible tidbits. Then, showcase these tidbits on a product page.
You can link back to the full case study so users can conduct a further investigation if they desire.
Here is an example of a case study for one of our customers, DealDoktor: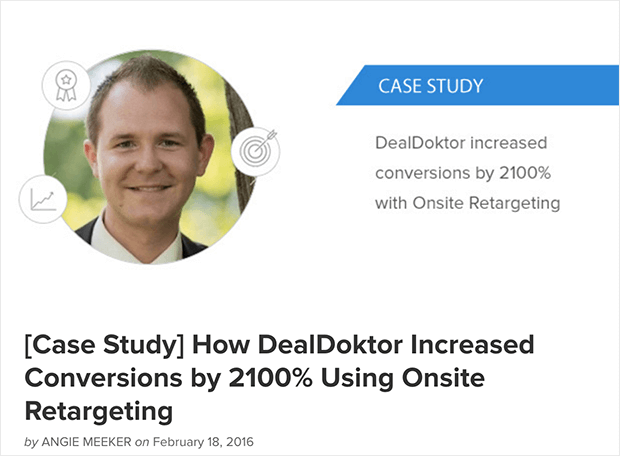 We used the full case study as a blog post and used just a small quote from it on our Testimonials page. Then we linked back to the full case study.
Here's what that testimonial looks like:

4. Video Testimonials
Video testimonials have quickly gained popularity in recent years, and it's become easier than ever to create and publish videos on your website.
The great thing about video testimonials is that they really stand out and make a big impression. There's just something about seeing a talking head and hearing an actual voice that establishes likability and trust.
Timothy Sykes features his top student front and center in a lengthy video on his "Testimonials" page: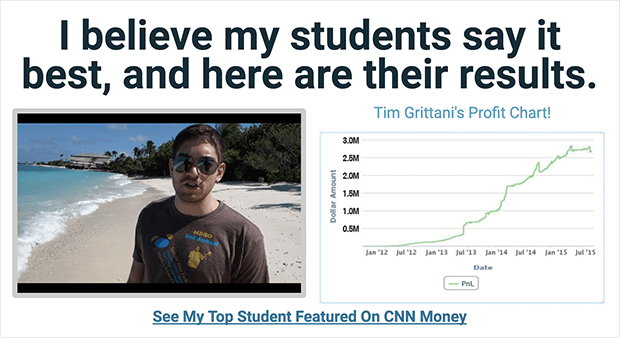 In fact, the entire page is filled with video testimonials.
5. Interviews
Interviews are especially effective because they help to get more details from the customer about their experience, painting a vivid picture in the minds of your prospects.
To get a great interview, make sure you ask questions that elicit a story about how and why your customer came to buy your product.
Here are some examples of questions to ask your customer in an interview (suggested by Sean D'Souza):
What was the obstacle that would have prevented you from buying this product?
Would you recommend this product? If so, why?
What did you find as a result of buying this product?
Is there a specific feature you liked most about this product?
What would be three other benefits of this product?
Is there anything you'd like to add?
6. High Profile Testimonials
People tend to place a higher value on something when an authority figure approves of it. So if one or more of your customers are well-known or authorities, make sure to feature those people on your website.
These customers could be celebrities, well-known professionals in your industry, or people who have certain qualifications that make them authorities.
On our Testimonials page, we showcase our customers Michael Stelzner, Joost de Valk, Chris Brogan, Neil Patel, and many other high-profile authorities.

If you can't get an actual testimonial, simply drop the names of your high profile customers.
Or, display the logos of high profile companies you've served like Neil Patel does on his "Consulting" page: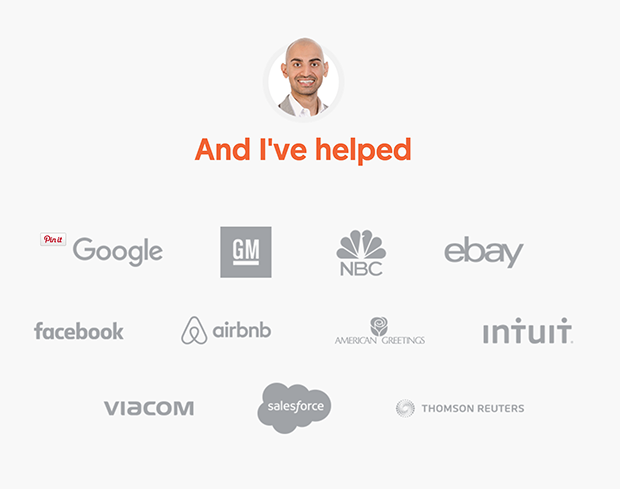 7. Press Reviews
Press reviews are persuasive because they come from sources who are professionally qualified to speak on the topic.
For example, new restaurants often try to get reviews from local restaurant critics. Here's an example from the LA Times: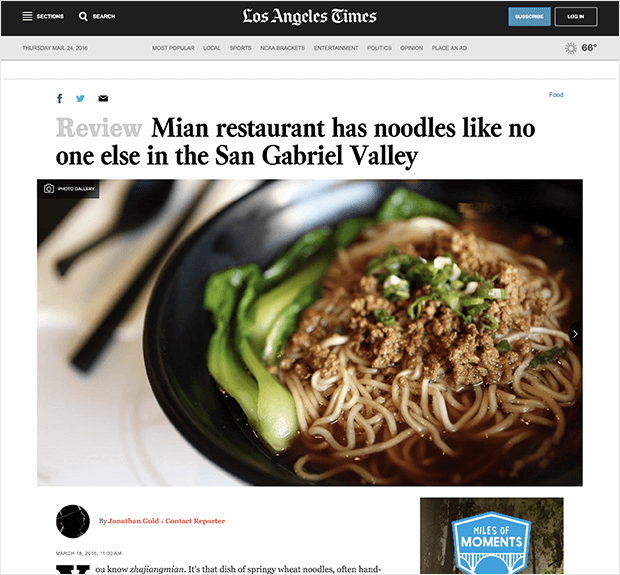 The key to getting press reviews is making real relationships with the right people.
Press reviews aren't easy to come by, but when you do land one, it can make your brand popular in an instant!
8. Peer Reviews
Remember what we said about how people are influenced by the behaviors of other people like them? That's why peer reviews–especially from people who resemble your customer profile–are so powerful.
Yelp is a great place to get peer reviews. You can use a screenshot to place these reviews on your website.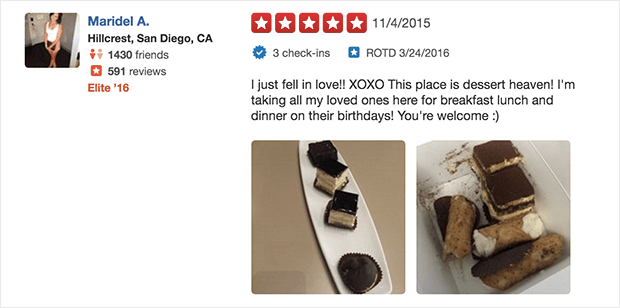 But there are a lot of other review sites and apps besides just Yelp. Here are a few:
9. Image Testimonials
You may have seen this type of testimonial in the past, and it's usually limited to healthcare/fitness niches. That said, you can use these if your business has any kind of "Before/After" effect on your customers.
Here's an example from the skincare company Bioclarity: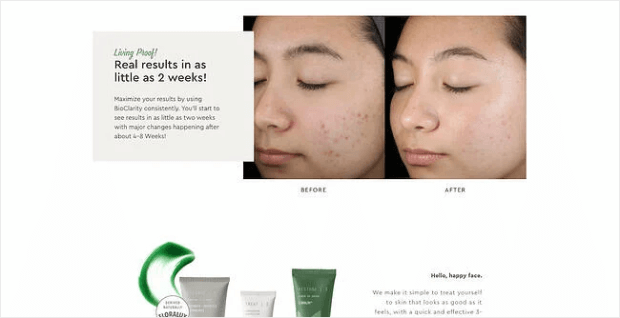 This can be one of the most powerful types of customer testimonials. It doesn't require any commentary from the actual customers.
Instead, the images show the radical transformation your product or services can have.
It's like they say, "a picture is worth a thousand words."
10. Blog Testimonials and Reviews
Finally, you might be lucky enough to have customers write blog posts or reviews about your products.
These can be incredibly effective at showcasing your product or services from a neutral point of view. Plus, these are fairly common types of posts.
You'll see product reviews across most websites, including our own. Here's an example of an OptinMonster review from the WPForms blog: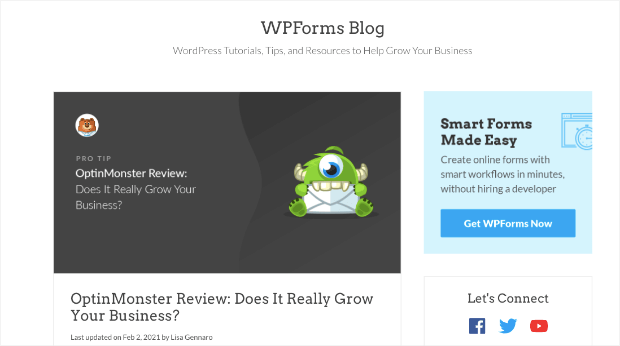 These are excellent resources for sharing across social media, using for social proof in your own blog posts, sending to your mailing list, and much more.
Now that we've seen 10 customer testimonial examples, let's quickly look at 3 ways you can increase your testimonials/reviews.
How to Boost Customer Testimonials
1. Leverage Social Proof Notifications
If you're serious about getting more customer testimonials, then you'll definitely want to add social proof notifications to your website.
These are small, non-intrusive messages that show your site's traffic how others are engaging with your brand.
As a result, your site's visitors get hit with a dose of FOMO ("fear of missing out"), and they're more likely to take the same actions as others.
That means you can quickly create a notification for when someone leaves a review or testimonial on your site. And this will motivate more of your customers to do the same.
But how do you create customer testimonial notifications if you're not a professional coder?
The easiest way is with a tool like TrustPulse: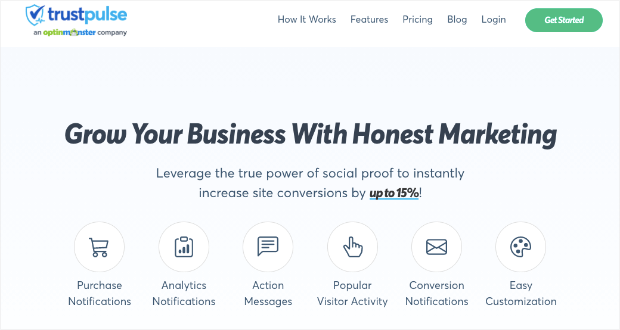 TrustPulse is the BEST social proof software on the market and the easiest way to increase customer testimonials FAST.
That's because TrustPulse gives you everything you need to create your notifications without requiring any technical skills.
Instead, you can design these notifications to suit your exact needs. That means you can change the image, text, link, and layout of your notification to match your brand's unique style.
Then you can create a trigger to make the notification display, like when someone leaves you a review on Google My Business or Yelp.
So let's say you want your site's traffic to see when someone leaves your business a review on Google.
You create your notification and sync it with your Google My Business account through the TrustPulse Zapier integration.
Then when someone leaves you a review, the following message appears on your website:

When users click on the notification, they'll be redirected to your Google review. As a result, they'll be more likely to leave their own customer testimonial on your behalf.
You can even tailor the message to ask customers to leave a review, depending on where they are in their customer journey.
Social proof notifications are one of the easiest ways to get more customer testimonials in less time. And TrustPulse users have been shown to see an instant boost in sales by up to 15%.
Want to see it in action for yourself? Try out TrustPulse today 100% risk-free!
2. Reward Customers for Sharing Their Experiences
Offering a discount, coupon code, or extra product as an incentive to review your business's products is one of the most effective ways to increase the number of reviews you receive.
Add an incentive at the checkout page to get the most reviews. If you can capture customers at the moment of their purchase, your brand will be fresh on their minds, and excitement for their new product will be high.
This is the perfect time to get them talking about your business through a review.
Or you can send an email thanking customers for their purchase and offering them an exclusive discount or coupon code for writing a review on your company.
This also gives users a chance to test your product before they leave a review, which sometimes might be necessary.
That said, the longer you wait to ask for a customer testimonial, the harder it will be to get users to give you one.
3. Segment Your Emails
Audience segmentation is the process of dividing a larger group into smaller groups (or "segments") based on their similarities.
It's a way to organize and categorize your audience, so you can target them more easily and know the types of content that will appeal to each of those groups.
Take this example: You're a marketing manager for a popular food company, which makes and sells orange-flavored dog biscuits. Your job is to increase the number of sales from your current customer base by getting more online reviews.
First, you want to figure out which online groups of people are most likely to buy your product—let's call these people your "market segments."
So how do you go about doing this?
The first thing to do is look at who you already sell to. If the customers who have given a review tend to be older than those who haven't, you might want to create a segment of your audience who are seniors.
If another segment is more likely to buy products directly from Amazon rather than from your company's website, there may be a significant opportunity to build sales around that group specifically and drive them back to your business.
There are many ways you can segment your audience, but the most effective method is to figure out which parts of your audience have similarities in demographics and online behavior.
This will help you to determine what content they might respond to and increase your chances of getting more customer testimonials.
Looking for even more ways to increase customer testimonials? We've written an ultimate guide on how to ask for a testimonial including 7 tips from industry experts as well as templates.
Remember: testimonials are critical for making sales, so don't delay. Choose one of the types of testimonials above and implement it on your website today!
And that's all for today. These have been 10 types of customer testimonial examples, along with 3 concrete strategies for getting more.
We hope you enjoyed this post. If you did, you'll definitely want to check out the following:
These articles will have everything you need to improve social proof on your site so you can start generating higher sales today!