Are you struggling to generate leads and turn them into paying customers? Smart marketers know that conversions are dependent on how well you nurture your leads, from the moment they sign up for your email list to the time when you make your sales pitch. In this post, we'll cover 6 lead nurturing mistakes that are costing you thousands of conversions.
Imagine a business with an excellent product and competitive pricing, but not a single customer to buy.
That's a bummer, right?
Well chances are, that business hasn't been nurturing their leads.
In a study by Marketing Sherpa, fixing lead nurturing mistakes lead to a colossal 79% increase in conversions. That's thousands of recovered conversions!
When done right, lead nurturing can help you to generate more leads and convert more prospects into customers, resulting in a huge increase in revenue.
Here's an example of what the lead nurturing process might look like: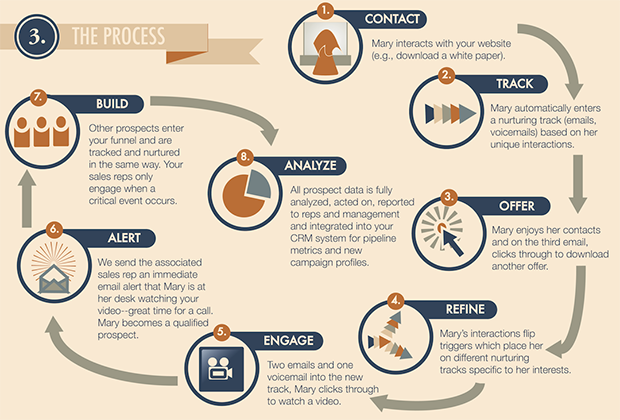 As you can see, leads don't turn into customers instantly. You have to warm them up first, and systematically build a relationship with them before they will be ready to buy. Your job is to put an effective system in place to create that individualized journey for each lead who comes across your site.
Unfortunately, most marketers make some fatal mistakes along the way that are killing their conversions.
Are you making one of these lead nurturing mistakes? Let's find out…
Mistake #1. Skipping the Research Phase
When it comes to generating leads and making sales, understanding your ideal prospect is everything.
And that takes quite a bit of research.
This is the phase of the process that most people would like to skip over, but if you, you are virtually guaranteed to fail. No matter what your product or service, you cannot sell it to anyone unless you truly understand the person who it is absolutely perfect for.
If you already have some sales under your belt, survey your customers. Find out why they bought your product and try to get to know them better. What did their situation look like before your product? How did it change after they bought your product? This information is key to finding and converting more people like them.
If your business is completely new and you have zero customers, you'll have to do a bit more digging. Use tools like Facebook's Audience Insights to learn about your competitor's audience.
All you have to do is enter your competitor's Facebook page into the Interests field, and all sorts of information on their audience will come up: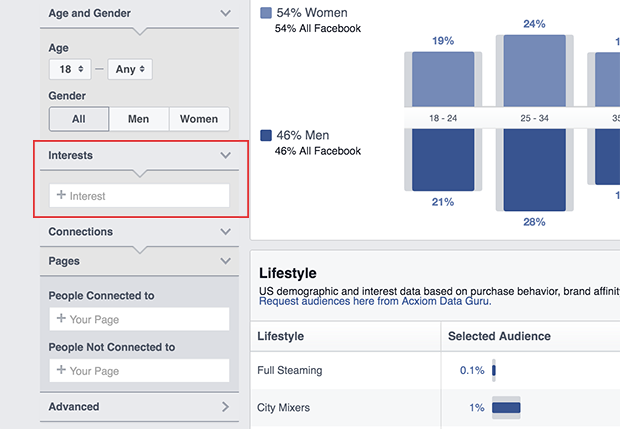 You can also use other social media platforms like Quora to discover what problems your target market is struggling with. Just search for a related topic, and all the questions on that topic will come up (e.g. "nutrition"):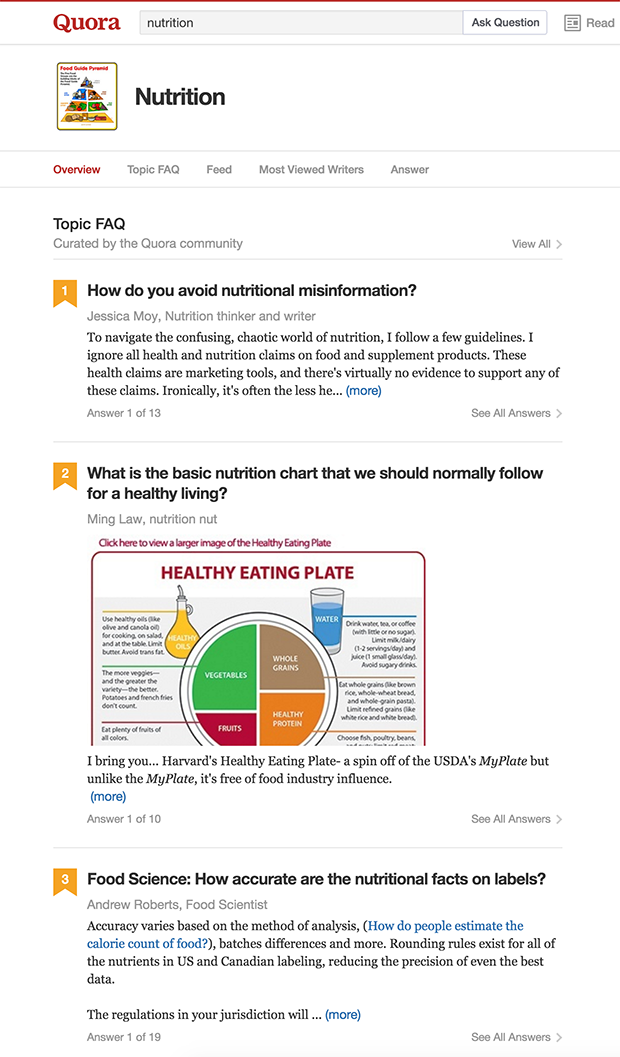 Another great way to learn about your ideal prospects is by looking at Amazon book reviews related to your product or solution. For example, you could look at nutrition book reviews (both positive and negative) to learn more about the struggles that people are facing in regard to eating healthy.
Mistake #2: Not Optimizing Your Lead Magnet
Hopefully, you are already using a lead magnet to ethically bribe prospects to give you their email address.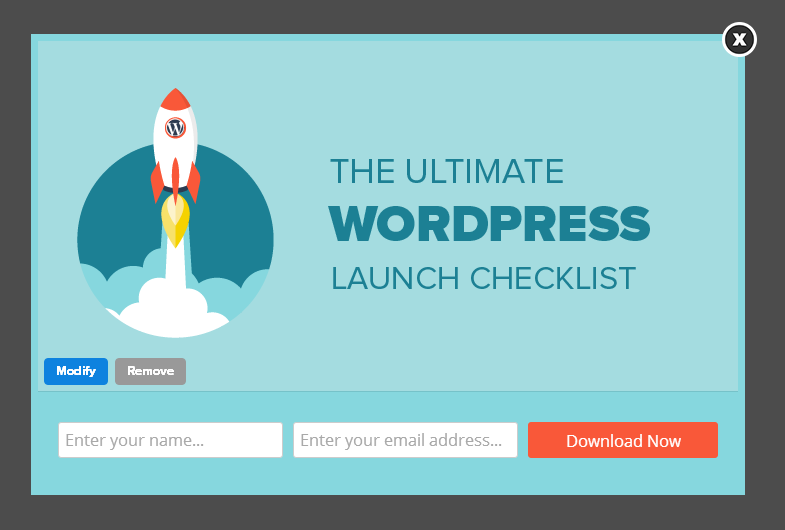 Email is the most important information to capture for any online marketer, and it matters far more than any number of social media followers.
However, although most marketers now understand the importance of email, what most marketers don't understand is how to fully optimize their lead magnets.
When you maximize their potential, lead magnets can boost lead generation and conversions by as much as 400%! However, if you lead magnet isn't enticing or it isn't placed properly on your website, then it will fall flat.
Here are the key ways that you should be optimizing your lead magnets to get the most conversions as possible:
Your main, catch-all lead magnet should solve a big problem that your buyer persona is facing.
For blog post pages, use content upgrades as your lead magnet (these are lead magnets that you create specifically for an individual blog post, and they help the reader take the next step after reading).
Your optin form should be fully optimized for conversions (use our 63-point checklist for creating the ultimate optin form).
Your optin form should be placed on these 14 high-converting places on your website (you should always include an exit popup and a scroll popup, in addition to embedding the form within your content).
Make sure that the lead magnet itself is well designed and valuable so that your prospect will be really impressed when they download it.
Split test your lead magnets to see which offers resonate the best.
Recommended Reading: Lead Magnet Blueprint: How to Create a Lead Magnet that Converts
Mistake #3: Failing to Implement a Lead Nurturing Email Campaign
Some marketers have no problem capturing leads, but they still struggle to make sales. This problem is most commonly caused by a lack of an effective lead nurturing campaign.
Imagine yourself in the shoes of your prospect. They visited your website, they liked what they saw, and they loved your lead magnet. Now what?
Don't drop your download and then leave your leads in the cold. Here's an example of what your lead should experience instead: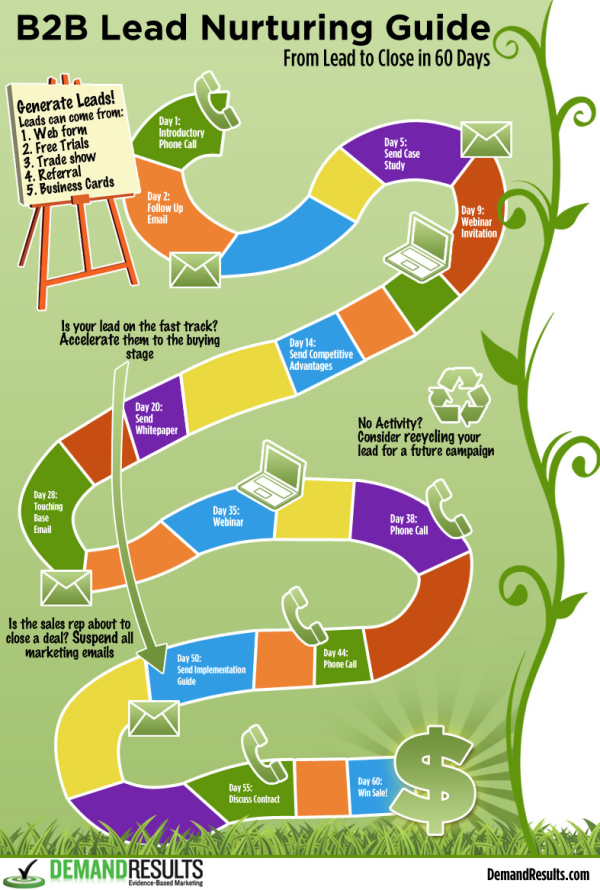 Here are some steps to create a similar lead nurturing campaign that converts prospects into buyers…
Step 1. Choose a goal for your lead nurturing campaign.
What is the end action that you want your prospects to take? What product or products do you want them to purchase, and in what order?
This sounds simple, but defining your goals will help you to reverse engineer the journey that your prospect will take to become a paying customer.
Step 2. Segment your list.
Your lead nurturing campaign should look a bit different for each lead, depending on how they got on your email list in the first place and what their particular interests/needs are. Doing this can get you 14.45 higher open rates and 62.835 higher click-through rates, on average.
To segment your list, break it down into smaller groups based on specific criteria, such as demographics, buyer personas, interests, stage in the sales cycle, etc. To learn all the different ways of segmenting your list, check out our other post on 50 Smart Ways to Segment Your Email List Like a Pro.
Step 3. Choose a robust email marketing software.
For your lead nurturing campaign to be effective, you'll need the right tools to get the job done. That means getting an email marketing software that is robust enough to handle your segmentation and autoresponder needs.
Some good options include:
I personally use ConvertKit, and I am very happy with the level of options and service for the price.
Step 4. Map out your entire campaign.
Create an outline of the emails that you will send out to each segment of your list. These emails should include both value-driven emails and offer-driven emails so that your subscribers get to know, like and trust you before you ask for the sale.
Also, keep in mind that many prospects will not buy the first time you ask, however they may buy from you down the road. Remember not to rely completely on one email autoresponder series: you'll need to have a plan for continued interaction with your email list even after the series has ended (e.g. you could send your subscribers an email whenever you publish a new blog post).
Step 5. Write your autoresponder sequence.
Now it's time to write out your sequence. That's a big topic in and of itself, so we have provided you with another post which covers 19 Quick and Dirty Tricks for Writing Better Emails.
In general, write as if you were talking to just one person instead of to your entire list as a whole, and use language that they will relate to on a personal level (avoid dry, corporate speak).
Step 6. Monitor and improve your campaign.
As with any campaign, you will want to monitor, test, and improve your lead nurturing sequence. Use your email marketing analytics to discover where your subscribers are dropping off.
You can also send surveys to your list at critical points throughout your sequence to help you troubleshoot why someone isn't buying, or what they would be more likely to buy instead.
Recommended Reading: 6 Steps to Create an Effective Email Autoresponder Series
Mistake #4. Ignoring the Follow-up
When one of your leads raises their hand and expresses that they are actually interested in your product, do you follow up with them?
Maybe they didn't buy right away because they had to think about it. Are you reminding them that they need to make a decision?
For the most part, the extent to which you successfully turn a lead into a purchasing customer depends on how well you follow up with the lead. In other words, the big obstacle that stands between converting a prospect into a buyer is the task of following up.
Studies show that approximately 40-50% of leads are not followed up! That's a huge wasted opportunity, not to mention that many of those lost leads (if not most) will likely end up buying from a competitor.
Here are some follow-up best practices that you can implement right now:
Use your CRM system to check and follow up with all your leads.
Be responsive to prospects by providing answers to all their questions.
According to the Havard Business Review, businesses that get in touch with potential customers within an hour of receiving inquiries are nearly 7 times more likely to convert leads. So follow up fast!
Automate what parts of your follow-up system that you can. You won't be able to automate your one-on-one calls of course, but you can still automate things like your lead nurturing campaign (described above) and your call scheduling.
Here are some recommended tools that can make the follow-up process less of a headache:
Mistake #5. Lack of an Effective Sales Pitch
While a sale starts with finding hand-raisers for your offering, it doesn't end there. It doesn't even end with your follow up.
The final step is your sales pitch.
Whether or not your sales pitch is actually effective at converting prospects into buyers will determine your success or failure. So how do you create a good sales pitch?
In online marketing, there are two basic types of sales pitches: pitches that are designed for the masses (usually in the form of a sales page, a webinar or an email broadcast), and pitches that are made one-on-one (via a phone call or a personal email).
Your product (and your personal preference) will determine which form of pitch you choose. For example, a very high-end product would sell much better over a phone call than via a mass-broadcasted email.
Once you know how you will make your pitch, you'll need to either master the delivery of your pitch yourself or hire others to create the pitch for you.
For instance, if you are using a sales page to make your pitch, you can hire a good copywriter and a designer who understands marketing to create the page for you. If, however, you will be delivering your pitch over the phone, you may want to hire a coach to help you craft and rehearse your pitch.
Remember: this is the last opportunity you have to convert your prospects, so make it count, and invest in expert help as needed!
Mistake #6. Not Testing & Tweaking Your Campaigns
You've probably read about the importance of testing many times, so let's get straight to the point: are you testing your campaigns?
If the answer is no, why haven't you?
Most people put this off because, frankly, testing can seem overwhelming. You have to come up with a hypothesis, test that hypothesis by coming up with a variation of your campaign, then you need to analyze the results and figure out what worked and what didn't before you can act on those results. And when the technology isn't as easy as it could be, the whole thing can start to really make your head hurt.
Thankfully, the tools are getting better. These days, there are some pretty awesome tools that can help you to split-test and analyze the results of your campaigns with the push of a button.
Here are the top tools we recommend for simplifying the testing process and maximizing your conversions:
OptinMonster – makes A/B testing your optin forms a breeze with the ability to try different content, headlines, layouts, styles, and opt-in triggers, all with one simple split test button.

CrazyEgg – ideal for mapping out the actions and attention of your website users.
AB Tasty – one of the most comprehensive AB testing and multivariate testing apps.
LuckyOrange – the perfect tool for evaluating why users aren't filling out your contact forms.
Recommended Reading: 36 Conversion Rate Optimization Tools that Pros Can't Ignore
The Bottom Line
At the end of the day, your conversions are dependent on how well you understand your prospect and how well you tailor the entire journey to that prospect, from the moment they sign up for your email list to the time when you present them with your sales offer.
So start by fixing Mistake #1, if you haven't done so already: understanding your customer is usually the toughest part. Once you've really done your research, it will be far easier to identify exactly how you can go about fixing the other five mistakes.
Which pitfall have you fallen in to? Have you found a solution? We'd love to hear from you in the comments!