Generating consistent and engaging blog ideas can be challenging.
If you've ever found yourself searching for fresh blog post ideas or pondering over the most trending blog topics, you're not alone.
The quest to discover what to blog about is a universal challenge, but fear not! This comprehensive guide is here to fuel your creativity with a plethora of blogging ideas.
From exploring diverse blog topic ideas to diving deep into niche-specific blogging topics, I've got you covered.
Whether you're brainstorming ideas for a blog revamp or seeking blog content ideas to kickstart your blogging journey, this guide promises a treasure trove of inspiration.
Get ready to uncover unique blog ideas that resonate with your audience and position you as a thought leader in your domain.
Because this is a very long list of blog post ideas, I have it broken down into blog topics. Feel free to use the links below to jump to a particular topic:
Business | Finance | Technology | Fashion | Beauty | Home | Lifestyle | Fitness | Travel | Leisure and Entertainment | Food and Drink | Useful | Educational | Roundup | Fun | Timely | Controversial | Promotional
Are you ready to write your next blog post? Let's dive into the 103 blog ideas.
Exclusive: Download the Blog Post Ideas Cheat Sheet to make content creation a breeze!
Business Blog Ideas
The Future of Remote Work: Pros and Cons.
Startup Success Stories: Lessons to Learn.
Navigating Business Ethics in the Modern World.
The Role of AI in Streamlining Business Operations.
Strategies for Effective Team Building and Leadership.
The Evolution of E-commerce: Trends to Watch.
Building a Sustainable Business: Eco-friendly Practices.
Finance Blog Ideas
Personal Finance Tips for Millennials.
The Rise of Cryptocurrencies: What You Need to Know.
Investment Strategies for a Post-COVID World.
Understanding the Basics of Stock Market Investing.
The Importance of Financial Literacy in Schools.
Navigating the World of Online Banking.
Retirement Planning: Starting Early vs. Starting Late.
Technology Blog Ideas
The Impact of 5G on Everyday Life.
Virtual Reality: Beyond Gaming.
The Ethics of Artificial Intelligence.
The Role of Technology in Sustainable Living.
Exploring the World of Quantum Computing.
The Rise of Smart Cities.
Wearable Tech: The Future of Health Monitoring.
Fashion Blog Ideas
Sustainable Fashion: Brands Leading the Way.
The Evolution of Streetwear Culture.
Fashion Trends from the Runways of Paris and Milan.
The Influence of Pop Culture on Fashion.
Vintage Fashion: Making the Old New Again.
The Intersection of Fashion and Technology.
DIY Fashion: Upcycling and Customizing Your Wardrobe.
Beauty Blog Ideas
The Rise of Clean Beauty: Brands to Watch.
Makeup Trends from Around the World.
The Science Behind Skincare: Debunking Myths.
Beauty Routines for Different Skin Types.
The Influence of K-Beauty and J-Beauty.
DIY Natural Beauty Remedies from Your Kitchen.
The Future of Beauty: Tech Innovations in the Industry.
Home Blog Ideas
Minimalist Living: Tips for Decluttering Your Home.
The Art of Feng Shui: Balancing Your Living Space.
DIY Home Decor Projects on a Budget.
Smart Home Innovations for 2023.
Urban Gardening: Growing Food in Small Spaces.
The Rise of Co-living Spaces: A New Way to Live.
Sustainable Home Design: Eco-friendly Materials and Practices.
Lifestyle Blog Ideas
The Art of Mindfulness: Practices for Everyday Life.
Balancing Work and Life in the Digital Age.
The Rise of the Digital Nomad Lifestyle.
Hobbies to Pick Up During Quarantine.
The Importance of Self-Care in Stressful Times.
Living a Zero-Waste Lifestyle: Tips and Tricks.
Exploring Different Cultural Traditions and Festivals.
Fitness Blog Ideas
Home Workouts: Staying Fit Without a Gym.
The Benefits of Yoga and Meditation for Mental Health.
Exploring Different Fitness Regimens from Around the World.
The Science of Nutrition: Debunking Diet Myths.
Wearable Fitness Tech: Tracking Your Progress.
The Mental Benefits of Regular Exercise.
Adventure Sports: Pushing Your Physical Limits.
Travel Blog Ideas
Solo Travel: Tips for Safe and Fulfilling Journeys.
Exploring Hidden Gems: Off-the-Beaten-Path Destinations.
Sustainable Travel: Minimizing Your Carbon Footprint.
Culinary Adventures: Foodie Destinations Around the World.
Budget Travel: Exploring the World Without Breaking the Bank.
The Rise of Workcations: Combining Work and Travel.
Travel Photography: Capturing Memories Like a Pro.
Leisure and Entertainment Blog Ideas
The Golden Age of Streaming: What to Watch in 2023.
Rediscovering the Joy of Board Games.
The Evolution of Music: From Vinyl to Streaming.
The World of Indie Films: Hidden Cinematic Treasures.
The Resurgence of Book Clubs in the Digital Age.
Exploring the World of Virtual Reality Gaming.
The Impact of Social Media on Pop Culture.
Food and Drink Blog Ideas
The World of Fermented Foods: Health Benefits and Recipes.
Exploring Global Cuisines: A Culinary Journey.
The Art of Mixology: Crafting the Perfect Cocktail.
Veganism and Plant-Based Diets: Beyond the Hype.
The Science of Baking: Perfecting Your Pastries.
Coffee Culture: From Bean to Cup.
The Rise of Craft Breweries: Exploring Unique Beers.
Useful Blog Ideas
"10 Life Hacks to Simplify Your Daily Routine."
"The Ultimate Guide to Organizing Your Workspace for Maximum Productivity."
"Healthy Meal Prep Ideas for Busy Weekdays."
"Tips for Managing Stress in a Fast-Paced World."
"How to Save Money on Everyday Expenses."
"DIY Home Maintenance: Fixing Common Household Issues."
"Travel Packing Checklist: Essentials for Every Trip."
Educational Blog Ideas
"The History and Evolution of the Internet: A Deep Dive."
"Understanding the Basics of Renewable Energy Sources."
"The Science Behind Sleep: Why It's Essential for Our Health."
"An Introduction to World Religions and Their Philosophies."
"The Art of Effective Communication: Verbal and Non-Verbal."
"Exploring the World of Quantum Physics."
"The Role of Microorganisms in Our Ecosystem."
Roundup Blog Ideas
"Top 10 Books to Read in 2023: Editor's Picks."
"Monthly Tech Roundup: The Latest Innovations and Gadgets."
"Best Movies of the Year: A Cinematic Recap."
"Roundup of the Most Inspiring TED Talks This Year."
"Fashion Trends from Around the World: Seasonal Highlights."
"The Most Influential People in the World of Business in 2023."
"Top Health and Wellness Tips from Experts This Month."
Fun Blog Ideas
"The World's Most Unusual Festivals and Celebrations."
"Decoding the Science of Laughter: Why We Find Things Funny."
"DIY Craft Ideas for a Rainy Day."
"Exploring the World's Most Unique and Quirky Museums."
"The Joy of Retro Gaming: A Trip Down Memory Lane."
"Fun and Unconventional Ways to Stay Fit."
"The World's Strangest Foods and Where to Try Them."
Timely Blog Post Ideas
"Understanding the Impact of Current Global Events on the Economy."
"Fashion Trends for Spring/Summer 2023."
"The Latest Advances in Medical Research and What They Mean for Us."
"Tech Predictions for the Upcoming Year."
"A Recap of the Most Significant News Stories This Month."
"The Role of Climate Change in Recent Natural Disasters."
"Celebrating International Women's Day: Stories of Empowerment."
Controversial Blog Post Ideas
"The Ethics of AI: Potential Benefits and Dangers."
"Debating the Merits and Drawbacks of a Universal Basic Income."
"The Ongoing Debate: Organic vs. Conventional Farming."
"The Role of Social Media in Shaping Public Opinion."
"Vaccinations: Myths, Facts, and Controversies."
"The Future of Education: Traditional Schools vs. Online Learning."
"The Impact of Celebrity Culture on Society."
Promotional Blog Post Ideas
"Introducing Our Latest Product: Features and Benefits."
"Why Our Brand Stands Out in the Market: A Comparative Analysis."
"Customer Testimonials: Real Stories from Satisfied Clients."
"Exclusive Offers and Discounts for Our Loyal Readers."
"Behind the Scenes: A Look into Our Production Process."
"Join Our Upcoming Webinar: Topics and Guest Speakers Revealed."
"Celebrating Our Company's Anniversary: A Journey Through the Years."
Personal Blog Post Ideas
"My Journey to Becoming a Full-Time Blogger: Challenges and Triumphs."
"Life Lessons I Learned from Traveling Solo."
"The Books That Changed My Perspective on Life."
"Finding Balance: My Personal Strategies for Juggling Work and Family."
"My Experience with Meditation and Mindfulness."
"The Role of Mentorship in My Career Growth."
"Personal Reflections on a Year of Growth and Transformation."
There you have it, 133 great blog post ideas to write about.
Convert Your Reader Into Subscribers
While I've equipped you with a treasure trove of blog ideas and topics, another essential piece to the puzzle is making sure your content reaches its intended audience and drives action. 
Enter OptinMonster.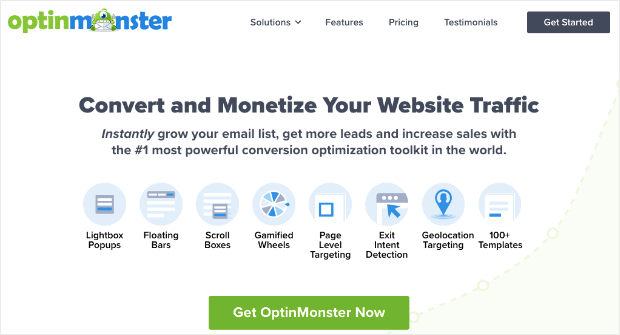 More than just a lead generation tool, it's your secret weapon in the blogging arsenal. 
With its intuitive drag and drop builder, you can craft compelling opt-in forms that resonate with your readers. But that's just the beginning.
OptinMonster's advanced targeting features ensure your content reaches the right eyes at the right time, turning casual browsers into dedicated subscribers. 
So, as you pen down your next masterpiece using the ideas from this guide, remember to give it the OptinMonster advantage. After all, great content deserves an audience that values it.
Get Started With OptinMonster Today!
BONUS: Done-For-You Campaign Setup ($297 value)
Our conversion experts will design 1 free campaign for you to get maximum results – absolutely FREE!
Click here to get started →