Do you want to increase conversions on your sales page? You may have an amazing product and a sound promotion strategy, but none of that will grow your revenue if your sales page isn't converting. In this article, we'll share 5 reasons why your sales page is falling flat, and how to fix them.
1. You Don't Have a Gripping Headline
The first thing a person is going to read on your sales page will be your headline, and if it doesn't pique their interest or hook them to read more, you've potentially lost a sale.
And according to Copyblogger, 80% of people will read your headline, but only around 20% of them will keep reading until the end.
Changing your headline is the easiest thing you can do to increase your conversions. If Neil Patel was able to increase his conversions by a whopping 40% for Kissmetrics just by tweaking his headline copy, then you can certainly stand to improve your conversions too.
Here are three different types of headlines you can use for your sales page copy that will actually convert your visitors.
Have a Solution-Based Headline
Your headline has to immediately confirm to the reader they are in the right place.
If they're looking for information on hand lettering and your headline screams font types, your copy will not convert.
An easy way to ensure you are speaking to your buyer persona is to offer a solution to their problems.
Solving your buyer persona's problems can help boost your conversion rates by as much as 28%.
ConvertKit, a newer email service provider developed by Nathan Barry, does this well. It offers their solution for their target market: professional bloggers.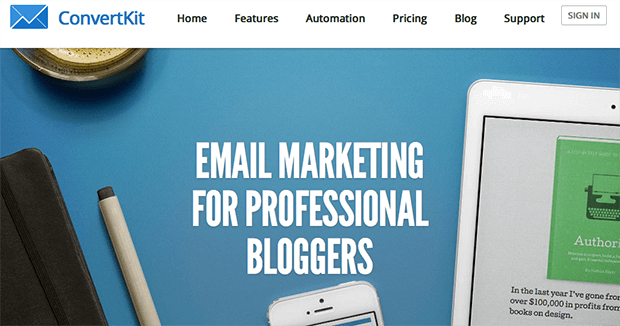 It's a simple headline, yet highly effective.
Many bloggers don't have a large team of 50+ people. They are typically solo entrepreneurs, and don't need a highly complicated email provider that's made for larger businesses.
Since Nathan's product is tailor made for this market, he is able to speak to their concerns right in the headline.
Another example of a solutions-based headline comes from Soliloquy – a WordPress slider plugin developed by Thomas Griffin, who is also one of the people behind OptinMonster.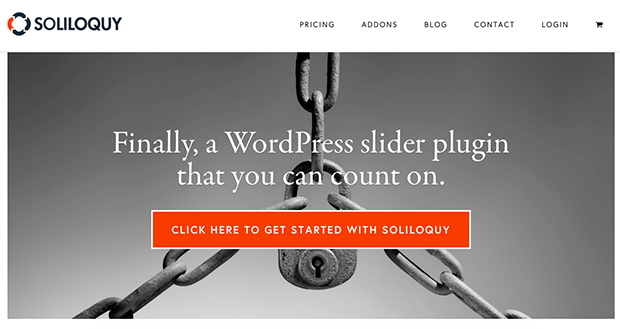 Thomas understands the frustration that bloggers and entrepreneurs face when using many common slider plugins that are difficult to use, hard to customize, and can have serious security issues.
Soliloquy solves the problem of unreliable slider plugins, and their headline highlights that solution.
To create a solution-based headline, figure out what your buyer persona's biggest problem is and what their ideal solution would be.
Have a Benefit-Based Headline
Do you know what people love more than solving their problems? They love the idea of having a better version of themselves.
Everyone wants to be better in his or her work and life. If you want to increase your conversions, you need to show people the benefits of using your product or service in your headline.
Need an example? Look at Tom Ewer's freelancing course, Paid to Blog. Launched in 2014, its sales page tells readers exactly what they want to hear – that it's possible to make good money from blogging.

When the average minimum wage is $7.25 per hour, the thought of getting over a hundred dollars per hour is pretty enticing.
Tom's headline cuts to the desire most people want, which is a better life.
Caitlin Bacher's Wham Bam Instagram is another great example of a benefits-based headline. It immediately tells people what her course is all about – attracting more business opportunities using Instagram.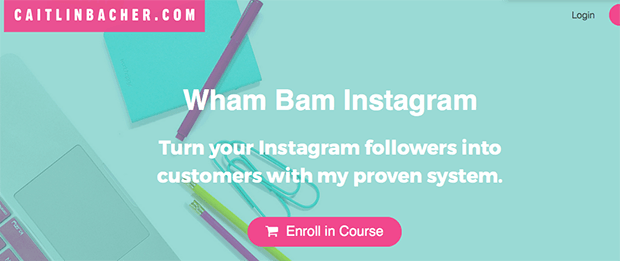 It's entirely benefit-driven and it makes it easy for people to see if this course is for them. Many people don't view Instagram as a business-generating platform, so Caitlin made sure to highlight this benefit right away.
When coming up with your benefit-based headline, think about the end result of your product or service. What will a buyer get out of your course, plugin or coaching call?
Statement Based Headline
Sometimes just stating what your product or service does is enough for conversions.
People don't have time to learn about your brand and what exactly you do in your business. When they visit your landing page or sales page, having a direct statement makes it easy for them to see what you do.
WordPress.com knows this all too well. Through the years, the company has gone through several different statement-based headlines for their landing page:
2010 – "Express yourself. Start a blog"
2011 – "A better way to blog"
2012 – "Share with the world your community, or your closest friends."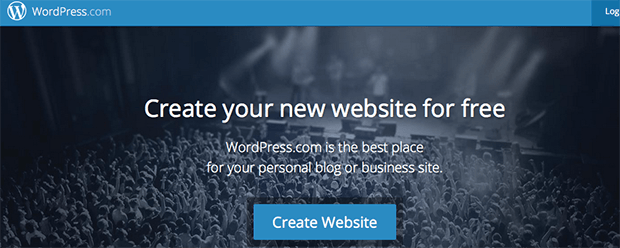 Their current headline, Create your new website for free, has been used for the past three years, so this direct statement must be highly effective.
Buffer is a believer in statement-based headlines, too. With over 3 million users, Buffer's products fulfill social media needs. So, they make it clear in their landing page headline that Buffer is indeed better.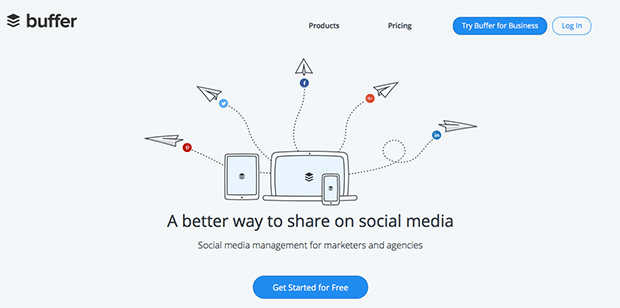 It's a clear headline that cuts to the core: there's a better way to manage your social media accounts.
Stating a straightforward headline can often be much more effective then all the bells and whistles of a benefit-based or solution-based headline.
2. Your Sales Page Isn't Long Enough
How long should your sales page be?
The best sales pages say just enough about their product or service and nothing more.
The data says something a little different – the highest conversions occur when you have long sales page copy.
In fact, when Crazy Egg made their landing page 20 times longer – that's right – their conversions grew by 363%.
But that's not to say you won't convert with short copy. For one gym, split testing of long copy versus short copy revealed that short copy converted 11% better than long copy.
How do you know when to use long copy?
When Your Product or Service Has a High Price Tag
People are often careful with how they spend their money – they don't just give it away for anyone or anything.
And if they are asked to part with a large sum of their hard earned cash for your product, you bet they need a lot of convincing to make that happen.
You can easily convince visitors by showing them how valuable your product or service is. This is your opportunity to clearly detail every benefit and to paint a picture of how a user's life will be better off with your product or service in it.
When There's a Lot to Your Product or Service
Nowadays, when you buy an eBook, you not only get the digital book, but also workbooks, worksheets, printables, and sometimes access to a private community.
Bloggers and entrepreneurs know that it isn't enough to just offer one eBook or a course. Buyers want an experience and plenty of added value.
Take a look at what Brennan Dunn offers when you purchase his complete course Double Your Freelance Rate.

If your product or service has a lot of extras, features, benefits or just needs more explanation, then don't skimp on the copy.
When You Need to Educate Your Prospects
Sometimes when someone lands on your sales page, they may not realize they need your product or service.
They are unaware of the solution to their problem. When this happens, your sales page must convince them through storytelling, painting a picture of their problems and hinting at the solution.
Let's take a look at Ruth Soukup's course Elite Blog Academy. Even though her course is extremely popular amongst bloggers like Sagan Morrow and Kristen Larsen – and ProBlogger's very own Darren Rowse endorses the course – she goes on to tell her story as a way to relate to new bloggers.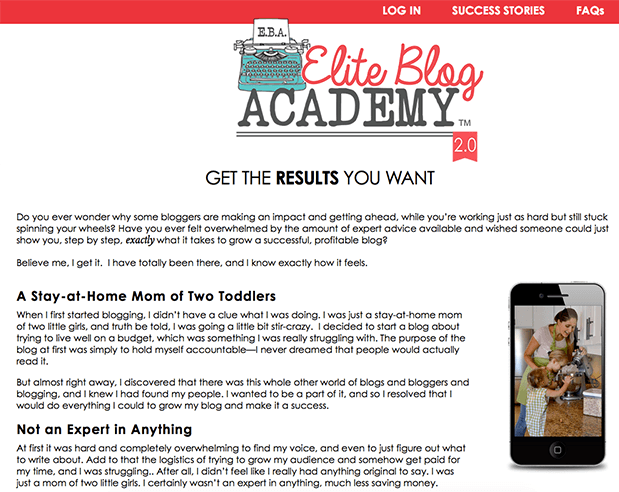 Most new bloggers won't know people like Darren Rowse or Abby Lawson, so their testimonials probably won't relate to them as much as a story from Ruth, the course author.
By sharing that she was a mom with small children and was still able to grow her blog to over a million readers per month, wannabe bloggers who land on her sales page will see that she's no different from them.
If she can do it, then this new blogger can too.
When writing your sales page, try not to focus on the length, rather, focus on explaining your product with as much detail as possible.
The best sales pages have visuals, stats, testimonials, an overview of the product or service, who the product or service is for, and a FAQ.
An example of a high converting sales page is Paul Jarvis' course for MailChimp called Chimp Essentials.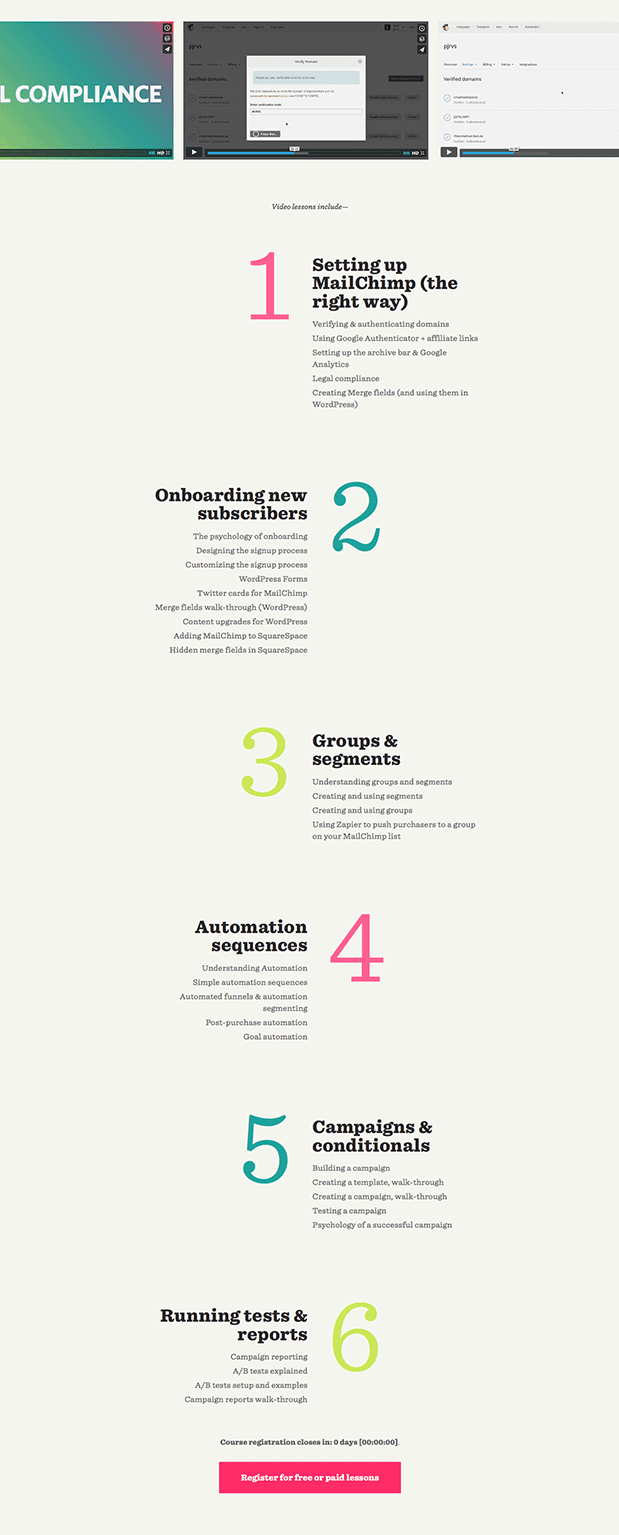 Paul sent his email subscribers a "behind the scenes" look at his Chimp Essentials launch, and revealed he generated over $55,000 – leading us to conclude that his sales page was obviously effective.
3. Your Sales Page is Too Vague
Even if your sales page is long and has all the right components, if it's too vague and doesn't tell the prospect what they will accomplish with your course, or gain from your services, they won't buy from you.
Remember, visitors to your sales page may have no clue who you are and what your product is.
Weak words like fast, a lot, many, or some, sound fine when you're talking to a friend, but they have no place on your sales page. These words mean different things to different people and can turn away potential buyers.
Instead, replace vague language with concrete examples, stats and facts to strengthen your copy and improve your conversions.
Melyssa Griffin's Pinfinite Growth course gives you concrete facts:
"Pinterest helped me triple my pageviews and grow my email list to over 30,000 people. Not to mention, my Pinterest account grows by 2,000-3,000 followers per month."
Caitlin Pyle's Proofread Anywhere course gives you a snapshot of her earnings from being a proofreader: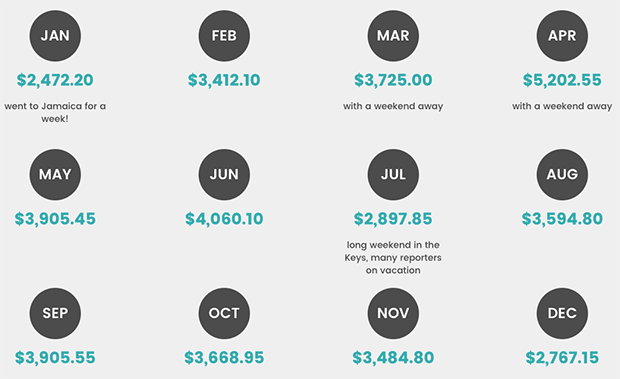 Jenni Elliot of The Blog Maven provides 1:1 coaching for bloggers. On her sales page she makes it clear what types of discussions you will have in a 60-minute Skype call:
"Recent one-on-one discussions have covered:
Developing a subscriber acquisition strategy that fits your target audience
Connecting with your readers for higher engagement
Simplifying your life with blog process + planning
Discovering the keys to creating viral content for your blog
Maximizing your existing revenue streams
Implementing effective passive income strategies
Turning your website into a marketing machine that sells your products or services for you"
By providing concrete examples and proof of the effectiveness of your product or service, you'll make it easier for prospects to believe you and buy from you.
And one way to do this is by highlighting a hidden benefit with technical details.
Ever heard of Shlitz beer? In the 1920's it was the fifth most popular beer in America. When now-renowned copywriter Claude Hopkins took over, he learned everything about the beer making process.
Why? Because he wanted to inject his copy with the finer details of beer making. This resulted in Shlitz moving up from fifth favorite to tied for first favorite.
When your copy has technical jargon, instead of scaring away people, it can impress them. It shows your credibility in knowing your product and knowing the value it has for buyers.
4. Your Sales Page Doesn't Speak to Your Target Market
There's a dying breed out there and you may be one of them.
Up to 80% of businesses fail within the first 18 months of starting. While there are plenty of reasons why this happens – no business plan, lack of funds, poor marketing plan – one big reason a business flops is not knowing their target market.
And you know what ends up happening? Exactly what happened to Lizzie Merritt, student coach of Mirasee when she launched her course.
Lizzie had no idea of her target market and failed to ask any questions,
"I asked them NO questions about what they struggle with, or what kind of instruction would be most helpful. Therefore, my pilot was more about what I wanted to teach, rather than about what they wanted to learn."
The result? Lack of insight into her buyer persona.
Lizzie used vague explanations when she described her course and she failed to use the same language as her prospects when defining the problem.
Knowing how to speak your prospects' language is important because you'll know how to tailor your content for them, align your value position so that your sales page is completely relevant to them, and know what benefits they value the most.
Let's take a look at freelancer Lizzie Davey and her course Bag Clients With Your Blog.
Her sales page starts off with asking questions to weed out the buyers from the looky-loos.

Who is she speaking to? She could be speaking to all the client-based businesses out there, but she's not.
She makes it clear that she's talking to freelancers and solopreneurs. These are the hustlers that use job boards to find clients – not a business with a team of five.
To immediately align your sales page to your target market, open it up with asking yes-type questions.
If a visitor answers yes, then it's likely your product or service can help them.
Nathan Barry not only founded ConvertKit, but he also authored several eBooks. His App Design Handbook doesn't attract bloggers, but rather, attracts app makers – the designers and developers.
And you know what? His sales page speaks to this target market,
"Developers will learn how to make their apps a great experience, not just a collection of useful features. And designers will learn to hone their skills and create an experience worth sharing."
Go ahead and state who your target market is in your sales page. This makes it crystal clear who the product or service is intended for.
Maybe your product name or service niche already speaks to your target market. Sean McCabe is an entrepreneur who started off as a creative designer.
His course, Learn Lettering is only for one type of person – the artist.
The definition of lettering is inscribing decorative letters on something. If you are not interested in learning lettering, then there's no point in you even reading the sales page.
But, to make it clear, Sean's sales page goes on to pinpoint his exact buyer.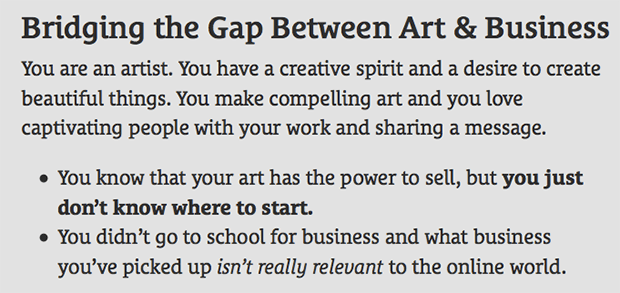 When naming your product, it's okay to identify it with language your buyer or prospect would use.
Here are names of products or services where you know who the target market is:
5. Your Sales Page Lacks Trust
People don't often spend money on things that they've never heard of, or have no personal experience with.
For example, I grew up without knowing or eating sushi. It wasn't until I moved to Vancouver for college that I saw how popular sushi was.
There were little sushi places on every street corner, and while each place could only hold a maximum of 15 people, I often noticed it was always full with a line out the door.
I also noticed the sushi names had familiar sounding names, like the California roll or the BC roll and after seeing what each dish looked like – all the restaurants have pictures of sushi decorating their walls and windows – I finally tried sushi.
And I love it.
All of those things – full restaurants, knowing what each item looks like, easy to order (most sushi places are the fast-food-type) and watching the chef make each sushi roll – increased my trust to try sushi.
Until you build that trust, no one's going to order from you.
Let's look at four ways to show people how great your product really is.
Provide Social Proof
You know when you see a lead magnet or landing page with a phrase like, "Join the 300,000 people who want to grow their blog?" That's social proof.
Social proof does the work of explaining the benefits of your product or service.
This is why sales pages show testimonials from previous buyers.
Paul Jarvis' course, Creative Class showcases numerous testimonials.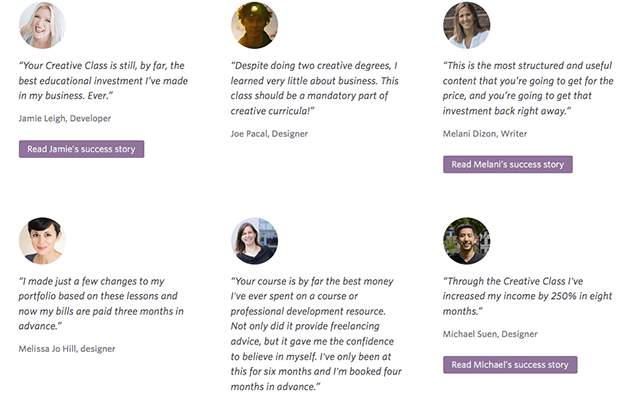 But Paul doesn't stop there. Under some of the students, you can click through to read their success story, increasing his chance of a sale.
What if your product or service is brand new? Have some beta testers or online colleagues try your product or service and have them give you a testimonial if they find it useful.
Because the last thing you want to attract is negative social proof. Low social proof – having only one testimonial or one coaching client – creates distrust and people start to perceive your product or service as low quality.
To give your testimonials more "oomph", do these things:
Have a photo of the person who's giving the testimonial
Use real people instead of big names
Make sure the testimonial gives concrete examples of how the course helped them
For example, for my freelance writing course, one course student provides a strong testimonial that validates my proven method.

Say Who You Are
In your sales page, include who you are and proof that you're credible.
For example, Melyssa Griffin puts an author bio for every course she sells.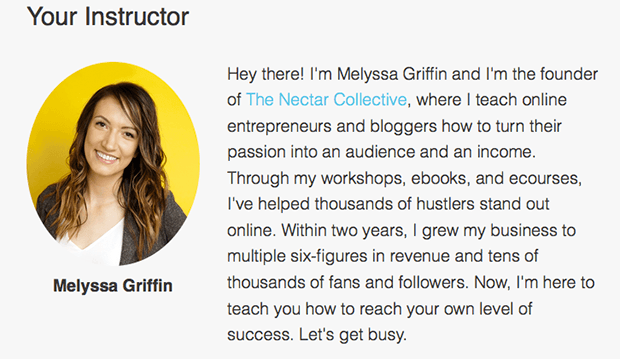 If you have no idea who she is, her author bio gives you enough information to trust her and gives you enough proof that she knows what she's talking about when it comes to growing an online business.
Tell a Story
In your sales page, don't just state the features and benefits; tell a story as a way to relate to your target buyer and show them that you're one of them.
Writer Jeff Goins shares his struggles on his Tribe Writers course page to show his credibility, but also to show he was just like his target buyers.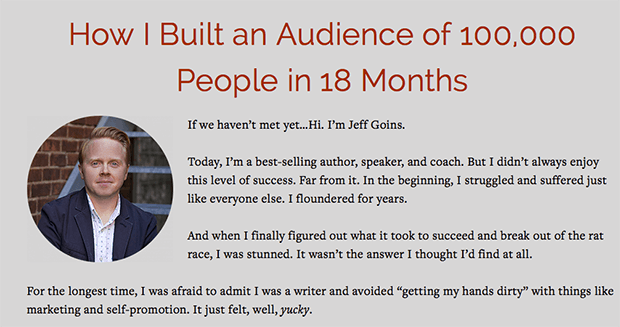 Jeff is trying to establish an emotional connection with his intended buyers. By going through the trenches and proving his worth, prospects trust him more and relate to him better.
Use a Security Symbol
People are more apt to open their wallets when they feel a sense of security and trust with your product or service.
To increase the sense of trust and credibility of your course or service, have a return policy or money-back guarantee symbol.
This eases the anxiety of your prospects and makes it much easier for them to try out your product or service.
Derek Halpern uses a good chunk of his sales page for Zippy Courses to show prospects he has a 100% satisfaction guarantee and if you aren't 100% satisfied, you can ask for a refund.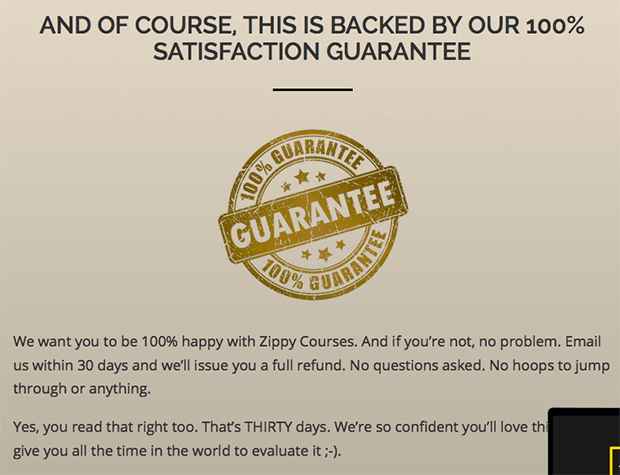 Wrapping It Up
There are a lot of moving parts to a sales page and any one of these mistakes could be damaging your conversion rate.
Before making any changes, always rely on A/B testing and test one tactic at a time to see if there's improvement or not.
Have you made some changes to your sales page and noticed an increase in conversions? Share your strategies with us!