It's not enough for bloggers to write a blog post and expect people to find it. The Internet certainly has never been a build-it-and-they-will-come place. You need to tell people when you're posting new articles.
Social sharing, which is an outstanding way to get the word out about your posts, still has its limitations. People have to be on their social networks when you post updates in order to see them. As much as I preach about the glories of serendipity, you can't build a brand on nothing but that.
Email marketing, on the other hand, can do things that social networking can't do. Here are the five benefits of email marketing for bloggers.
1. Target Your Audience
Your company database is your list of most interested readers. They've subscribed to your email newsletter because they're customers, potential customers, vendors, partners, and people who just plain like you.
In fact, all of them like you, otherwise, they wouldn't be customers, prospects, and partners. So take advantage of that good feeling, and create an email marketing campaign that not only gives them what they need, but helps deepen your relationships.
2. Timely Sharing of Content
The thing I like about email as a work tool is that I can treat it like a to-do list. I leave things I want to read or act upon in my inbox. I'll read it when I have a few minutes, or use it to remind me to send a message to someone. And I'll even save newsletters to read later when I have time.
So email stays around longer than, say, a tweet or Facebook update. If you write a blog post, and share it on Twitter, but I'm not looking at Twitter at that exact moment, your opportunity to share with me is gone. Two ships passing in the night.
But an email can sit in my inbox until I'm ready to look at it. (Just make sure your content is compelling enough in the first place for me to keep it around.)
3. Revive Old Content
I also like email newsletters because you can always trot out old blog posts. You know your favorite blog posts, the ones you re-share on Twitter just because you thought they were awesome? Breathe some new life into them with an email newsletter.
Put your favorite posts in your newsletter, and see if you can get some more traction from them. You may even want to collect a few of them, and repackage them as an ebook or white paper. Then, give it away on your website in exchange for people signing up for your newsletter. After all, it's that special content that's going to help you built your audience.
4. Build Your Audience
The people who visit your blog because of social media or search are usually just one-visit wonders. They came, found what they needed, and they won't be back. And you won't be able to recapture them on social media, unless you hit that special serendipity moment again.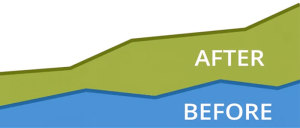 But an email subscription list means you can reach them whenever you'd like. Your newsletters and special invitations will hang out in their inbox, and you'll pop into their minds every time they see your name again. (So as I said before, make sure you have good information, and you don't bug the crap out of them.
5. Track and Test Your Results
Email marketing providers know they have to prove their worth. So they make it easy to test things like open rates, click-through rates, and they can even help you track sales that came right from your newsletter.

Put together A/B tests for different headlines, story positions, graphics and even "Read More" link text. See what works best, and build the best possible newsletter to get the highest open and click-through rates.
To learn more about how you and your blog can benefit from email marketing, visit our website, or contact us for more information.