As a blogger, you know the importance of growing your email list. Email subscribers enable you to build an audience and establish your blog's authority. Use the 8 actionable items below to start increasing your email subscribers today.
1. Make your blog mobile-friendly.
More and more people are reading their favorite blogs on their mobile devices. If your blog isn't mobile-friendly — viewable on mobile through a responsive design or dedicated mobile site — you're missing out on a large audience of potential subscribers. According to the Pew Internet Project's research, more than a third of cell phone users use their phone more than their desktop or laptop. The first step toward making your blog mobile-friendly is to use OptinMonster's mobile-only optin forms — simple forms designed specifically for small screens.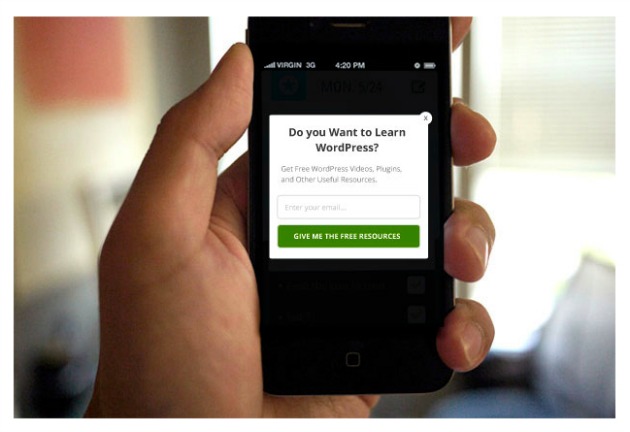 2. Use sidebar widgets to emphasize email optins.
At least one of your email optin forms should be viewable above the fold (without scrolling) on every page of your website — including your blog. Create a sidebar optin to ensure your email sign-up form is the first option a reader sees. If one of your optin forms is a banner at the very top of your site, make sure it's a one-field email optin. This will ensure a clean, unobtrusive design and encourage more subscribers to sign up.
3. Identify popular posts and create relevant blog content.
Blog about the topics your readers and subscribers want to learn more about. Keep track of your most popular blog posts to get a better idea of what subscribers are looking for. Post to your blog frequently, but don't undermine the quality of your blog content by posting unhelpful information. Focus on your core audience and keep readers interested by demonstrating your value. To grow your subscriber list, add an email optin form to the end of each blog post. Then stay in touch and re-engage visitors and blog readers.

4. Make your site's search option easy to find.
Place a search box just below your OptinMonster sidebar widget. Many blog readers, users and subscribers want to access particular information without navigating your website. An easy-to-find search box allows users to quickly access the specific information they're looking for while encouraging more subscribers to sign up for email updates via your sidebar optin widget.
5. Use OptinMonster's exit intent technology.
Lightbox popups can capture emails and grow your subscriber list at any point during a visit — including as a user is about to leave. The best way to increase your email list is to capture the emails of all your blog readers, even if they've just stopped by to read one blog post. To learn how to activate exit intent for your optin forms, click here.
6. Use multiple email optin forms.
Provide multiple opportunities for blog readers to sign up for email updates. OptinMonster allows you to automatically add a signup form for email subscribers to your blog's sidebar as well as underneath every blog post. You'll increase the number of your email subscribers even faster if you add a lightbox optin as well. Set up multiple optin forms for your blog and website and then use the actionable insights provided to evaluate which forms receive the most conversions.
7. Create a dedicated subscription page.
To grow your audience as a blogger, it's important to be able to re-engage readers by having them subscribe to your email list. Create a page specifically for email sign-ups. Keep it simple so it will be easy to direct users to the page. It could be mysite.com/subscribe or mysite.com/newsletter. Add a lightbox popup to your subscription page to ensure you capture the most email subscribers, even as they're about to leave the page.
8. Add an email optin form to popular site pages.
Most websites have 3-5 pages that get significantly more traffic than the rest of the website, such as the "About" page. Look at your analytics and identify which pages are most frequently visited. Then add an optin form or drive traffic from that page to your email subscription page. Once a user subscribes, direct him or her to your blog so they can enjoy your best blog content. If you have a particularly popular blog post that continues to get lots of traffic, be sure to add an email optin form (or several forms) to that page as well.